Advertisement / Publicité
This page is also available in / Cette page est également disponible en:

Francais (French)
Montreal's Shaar Hashomayim synagogue is well known as a centre of Jewish music. The title track of Leonard Cohen's penultimate album, You Want It Darker, brought the Shaar's cantor, the lyric tenor Gideon Zelermyer, and its choir, directed by Roï Azoulay, to the attention of a wider public. Cohen, the grandson and great-grandson of past presidents of the Shaar, was a lifetime member of the synagogue, and is buried in the Shaar's cemetery on Mount Royal.
When Cohen inserted repetitions of the Hebrew word hineni ("here I am") into the title song he was acknowledging that his end was near, that he was standing before his maker, ready to leave this earth.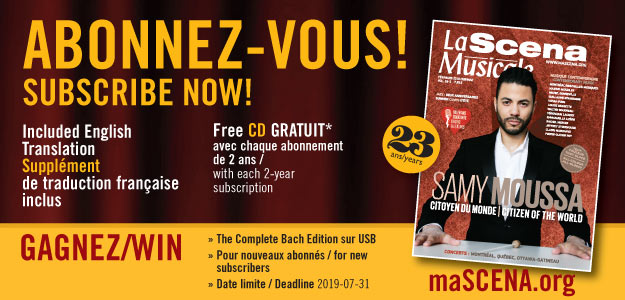 Evoking the word hineni, with the same intent, is appropriate for every observant Jew during the four weeks preceding Rosh Hashanah, the start of the New Year as calculated by an ancient Middle Eastern lunar calendar. It's a time to evaluate how you've conducted your life, especially your failings towards others, apologizing to them directly, and moving beyond words to correct what you have done.
In terms of the modern calendar, Rosh Hashanah starts this year at sundown on Sept. 18. Yom Kippur starts at sundown on Sept. 27. By tradition, you have a final 10 days between Rosh Hashanah and Yom Kippur to make amends. During that time, God is making His decision whether to inscribe you, or not, in the Book of Life. Given the precariousness of life in the ancient Middle East, whether by frequent war or disease, whether you would be inscribed in the Book of Life was a pressing concern.
The liturgy of the High Holiday prayers in Orthodox synagogues has been constant for some time. Musical settings can and do change. Before putting this music in context, since a CD is worth a thousand words, I'll mention two essential albums: first, from the Cantorial Golden Age, roughly 1900-1940, a stunning restoration (by Wendel Werdyger) of recordings dating back to 1913 by the "Jewish Caruso," Cantor Yossele Rosenblatt. (Od Yosef Chai, Vol. 5, High Holidays, double CD Aderet, 2011.)
For a modern recording, a double CD with Zelermyer singing and Stephen Glass conducting the Shaar Hashomayim Choir is top-flight. MP3 streams from the synagogue's website are available, but I recommend the CD version produced by McGill's recording expert, Martha de Francisco.
Now the context: religion and music are Siamese twins. Complex cities and widespread trading networks first arose in the Middle East 6,000 years ago. When archeologists dig up ancient temples, musical instruments are typical finds. The most famous instruments in the Bible, Joshua's trumpets, are said to have knocked down the walls of Jericho. Archeological evidence suggests that the walls were indeed knocked down, but by an earthquake.
Temple rites in Jerusalem included an orchestra: strings, wind instruments, brass instruments, reeds and percussion were prominent. Jewish rejection of musical instruments in religious ceremonies arose after the destruction of the Second Temple by Roman armies in 60 A.D. To mourn the loss, the rabbis who replaced temple priests banned instruments in synagogues. (The depth of that mourning is best captured by the Melodians' Rastafari song "By the Rivers of Babylon.")
Couple this with the longstanding ban on human images in synagogues, and you get artistic/religious energy that's focused on words that are sung or chanted. However, in contrast to some Protestant sects, Jews did not extend that ban on instrumental music from the synagogue to life outside the sanctuary.
From roughly 100 to 1000 A.D., Jewish liturgy was basically consistent in synagogues stretching from Morocco to India, and from Spain through Russia. The words, that is. The musical setting was up to individual synagogues, and subject to change, often keeping with the ambient musical culture of the host countries of these diaspora Jewish communities.
There was also considerable sonic space built into the liturgy. Poems, usually Biblical psalms, could be set to music. Improvisation, including virtuosic extended technique, was encouraged and expected from the emerging professional chazanim. Later, like their Christian counterparts, chazanim would be called cantors.
Starting in the 16th century, European Jews, along with everyone else, started migrating from the countryside to cities. To telescope the cantorial story: the crunch came in the 19th century, when Jews in Europe had to cope, like everyone else, with the upheavals of the Industrial Revolution. Debates raged around whether a fundamental restructuring of religious practices was in order; or whether a modern Orthodox Judaism was quite capable of functioning in an industrialized world; or whether ultra-Orthodox enclaves were necessary to conserve Judaism.
Shaar Hashomayim is one of the major synagogues in the Modern Orthodox network. This variant arose in Germany and Great Britain, spreading to North America during the late 19th century. Modern Orthodox synagogues employed cantors who came principally from Central and Eastern Europe.
These Central/Eastern European cantors did not have operatic vocal training but sang in ways that were close to the style of Golden Age of Opera singers. In a pathbreaking 1997 article in the Journal of Voice, Rothman, Diaz, and Vincent compared the sonic characteristics, such as vibrato pulse rate, of operatic and cantorial tenors past an present. They found similarities between cantorial and operatic singing in the first 40 years of the 20th century.
How this Golden Age cantorial/opera convergence was created is a puzzle. We know that young aspiring Golden Age cantors were mentored by experienced cantors, similarly to how jazz musicians were trained before the rise of university jazz departments. I haven't found musicological research on how cantors in backwater European regions created vocal techniques akin to those in opera.
For the present, we can be content with the wonders of remastering technologies that retrieve golden voices from years long gone.
This page is also available in / Cette page est également disponible en:

Francais (French)