THE 30th ANNIVERSARY EDITION OF
DISTANT HARMONY: PAVAROTTI IN CHINA
ACADEMY-AWARD WINNING FILMMAKER
DeWITT SAGE'S ACCLAIMED DOCUMENTARY
ABOUT OPERA STAR LUCIANO PAVAROTTI,
IS NOW AVAILABLE WORLDWIDE
FROM GIANT PICTURES
Experience every moment of Luciano Pavarotti's 1986 travels to Beijing.
Los Angeles, CA – (September 10, 2019) – The 30th Anniversary Edition of director DeWitt Sage's award-winning feature documentary Distant Harmony: Pavarotti in China is now available from Giant Pictures, the digital film distribution division of Giant Interactive, on digital platforms worldwide & DVD.
In 1986, Luciano Pavarotti was invited to Beijing to present La Bohème, conduct master classes and perform concerts for more than 150 million people. Academy Award-winning filmmaker DeWitt Sage captures every moment of Pavarotti's travels, from the tenor's famously cheerful exchanges with local singers to the inevitable clash of cultures. Produced by Sage, John Goberman, founding producer of Live from Lincoln Center, and Dan Wigutow.
"The feature documentary, Distant Harmony: Pavarotti in China, was first released theatrically, to much acclaim, back in 1988. Luciano Pavarotti was of course, and still is, the most famous opera singer in the world. The film contains unique footage from the great tenor's tour of China in 1986 and is a must-see for any opera lover." said Nick Savva, of Giant Pictures.
Distant Harmony: Pavarotti in China, a portrait of opera star Luciano Pavarotti's epic trip to China, was widely praised for its lyricism, humor and seamless structure. It was an audience favorite at Sundance, Toronto and Cork, during its film festival run. Now, with the 30th Anniversary Edition, Pavarotti fans who saw the original film can enjoy the legendary tour across China once more, and new audiences can discover the magic of Pavarotti's trip to China for themselves.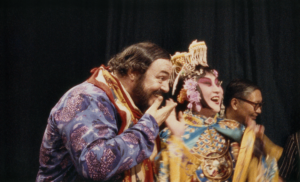 "The 30
th
Anniversary Edition of
Distant Harmony: Pavarotti in China
has been powerfully transformed by digital technology and by the passage of time. This 30th Anniversary Edition is stunningly new. Its colors are clearer and richer, Pavarotti's achievement seems greater, his voice almost glows and now the film glows with it," said Sage.
When Winter Dreams, a film he wrote and directed for PBS' series American Masters, won The Peabody…the citation said:
"Sage weaves person and place into the rich tapestry of American culture. The film chronicles the life of F. Scott Fitzgerald, one of America's greatest novelists, in images and ideas as lyrical and inventive as Fitzgerald's prose."
Sage's FRONTLINE documentary, A Place for Madness, was nominated for the 1995 Robert Kennedy Journalism Award and Broken Minds, about treatments and mistreatment of schizophrenia was cited by the New York Times for "setting a network benchmark with its provocative exploration of social policy through moving human story."
Pinto, a dramatic screenplay about the criminal prosecution of the Ford Motor Company for reckless homicide was written for Warner Brothers in 1986 and Sage's CBS' Bicentennial film, To America, follows three families who escape to the United States from behind the Iron Curtain. It won the Chicago Film Festival as Best (made-for) Television Feature and The San Francisco Festival as Best Documentary Film. His 1993 film, Faith Under Fire, with Vaclav Havel, explored the successes and grave failures of the church before, during and after the cascading revolutions of 1989.
Earlier in his career Sage wrote, produced or directed Madness for PBS' BRAIN SERIES (Peabody Award); Princeton…a Search for Answers which won an Academy Awardand was recently shown at MOMA's Oscar Docs; Art Is…a short film with a bigcast including the New York City Ballet, Jerome Robbins, the Paper Bag Players and Leonard Bernstein. (Academy Award Nomination); Opening Night, the making of a grand opera, with Luciano Pavarotti and Renata Scotto…for PBS; First Edition, directed by Helen Whitney,a (composite) frantic day in the life of a big city newspaper. (Academy Award Nomination) His script for American Masters' Ernest Hemingway Rivers to the Sea received a full production grant from the National Endowment for the Arts and from ARTE. was nominated for a network Emmy.
Sage is a member of the Film Academy's Documentary-Feature branch and has more recently taught master-classes at the Maine Media Workshops.
About GIANT PICTURES
Giant Pictures is a boutique digital distributor based in NYC and Los Angeles, which is dedicated to elevating the digital experience. Working directly with filmmakers and rights owners, Giant distributes movies and TV shows to VOD & OTT platforms in North America and worldwide. Giant is a division of Giant Interactive, an award-winning digital media and technology services company, and is an iTunes Preferred aggregator and encoding house. Recent movie and documentary releases include: '306 Hollywood' (Dir. Elan & Jonathan Bogarin, Sundance 2018), 'Matangi / Maya / M.I.A.' (Dir. Steve Loveridge, Sundance 2018), 'Newness' (Dir. Drake Doremus, starring Nicholas Hoult, Laia Costa, Sundance 2017). Visit us at:
www.giant.pictures.com