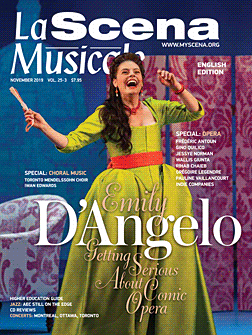 This page is also available in / Cette page est également disponible en:

Francais (French)
On Dec. 5, the magnificent Pratt & Whitney Canada Hall of the Théâtre de la Ville in Longueuil will be the site of the Grand Christmas Concert of the Orchestre Symphonique de Longueuil (OSDL) under the direction of Alexandre Da Costa. The evening features some special guests: Giorgia Fumanti, one of today's best classical crossover singers, and the very popular QW4RTZ vocal quartet with its four eccentric and inspired guys.
"It's nice to have been invited to the show," says François Dubé. This member of QW4RTZ, also known by his artistic alias Fa2, states that his group will present Christmas songs aimed at a diverse family audience as well as songs from their a cappella repertoire. "And we step out of our comfort zone a little bit to present some songs with the orchestra," he adds. "It's a bit of a homecoming." He reminds us that each of the four members of QW4RTZ had initially trained in classical music. According to Fa2, the show will give his group, which rarely presents Christmas concerts, a great opportunity to relive some of the nostalgia and magic of the holiday season.
Quebec Loves Big Voices
François Dubé remembers a time when each parish had its own country tenor who sang at Christmas. "Quebec has always been a fertile ground for big voices," he says. He is delighted by the craze for a cappella singing in North America. The popularity of QW4RTZ is due, in his opinion, to an artistic approach combining vocal harmonies and a cappella songs with variety skits, humorous musical sketches and theatrical stagings. This allows this atypical group to appeal to all kinds of audiences.
For Giorgia Fumanti, this will be an opportunity to present her latest work under the theme Noël en lumière 2019 / Aimons-nous with her characteristic artistic generosity. This soprano, listed as one of Billboard's Top 20 Classical Crossover artists, reached the top position in ADISQ's list of top sellers in 2018 with her 10th album, Amour. Her 11th album, Aimons-nous, was released in May. She is known for her light and airy interpretations of the great holiday classics, including Adeste Fideles, Ave Maria (whether by Caccini, Schubert or Gounod), Amazing Grace, Silent Night, Minuit Chrétien, Agnus Dei, Pie Jesu and Panis Angelicus.
This page is also available in / Cette page est également disponible en:

Francais (French)