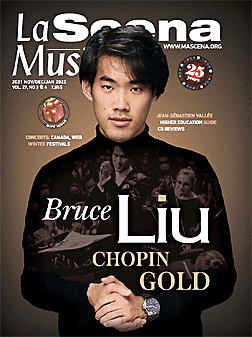 This page is also available in / Cette page est également disponible en:

Francais (French)
Have you heard Régent Levasseur's enchanting Farewell to the Warriors? The Orchestre classique de Montréal (OCM) presents it as part of its 82nd season, titled Women of Distinction, with the remarkable 18-minute concerto for string orchestra, harp and drum, in an orchestration by the versatile melodist. Tara-Louise Montour recorded the piece with the Thunder Bay Symphony Orchestra and the work earned the ensemble a Juno nomination (2005). "I am delighted that the OCM invited me into the program of Tales and Melodies, the first concert of its season, and I think that Farewell to the Warriors will fit in perfectly, firstly because of its theme, since the evening begins with a tribute to the Innu poet Joséphine Bacon, but also because of its narrative aspect, since the piece tells a story and brings images to life before our eyes," Montour says. The concerto is indeed an authentic musical poem.
"I was born on the Kahnawake Mohawk First Nation and even though I was adopted as a baby, my connection to my home community has never been broken, so I wanted to find a piece of music that would represent how I feel as a First Nations woman and a classical musician," says Montour. The soloist, a former winner of the OSM Competition, who holds a Bachelor of Music degree from the Schulich School of Music at McGill University and a Master of Music degree in performance from Northern Illinois University, set out to find a score for violin, a piece for violin and orchestra, or for another instrument or even for voice, to perform an Indigenous-influenced piece – but found nothing.
"I remember the growing frustration of not being able to present a work worthy of the richness of First Nations culture, to the point where I felt the urge to use classical music as a tool to bring the beauty of traditional Native themes and melodies to the public," she says. Then, as she matured, the fiddler realized that she could work towards her goal of enriching the repertoire in turn.
A Chippewa song recorded on wax cylinders
Montour multiplied her requests for grants and solicited Levasseur, whom she knew because the composer was a former violinist. After months of research in libraries, he made her listen to Farewell to the Warriors, a song recorded on wax cylinders that the Chippewa women used to chant before the men left for war. And Montour fell for it: "The women's voices were almost inaudible but it was extraordinarily beautiful."
Levasseur worked for a long time on the opening theme so that the strings could render the effect of the sung melody, and then he developed it in 15 variations. Through the piece, the audience contemplates the past and the future, experiences a kind of catharsis and emerges from this work with a serene sense of victory. "As a performer, to work so intimately with a composer to create a concerto, to be able to influence its genesis, even if only modestly, on the level of variations, for example, was a privilege," confides the musician.
OCM artistic director Boris Brott, and before him, his father Alexander, have always had a deep love and respect for Canada's Indigenous culture. Presenting annually the music of First Nations composers is an important mandate of the orchestra, which has lately featured works by Barbara Croall (Odawa First Nation composer) and Tomson Highway (Cree playwright, writer, composer, and pianist) and of course Malcolm Forsyth's acclaimed Trickster Coyote, Lightning Elk, an ambitious work about Indigenous creation myths, also commissioned by Montour. "When I came back from Virginia, Boris offered me a position with the OCM and told me he would make sure we had content that included Native composers, that the cause was an important issue and that the orchestra needed to raise awareness and take advantage of the fact that audiences wouldn't expect to hear about it in classical concert hall," explains Montour. "A big part of the reconciliation will happen through awareness and art," she simply adds.
A work in tune with our time
"Before I perform it, I always put Farewell to the Warriors in context and refocus to make sure that I am communicating well verbally and musically. I think of the voices of these women that I heard on this cylinder many years ago and I think of my fiddle, a Testore made in the 18th century – it is my voice to relay these ancestral songs," she says. "Native culture has suffered so much damage; it is time to revive it." As a First Nations person, daughter and granddaughter of residential school survivors, mother of young children and human being, the discovery of hundreds of children's bodies around former residential schools breaks her heart but she is grateful that the light is finally being shed on these terrible stories that were known in the communities. "My heart is afflicted by these news but my pride in being First Nations feels invigorated.
"First performed in 1999, Farewell to the Warriors has always been very well received but with the late public awareness and the reconciliation movement, I believe this concert is a good opportunity to present this work again and that the audience will welcome it with greater openness." A premonitory allegory of reconciliation, Farewell to the Warriors is a wave of gentleness and respect on which to be carried.    
Farewell to the Warriors, Nov. 23, at Salle Pierre-Mercure and webcast until Dec. 7. www.orchestre.ca
This page is also available in / Cette page est également disponible en:

Francais (French)