This page is also available in / Cette page est également disponible en:

Francais (French)
By Adrian Rodriguez and Eva Stone-Barney
La Scena Musicale launched the Corona Serenades in early April as a means of connecting people through music in a time when many felt isolated. The idea for Corona Serenades came from La Scena Musicale founding editor Wah Keung Chan and tenor Adrian Rodriguez, who modeled the project on La Scena Musicale's successful Singing Valentine service, which has been running annually for over a decade.
Corona Serenades provides personalized videos of professional singers singing from their homes around the world. With a roster of approximately 25 singers from over six countries, Corona Serenades can be ordered in a variety of languages and genres— from opera and art song, to folk, pop, musical theatre and jazz.
Not only does the program offer a new way to share music with friends and loved ones, but it allows artists to continue their craft and earn money while traditional live performances are temporarily halted. For many if not all professional musicians, the COVID-19 pandemic meant the termination or postponement of contracts through the 2020-2021 season, leaving artists without work. "I've had most of my contracts cancelled through the end of the summer and this could very well be extended," says Quebec baritone Hugo Laporte. "I even had an opera production in early 2021 postponed to 2022."
The Corona Serenades project offers artists a way of contributing to the wellbeing of the community while still working in their field and making music. Through the Corona Serenades, personalized videos can be purchased for friends or loved ones, for a donation of between $30-$70. They are also offered free of charge to frontline workers and individuals who have COVID-19.
The goal of the Corona Serenades is to strengthen community bonds and lift spirits through music while providing relief to the musical community, both at home and abroad, and find a new and innovative way to contract artists. "This personalized message and Corona Serenade video […] was a moving, raw and pure message of support and love for all the work that is being done by doctors," said one Corona Serenade recipient. "Also, at a time when musicians are going through their own challenges, it is doubly inspiring that these La Scena Corona Serenade musicians decided to give even more of themselves and their art. Witnessing this, we will definitely get through these tough times together."
Their favourite operas
Yara Zeitoun:
La Bohème (Puccini): It's one of the most popular and done operas, but, damn. There's really not one part where I'm even a little bored. It's all exciting, and fast, and crazy, and just so beautiful. I LOVE the 1979 Carlos Kleiber version with Ileana Cotrubas – hands-down most underrated and best Mimi ever. So pure and girlish, exactly how I imagine she should be, and exactly how the text conveys her – rather than sounding like Elektra, which is my problem with most modern productions (sorry!).
Le Nozze di Figaro (Mozart): The overture is so magical, and the opera is funny, light, beautiful, full of sexual undertones, and you can really feel like you know Mozart through it. Not to mention, it's very feminist, with Susanna controlling literally everything. Shout out to Ildebrando D'Arcangelo, who really stands out for me.
Lucia di Lammermoor (Donizetti): Musically exciting and different, and the soprano arias are spine-tinglingly beautiful. Lisette Oropesa is stunning as a modern Lucia, but also in a different style totally, La Callas.
Madama Butterfly (Puccini): Puccini was such a boss, one of few operas (that I know of) that show Japanese or even general Asian culture and the interaction with the West. I am a huge lover of Japan, and find it fascinating that a man in Italy wrote about the love between a Japanese and an American. The work is feminist, it discusses colonialist sentiment, and it's genius. So many sentiments and topics that are very relevant to the modern-day. Domingo/Scotto combo is a killer.
L'Elisir d'amore (Donizetti): I also find this work very feminist. Adina is a landowner, she reads ancient texts, she is independent. For something written in the 1800s, it's absolutely modern and forward-thinking. It's a feel-good opera, where the guy finally gets the girl, and the final duet with Dulcamara/Adina is my favorite of all time. Also, she's reading one of my favourite books! – the legend of Tristan et Iseult!
Nils Brown:
Otello (Verdi). Mon premier choix est la production avec Vickers/Gobbi/Rysanek/Tullio Serafin. Ma deuxième production favorite, qui se situe très près de la première, est celle de Karajan avec Del Monaco/Protti/Tebaldi. Aussi Tristan und Isolde (Wagner), avec Vickers/Dernesch, dirigé par Karajan.
Cavalleria Rusticana (Mascagni): I grew up with Björling/Milanov/Bastianini, but the recordings conducted by Mascagni himself are very informative, with Santuzza sung by a lighter voice type compared with what is assumed today to be a proper Santuzza, which normally means re-calibrating the tenor part to a heavier tenor. Simionato was playing Mamma Lucia; she eventually became famous for her Santuzza, bringing about the change mentioned above. Tip: The most beautiful prelude and intermezzo are on the Japanese NHK Television broadcasts/recordings of the visiting La Scala company in the early 1960s, Giuseppe Morelli conducting.
Elektra (Strauss): Birgit Nilsson, of course. Also with Christa Ludwig and the coolest cat in opera, Orest, sung so well by Tom Krause, and the infallible, unbelievable Georg Solti at the helm. Amazing to think that Nilsson sang this role at Place des Arts during Expo 67.
Tosca (Puccini): Callas/Di Stefano/Gobbi. Everyone has said all the good things about this recording so anything I say is redundant. All I can say is I mourn Maria Callas' sad passing every time I think of her and always wish I, or someone else, could have been there for her. I realized recently that Callas and Jim Morrison lived in Paris at around the same time, and I do wonder if they could have saved each other. It was not to be, and the modern Dionysus and his would-be Ariadne are buried in the same Père Lachaise Cemetery – but separately.
Chantal Dionne:
Carmen (Bizet): Micaëla was the first role that I sang professionally. The vocal challenge is considerable (especially the duet with Don José) but what made the greatest demands on me was how to make this "good, pious, loving and caring young girl" a strong woman in love who will not give up the struggle to recover her beloved. I remember finding it rather complex as an exercise given my limited stage experience at the time.
Die Zauberflöte (Mozart): Pamina was the first role that I sang in Europe. In Rome, more precisely. We sang in German with the dialogue in Italian. It was a great challenge that taught me a lot about the importance of knowing the music fully before the first rehearsal. In the years that followed, I sang Pamina many times in different professional conditions: in English with dialogue in English, in German with dialogue in French, in German with dialogue in English, in German with dialogue in German…phew!
Dialogues des Carmélites (Poulenc): Blanche is the role that moves me the most in the French lyric repertoire. The character and the historical context of the work fascinate me. I am particularly fond of works based on real events. Here Poulenc's music is harmonically engaged and transports me artistically and vocally like no other work in the lyric repertoire.
Elektra (Strauss): I never sang the role of Elektra and probably never will! But I had the opportunity to participate in the Opéra de Montréal production as a Maidservant under the brilliant musical direction of Yannick Nézet-Séguin and the fabulous Alain Gauthier as director. Apart from the principal roles, which were taken by singers from abroad, several secondary roles were sung by Canadians and/or Quebecers. Great singers. Magnificent musical experience. The strength of the character of Elektra (here sung by the soprano Lise Lindstrom) accompanied by the powerful music of Strauss, all around a huge seven-metre-high sculpture designed by the Spanish sculptor Victor Ochoa. It is hard to describe how this surpassed everything as a human experience.
Requiem (Verdi): Yes, I know, this is not an opera, but I want to tell you about my favourite opera singer and the performance that marked me most as an artist. It's Leontyne Price! Obviously, Ms. Price sang in several operas, all worthy of mention. But it was her technical achievement in Verdi's Requiem (on video) with Herbert von Karajan as conductor that inspired me and motivated me to continue my work with my voice teacher. She remains my favourite singer.
La Scena Tête-à-Tête with Chantal Dionne: Aug. 5, 7 PM. www.myscena.org
Erica Lee Martin:
Wozzeck by Berg, because it's so dark and unexpected and raw; La Traviata and Eugene Onegin because they're so beautifully written and heartbreaking; Gianni Schicchi because it's so hilarious to watch and great fun to perform; and Dialogues des Carmélites, which is very tough to perform, emotionally speaking, but tells an important story, and the music is equally devastating. My favourite singers are Maria Callas, Angela Gheorghiu, Janet Baker, Dietrich Fischer-Dieskau and Roderick Williams. I'm not a huge fan of musicals, but I love The Sound of Music. The music is perfect. Among jazz interpreters, I love "Under My Skin" as performed by Frank Sinatra. "Peel me a Grape" sung by Blossom Dearie. Anything Sarah Vaughan sings but notably "What is this Thing Called Love."
La Scena Tête-à-Tête with Erica Lee Martin: July 26, 11 AM. www.myscena.org
Rebecca Louise Dale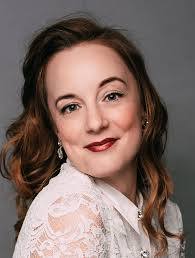 The Golden Age era of musicals is where my heart really sings and I have so many favourites. My very first on-stage experience was within a junior school production of The Sound of Music where I played the role of Gretel. This show will always be very special to me. The experience was as if a whole new world opened up, like a magical treas- ure trove; within each rehearsal or performance, time would just stand still and I was able to play, sing, dance and discover characters that I would fall in love with.
There are so many amazing shows from the early part of the 20th century that it's hard to pick favourites. However, Showboat by Jerome Kern and Kiss Me Kate by Cole Porter are definitely up there, along with Pal Joey by Rodgers and Hart, Carousel and Oklahoma by Rodgers and Hammerstein. I have to do a shout-out here to the
John Wilson Orchestra, which without a doubt has brought these in- credible shows to life in recent years with semi-staged interpretations at the Proms, concert performances and recordings.
One of my favourite composers of this period is the phenomenal Ivor Novello, who is very underrated. I'll be performing a number of Nov- ello songs throughout May on my Facebook page The Golden Age Singer. Please do feel free to tune in. It's amazing how relevant Nov- ello songs are, especially in this challenging time: "Although you're far away and life is sad and grey I have a scheme, a dream to try. I'm thinking, dear, of you and all I meant to do when we're together you and I. We'll soon forget our care and pain and find such lovely things to share again." This is the opening to "We'll Gather Lilacs" from Perchance to Dream. I just adore all that I have learnt so far about this remarkable man, his life and work. He would definitely be someone I would want to travel back in time to meet!
Anne Marie Sheridan: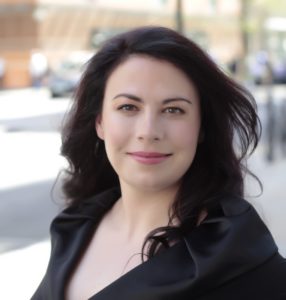 La Traviata (Verdi): Every time I hear something by Verdi, I am astounded at his ability to create so many beautiful and evocative melodies. From the first note of La Traviata we are brought on a fantastic musical and emotional journey. Verdi's ability to paint the characters' inner turmoil while weaving such gorgeous line and harmony put this is in my top five. One of my favourite recordings is with Renata Scotto and Alfredo Kraus. Of course, Maria Callas as Violetta is one of those legendary performances.
Eugene Onegin (Tchaikovsky): I adore Russian music and this opera really shows the harmonically rich Russian soul at its best. I have seen a few productions and I am in love from the very first chord. One of my favourite recordings has the late Dmitri Hvorostovsky in the title role.
Carmen (Bizet): The concept of freedom is as important today as it was when Carmen was composed. Carmen's ability to be free and be herself, despite any outside judgement, is something I admire hugely. We all have only one life, and she chooses to live it without being bound to anyone or to the stereotypical ideas of who she should be. The sensual melodies, which are brilliantly composed to tell the story of such a feisty, liberated feminist, have really drawn me to this role. One of my favourite productions is with Elīna Garanča and Roberto Alagna at the Metropolitan Opera. Garanča really carries the essence of the role and the chemistry between her and Don Jose is palpable! Definitely recommended!
Cavalleria Rusticana (Mascagni): I fell in love with Sicily a few years ago and this opera reminds me of the warmth and beauty of the island. The music is so dramatic and emotional that I find it impossible not to be moved, especially by the time we reach the Intermezzo.
Requiem (Verdi): Not strictly an opera, but this is one of my favourite compositions. There is a wonderful recording on YouTube from La Scala with Leontyne Price, Fiorenza Cossotto, Luciano Pavarotti and Nicolai Ghiaurov with Herbert von Karajan conducting.
Hugo Laporte
On the effects of the crisis:
Professionally, I've had most of my contracts cancelled through the end of the summer and this could very well be extended. I even had an opera production in early 2021 postponed to 2022. I believe there will be a major impact on the 2020-21 season. Concert hall closures were one of the first steps to prevent the spread of the virus, and reopening will be one of the last steps. Of course, I wish the best outcome for everyone and understand that health is the priority. The classical music scene will have a hard time recovering, but it will.
Concerning my personal life, it hasn't changed much other than the fact that I am home much more than usual. I am very happy to be home with my wife and my daughter. I still have plenty of things to do at home and friends and family to talk to via the internet. I am very lucky and I know the situation is harder to bear for a lot of people.
On Félix Leclerc:
Leclerc celebrates nature, the beauty in small things, and the joy of living an honest and simple life – which are values that I also share. Most of his songs really speak to me in a way that is hard to describe. I like the humour in some of his poems, the nostalgia in others. Some of my favourites are "Contumace," "Sur le bouleau," "MacPherson," "Le tour de l'île," "La chanson du pharmacien," "Notre sentier" and "Les 100 000 façons de tuer un homme."  Also, he was a bass-baritone, which makes his songs a good fit for me!
ReWatch La Scena Tête-à-Tête with Hugo Laporte. www.myscena.org
Kathryn Frady
On the effects of the crisis: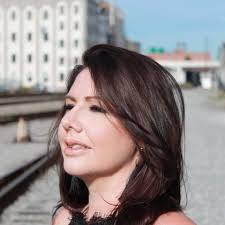 I was in Santa Fe, NM when the gov-
pernment began shutting things down. Our performances were in jeopardy, but the artistic director of the company worked with the governor to allow us to perform as long as there were only 50 people in the audience. They even sent a guard to count how many people entered the venue. I felt very fortunate to be able to continue with our performances! It took me about five days to travel back home because of flight issues and audition cancellations. I have had auditions and performances cancelled and postponed. I also run an opera company and am facing decisions on a daily basis of how best to move forward.
Nadine Benjamin
On coaching and its relationship with the arts
J
I am a certified NLP (Neuro-Linguistic Programming) Mind Coach and a Certified High-Performance Coach. I love being able to empower someone's state of mind so that they can find the courage to do what they love in life and live from the inside out.  I love being able to connect, champion and celebrate others. I also have a mentoring opera company called Everybody Can! We support people who want to try their hand at a new skill or would like someone to help them work through their goals and aspirations. We are all there to add value to each other.
ReWatch La Scena Tête-à-Tête with Nadine Benjamin. www.myscena.org
Valérie Poisson
On self-improvment in a time of confinement
I believe that everyone has an incredible chance to have time to work, enjoy life, find happiness and improve as a person. Depending on our stage of life, certain aspects become priority. In this period, why not take the opportunity to question yourself, find ways to grow personally and acquire new knowledge? For example, I take intensive German courses with the Goethe-Institut. It's quite a challenge! For the reading, there is Tout le monde vous dira non and À chacun sa mission by Monbourquette. Also, let's take the opportunity to learn to communicate better, as in Boisvert's S'affirmer et Communiquer.
For stress management, in addition to Carlson's Quand le verre d'eau déborde, Renaud's Le Guide anti-stress and Lionel Coudron's Stress: comment l'appoiser, À chacun son stress by Sonia Lupien, etc. I share Boris Cyrulnik's opinion on resilience, which maintains that in exceptional periods, the creativity that the arts allow is a path to recovery, and that art is a salvation in times of crisis. With all these upheavals, we must question ourselves in terms of time management and our heritage. Is it really normal to be so exhausted from work that there is little or no energy left for personal activities that provide important learning?
The reduction in working hours in certain areas allows us to deepen our interests and skills. It is very good to encourage artists to support our cultural heritage, but try to understand their passion, and this will allow you to discover a new world and develop another, less traditional, intellectual dimension. I therefore advise people to listen to medici.tv and less known radio stations, or to ask those around you what and whom to listen to, but also to pose questions to artists, to understand their background, their ways of managing uncertainty. Dare to discover a new style of music, dance or other art. Finally, take the time to become interested in our planet, delve into the Shift Project or see the National Geographic documentaries.
This page is also available in / Cette page est également disponible en:

Francais (French)