+ A CD review of English composer Granville Bantock's epic late-Romantic oratorio Omar Khayyam, re-released from the 1979 Lyrita version with the BBC orchestra and chorus under Norman Del Mar.
+ The results of the Seventh Cliburn International Amateur Piano Competition, held in Fort Worth TX, are in.
+ David Lang talks with The Guardian's Kate Molleson about writing music for memorials.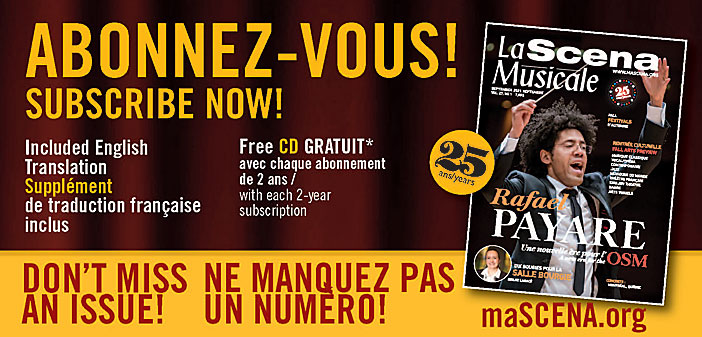 A classic daunting Lang commission: construct exactly the right music for collective remembrance. "Right," he nods, but he doesn't look daunted. "How to write something that seems ancient, like a kind of music whose origins we don't question. Actually, these are exactly the kind of problems I really like trying to solve. You can do a lot of things in music that call attention to your own existence, your own skill as a composer. Flashy things, exciting things, grandiose things that show how great the moment is. Music that says: 'Aren't I clever for thinking of this?' But being an adult composer has been about learning to get rid of all that."
+ Ukrainian lyric bass-baritone Wassyl Slipak was killed in the Ukraian-Russian conflict in Donbass (French).
+ Four scores by Italian composer Gaspare Spontini (1774-1851) were discovered in Belgium, including three operas (French).
+ Patrick Corrigan of Pacific Opera Victoria was appointed General Director of the Opéra de Montréal. He will start in September. (English/French)
"The Board of directors of the Opéra de Montréal is pleased to welcome, as General Director, Mr. Patrick Corrigan, a seasoned manager in the Canadian opera community and an inspiring leader with an exceptional record. His strong experience and success in the management and development of an opera company, his strategic vision, his passion for the art of opera, for Montréal and local creators, as well as his vast network of contacts will be precious assets in the next phase of the evolution of the Opéra de Montréal," said Mr. Bernard Stotland.
+ The Montreal International Jazz Festival kicks off tonight!