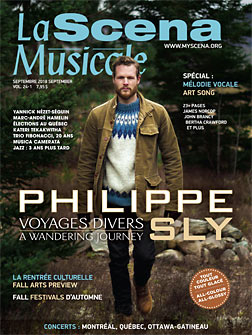 This page is also available in / Cette page est également disponible en:

Francais (French)
Rigoletto and Das Rheingold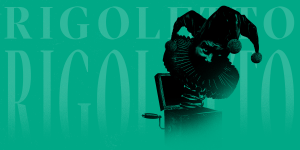 The Opéra de Montréal kicks off the season with Verdi's tragic Rigoletto. This italian classic, inspired by Victor Hugo's Le roi s'amuse, will be performed on September 15, 18, 20 and 22. Two Canadian singers are featured in this production: baritone James Westman and the soprano Myriam Leblanc play respectively the bouffon Rigoletto and his daughter Gilda. The Duke of Mantua will be sung by the tenor Rame Lahaij while the assassin Sparafucile and his sister Magdalena will be portrayed by the bass Vartan Gabrielian and Canadian mezzo Caroline Sproule. This is the perfect chance to discover chef Carlo Montanaro conducting the Orchestre Metropolitain and not to forget Michael Cavanagh's staging.
In November and for a first time in over 20 years, the Opéra de Montréal will offer the mythical universe of the first component of Wagner's tetralogy. Das Rheingold is directly inspired from Nordic mythology. Canadian and American talent will contribute to the opera's production: Ryan McKinny will play Wotan, master of the gods, Aidan Ferguson will play his goddess wife Fricka and Nathan Berg will play Alberich, a heinous dwarf. In the Rhine's waters, Alberich steals gold from which he forges a ring giving him the world's power, but only if he swears off love. Wotan robs the ring from him in order to pay for the luxurious palace displaying his supremacy. Now without the ring, the dwarf curses all those who will wear it. It is under Brian Staufenbiel's staging and set design rented from Minnesota Opera that Wagner's masterful piece will be presented to the public on November 10, 13, 15 and 17, following Michael Christie's musical direction. Salle Wilfrid-Pelletier, Place des arts. www.operademontreal.com
Vocal Concerts
Following its opening concert, the Orchestre Symphonique de Québec welcomes two world-renowned singers: the contralto Marie-Nicole Lemieux and the tenor Michael Schade. Webern's Dans le vent d'été is on the agenda as well as Mahler's Lied von der Erde (The Song of the Earth). Lemieux is more than familiar with Mahler's repertoire, having performed many of his lieder on disc. OSQ's conductor Fabien Gabel says, "I hesitated tackling Mahler for a long time, maybe by modesty or by fear of not being able to capture his monumental symphonies' architecture. But sometimes, interactions between artists can be determining. I am forever grateful towards Marie-Nicole Lemieux for urging me to conduct Mahler." September 27.
For their very first concert of the season, the Violons du Roy and the Chapelle de Québec propose a "Vivaldi night" on September 21st. The Violons du Roy's musicians present the Venetian composer's concertos and sinfonias: Al Santo Sepulcro, Sinfonia en B Minor, the sinfonia from the opera Dorilla in Tempe, the Concerto for Violin in C Major, the Concerto for Viola d'Amore in D Major, the Concerto for Cello in B Minor and the opening of La Verità in Cimento. Mezzo-soprano Maude Brunet joins the baroque ensemble in her soloist performance in Vivaldi's Stabat Mater, an imposing masterpiece.  www.osq.org
The Société d'Art Vocal Gala
With its mission to promote emerging and established interpreters of the lyric scene, the Société d'Art Vocal brings us a new season of recitals. On October 14, the Société welcomes Allyson McHardy in an original production named Femmes aux bords de la crise de nerfs. Rachel Andrist will accompany the mezzo-soprano on piano. Virtuous melodies and excerpts from the lyric repertoire are to be expected.
On November 9, under the musical supervision of André Lemay-Roy, the SAVM presents a gala concert honouring its 20th anniversary—an occasion for its loyal public to continue supporting its mission. This event is entitled Schubertiade, sharing the spirit of 19th century intimate concerts, and will celebrate Schubert's greatest melodies. Concert Hall of the Conservatoire de Montréal. www.artvocal.ca
Werther and Nabucco
Opening its season, the Opéra de Québec will present Massenet's Werther on October 20, 23, 25 and 27. Considered the composer's greatest piece, this opera relates the sufferings of the young Werther, tormented by his love for Charlotte. The opera is inspired by Goethe's eponymous novel, which profoundly marked its era and readers during the 19th century. Tenor Antoine Bélanger portrays the lead character, mezzo-soprano Julie Boulianne will sings Charlotte, soprano Magali Simard-Galdes will take on Sophie and baritone Hugo Laporte will sing Albert.
In May, the Opéra de Québec proposes Verdi's Nabucco. Under the Babylone and Jerusalem decor, the opera spreads an eminently political message, calling out for the Italian unification and for its people's autonomy in the 19th century. The infamous walk of the slaves Va, pensiero exemplifies perfectly the opera's political investment. In this production presented on May 11, 14, 16 and 18, baritone James Westman will play Babylone's king Nabucco, Michele Capalbo interprets Abigaille, a slave seeking revenge, Alain Coulombe will play the priest and Geneviève Lévesque will be Nabucco's daughter Fenena. With the Orchestre Symphonique de Québec. Grand Théâtre de Québec. www.operadequebec.com
Le Chanteur de Mexico
The Opéra Bouffe du Québec presents Le Chanteur de Mexico, Francis Lopez's hit operetta popularized by Luis Mariano, its most famous interpret. On November 10, 11, 16, 17 and 18, the public from Laval will enjoy hearing Asitha Tennekoon as the lead character (Vincent), Klara Martel-Laroche (Cricri), Philippe Gobeille (Bilou), Marie-Pierre de Brienne (Éva/Tornade), Richard Lalancette (Cartoni) and Manuel Blais (Zapata). Simon Fournier is the production's musical and artistic director. Maison des arts de Laval. www.operabouffe.org
This page is also available in / Cette page est également disponible en:

Francais (French)