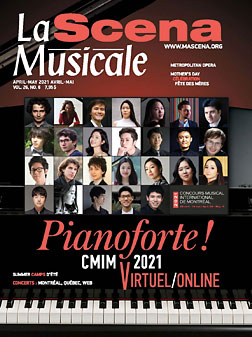 This page is also available in / Cette page est également disponible en:

Francais (French)
Initially scheduled for spring 2020, but ­postponed for a year because of the pandemic, the sixth edition of the Stella Musica Festival will be presented for the first time in a hybrid way, in front of a live audience in the Gesù amphitheatre – if health measures permit this – and online.
The traditional networking evening cannot take place, but the Stella Musica Festival will nonetheless pursue the mission that has inspired it since its inception: supporting women composers, women performers and, more broadly, highlighting the contribution of women in the world of music and the arts, including in leadership and management roles.
Exceptional conditions result in an exceptional tribute. This edition is the first since the death of Anne-Marie Trahan, which ­occurred in July 2019. A former Quebec ­Superior Court judge, this great music lover and philanthropist was also an ambassador for the festival. "If it wasn't for her, I probably wouldn't have been brave enough to start this," says the Polish artistic director and pianist Katarzyna Musial, who regards Trahan as her spiritual mother.
Programming
The Stella Musica Festival will take place over two days. First, on May 19, there will be an intimate concert, followed by a panel discussion on Women's Leadership in the Era of COVID-19. This first concert features the young ­soprano Kirsten LeBlanc, accompanied on the piano by Andrea van Pelt. Also on the program are a cycle of piano pieces, April Preludes by the Czech composer Vítězslava Kaprálová (1915-1940), performed by Musial herself, and works by the young Canadian composer, mezzo-soprano and multi-instrumentalist Clio Montrey.
The post-concert discussion will be moderated by Chantal Lambert, director of the Atelier lyrique de l'Opéra de Montréal. She will have by her side, as panelists, the executive director of the Conseil des arts de Montréal, Nathalie Maillé, and the executive and artistic airector of Jeunesses Musicales Canada, Danièle LeBlanc. "These established and powerful women are role models that can guide us and give us feedback on how to go forward," Musial says.
Two days later, on May 21, the festival will organize a large concert in the presence of ­Quebec soprano France Bellemare, who will perform works by Clara Schumann, Kurt Weill and Antonín Dvořák. The Stella Musica Festival can also count on the participation of ­violinist Marie Nadeau-Tremblay and her ­ensemble Les Barocudas, who were nominated for a Juno for their recent album entitled La Peste (ATMA, 2020). The recording offers an opportunity to discover baroque works written during episodes of the plague or whose composers were victims of the plague. "This is very relevant to our current situation worldwide," Musial notes.
This page is also available in / Cette page est également disponible en:

Francais (French)