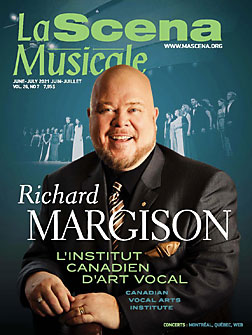 This page is also available in / Cette page est également disponible en:

Francais (French)
Voice type: soprano

From: China


Teachers: Mignon Dunn, Ying Huang, Yan Yang

Education: Manhattan School of Music
Music runs in the family: there's a choir conductor, a koto teacher, a composer and a singer. And then there's Melody Yun Xie, a lyric soprano and voice teaching assistant at Xinghai Conservatory of Music, China. Her musical journey started on the piano at the age of 3. Also as a youngster, she liked to sing. When she was 18, a voice teacher encouraged her to start her training the operatic style.
A graduate of the Manhattan School of Music, Melody has appeared in numerous productions, including Puccini's La Bohème, Donizetti's L'Elisir d'amore, Mozart's The Magic Flute and Gounod's Roméo et Juliette. "She has a very promising soprano voice, on the stage she can surprise you," opera critic Meche Kroop commented after her performance as Musetta in La Bohème. Besides her engagements as opera singer, Melody participated in the International Art Song Concert activities, led by the Metropolitan Opera's Joan Dornemann. In the winter of 2019, she hosted an art song lecture on Claude Debussy and a concert titled "Listen to the misty beauty of poetry" at the Guangzhou Opera House.
New York is where she learned the most, notably from teachers at the International Vocal Arts Institute program. Melody remembers fondly her first teacher, Mignon Dunn, who "guided [her]in the real art of opera singing." Among the singers who inspire her, Melody mentions Hyesang Park, Lisette Oropesa, Renée Fleming and Ruth Falcon. "Some of the singers are in the Fach I should be, like Ileana Cotrubas, so I have here an icon I can learn from," Melody adds.
What are your career goals and how do you plan to achieve them?
I have many career goals. I plan to found a music festival for Chinese, Canadian and American opera singers. As you know, political issues with Chinese and American governments are severe nowadays, as are the issues between China and Canada. I grew up in an environment where singers could sing in an international chorus without strife. I would like to build a program like this. And I need to grow and become a real artist myself. Once this happens, I will be able to organize a program or festival.
What are your thoughts on music competitions?
There is always competition between classical musicians, but you learn from these competitions. You meet good singers and you learn from them, you discover your weaknesses and try to fix them. It is a way to improve on your performances. The final goal is to attain the status of a musician.
What are your hopes for the future?
To sing my notes above high C beautifully. I still have some tightness but if I release it, I can sing the repertoire better.
What kind of repertoire are you studying?
Songs. I think I learn a lot by songs. And repertoire from the classical period, which keeps my voice trained and healthy.
Would you rather have a loud voice or to be able to achieve all sorts of nuances and colours?
Nuances and colours are more important to me. My goal is to be an artist, to create beauty with my voice.
What makes a great singer ?
Personality, onstage and offstage. A good personality makes for an appealing singer. I learned this from Mignon Dunn.
How do you see your voice evolving in the next 10 years?
I think I will be a full lyric soprano in the next 10 years. So the register of the repertoire should not be too high for my voice until then.
Which is your favourite animal and why?
Puppies because they sing with you!
This page is also available in / Cette page est également disponible en:

Francais (French)