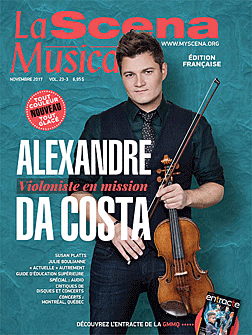 This page is also available in / Cette page est également disponible en:

Francais (French)
British-born Canadian mezzo Susan Platts has been delighting audiences around the world with her expertise in art song; her first solo album of songs by Robert Schumann, Clara Schumann and ­Johannes Brahms earned her ­critical acclaim. Known for her Mahler interpretations, she's been featured on recordings singing both the full and concert versions of Das Lied von der Erde and Lieder eines fahrenden Gesellen. She's sung Mahler with symphonies from San Diego to Baltimore, Toronto to Santa Barbara, and Philharmonics from Boston to New Mexico, to Calgary and Krakow as well as Orchestre Métropolitain, Canadian Opera Company Orchestra, and Germany's Staatskapelle Halle. And that's just the tip of the iceberg; Platts is also becoming more ­active in the opera world, having performed everything from Dido and Aeneas to Nixon in China while hitting Wagner, Britten, Bellini, Bernstein and Gluck along the way. The ­National Post called her "the next Maureen Forrester" and she's received rave reviews from publications like The New York Times, Washington Post, and Toronto Star.
It took a few tries to get the best connection for our interview. I was calling Susan from Montreal and she was at her home in Chicago after singing two performances with the Toronto Symphony Orchestra under Peter Oundjian the previous Thursday and Friday. Truth be known, I hadn't ever met Platts in person. I had just heard her premiere Howard Shore's new song cycle, L'Aube; it was a great night of music making. Platts sang with her distinctively rich, dark, soulful tone. She ­performed with a poise and reverence that drew you in from the moment she stepped to her music. Her expertise in art song was ­evident as she communicated every nuance of the text, all while seeming to relish the actual production and pronunciation of the words. The Shore piece was a big sing and it gave Platts a perfect vehicle to show off her wide array of dynamics and colours. Her chest voice rang effortlessly through Roy Thomson Hall, and her high register was just as warm and dazzling as her low register. Her connection to the audience was palpable. During the Mahler, we were treated to a warm, inviting performance. The finale, Der Abschied, was a definite highlight. This was an evening of music ­presented by an artist who knows her craft.
"A Tribute to Maureen Forrester" had two performances at Toronto's Roy Thomson Hall, hosted by Canadian superstar tenor Ben ­Heppner, and was a touching celebration of the life and career of one of Canada's true ­musical legends. The evening featured two things that were dear to Forrester's heart — original Canadian compositions and Mahler's Das Lied von der Erde. Forrester was chair of the Canada Council for the Arts from 1983 to 1988 and during her tenure was a champion for the creation of new Canadian works. The show featured clips of Maureen giving interviews while on tour and heart-warming ­accounts of her humour, grace, intelligence, and talent. It was humbling to see how much Forrester accomplished in her lifetime. From her beginnings in Montreal through a career that spanned decades and fostered a great growth in Canadian music, it was no wonder she had been inducted into the Canadian Music Hall of Fame — a rare feat for a ­classical musician, as Heppner noted.
"How were you connected to Maureen?" I asked, curious to hear as many anecdotes I could about the legend. "I think I met her first through Neil Crory," Platts began, "We had a few sessions together and we've had tea a few times." Platts reminisced about Maureen's generosity and kindness. They worked ­together on Mahler, one of Forrester's ­specialties. The contralto had become a friend and dear colleague of conductor Bruno Walter, Mahler's own protégé. Platts recalls ­having tea with Maureen and hearing a recording of Forrester singing the Rückert-Lieder. "I remember sitting with her. She couldn't remember the names of all the people she worked with [on the recording]but she ­remembered every word. I watched her sing along with so much emotion. It was special."
How did L'Aube come about? "I'm not sure if it was the Maureen Forrester tribute that came first or the commission, but it was a ­perfect fit." The TSO had discussed Platts' ­return to their stage and performing a ­program of Mahler and perhaps premiering a new work. The piece was commissioned by the TSO to be composed by the award-winning composer, Canada's own Howard Shore. "I think there were a few other singers in the running," Platts said. "I was told that Mr. Shore wanted to chat, so we had a phone call … at the end he said, 'I look forward to collaborating with you' so I thought, Well, I guess I'm doing this then!"
Platts met with Shore several times to sing through the piece. She got to know him and his wife quite well over a working trip to New York. "We were out to dinner and he was telling all these great stories from SNL." (Shore had been the music director for ­Saturday Night Live, 1975–1980). "He was a ­delight," she said in a way that you could hear her smile. Working with him was "a perfect fit", Platts gushed, "My input was welcomed and I felt he really understood my voice."
L'Aube ("Dawn") draws its libretto from poet Elizabeth Cotnoir, a frequent collaborator with Shore. "I just find the piece so accessible," Platts says. "It's such a gentle, touching reflection on the earth and our relationship with it, without mentioning exact, specific things." The subject matter of the poems ­marries perfectly with the texts from Mahler's Das Lied von der Erde. "He was just so happy to hear his music performed," Platts says of her first sing-through for Shore. "He's ­receiving the Order of Canada … He's going to try to stick around for the Ottawa ­performance." The program is due to be ­repeated with the Ottawa Symphony Orchestra on Monday, November 20 at the National Arts Centre. "It's a big sing, but if I can speak this soon after doing it twice, I'm excited to perform it again in Ottawa," she chuckled.
The night was a tour-de-force that covered a huge expanse both dynamically and ­melodically. "You just have to let go and sing the music, you have to trust your technique. ­Especially with a piece like Der Abschied" — the final movement of the Mahler — "you can't let worrying about your technique get in the way. That's why we study."
Speaking of studying, I asked her about her musical education and background. "Well, that's interesting. Here's the thing, after High School, I didn't have any official training or certification."
Platts got her start in her grade eleven year in Victoria, BC, singing in the choir. She could n0t read music and there weren't any ­musicians in the family, so as a kid musical education wasn't a priority. However, she was told that she should consider private lessons ­because she did have a beautiful voice. "I never thought, at any point, that this is what I was going to do," Platts confessed. As a teen she loved drawing and painting and planned on going into graphic design. However, ­something clicked during her singing lessons, and the idea of attending the Victoria ­Conservatory popped up.
"I could do a two-year program," she said, "with the option of continuing on at the ­University of Victoria and obtaining a degree." However, prior to starting, her voice teacher, Alexandra Browning-Moore, resigned her ­position at the Conservatory. "I had two ­options: I could continue and go on to the Conservatory and get a new voice teacher, or I could stay with her and study privately. Since I was so new to this and since I was making such good progress, I decided to stay with her." She talks about how great and ­supportive her parents were every step along the way. "They trusted me and knew I was a good worker. They said 'If this is what you want to put your energy into, we're behind you.'" The comfort of knowing she had such support ­allowed Platts to pursue a training regimen outside the norm.
She continued taking private lessons, ­studying music theory, piano, and history, all while focusing on her singing. "I was very ­disciplined and a good worker, so my modified path really worked for me." She did agree that self-discipline was the major factor in her success with such an approach. Eventually, after singing in a concert about a year later, one of the audience members with connections to Jessye Norman told Platts about the new Mentor and Protégé Arts Initiative. Platts submitted and before she knew it, out of 26 international competitors she had been selected as one of four singers chosen to sing for Norman. Afterwards, each had a one-on-one with the legend, and finally, Norman chose Platts. "I was chosen in 2004," Platts remembers, "and we still have a great relationship today. We still get together for coachings or just go to lunch or dinner and catch up." Subsequently, through lots of hard work and dedication, Platts went on to forge a career that spans the globe and boasts an ­impressive repertoire.
The Rolex Mentor and Protégé Arts Initiative support provided Platts with the opportunity to commission a new work for mezzo-soprano and orchestra. The piece was titled "Under the Watchful Sky" with libretto taken from the ancient Chinese texts of the Shi Jing (Book of Songs). The piece was composed by Canadian Marjan Mozetich and premiered in 2010 by the Quebec Symphony under Yoav Talmi. Naturally, along with this and her expertise in Mahler, she was a perfect fit for a tribute to a singer who championed both ­during her illustrious career. "It just made sense, you know?" Platts added as we ­continued talking about Maureen's passion for new music. "I think she would have really liked the program."
Platts has continued private studies with Norman and her coach Alan Darling in Chicago while maintaining her career, noting how singers are always studying something. "You never stop, you know? You're always reading or studying."
"I must be doing something right," she laughed, "if I'm still doing it 24 years later [at forty-four]." That's putting it mildly. Looking at her upcoming schedule, she shows no sign of slowing down.
Upcoming: Platts will sing Elgar's Dream of Gerontius with the Vancouver Symphony Orchestra (November 4 & 6); she will repeat A Tribute to Maureen Forrester with the Ottawa Symphony Orchestra (November 20); Messiah at the National Arts Centre (December 22); and with the Colorado Springs Philharmonic, Bernstein's Jeremiah and Mahler's Lieder eines fahrenden Gesellen (January 27 & 28).
www.vancouversymphony.ca
www.ottawasymphony.com
www.nac-cna.ca
www.susanplatts.com

Gregory Finney is a regular contributor of ­Schmopera.com
This page is also available in / Cette page est également disponible en:

Francais (French)