This page is also available in / Cette page est également disponible en:

English (Anglais)
Josh Dolgin, alias Socalled, incontournable de la scène musicale montréalaise et d'un large public international, est surnommé « le sorcier fou du hip-hop yiddish ». Au cours des deux dernières décennies, son mélange fantaisiste d'art irrévérencieux a fait son apparition dans des salles de concert, des clubs et des cinémas, au gré de ses projets de dessins animés, de magie et de ses collaborations surprenantes, telles que Tales from Odessa, sa comédie musicale de marionnettes yiddish pour le Centre Segal, et l'album AKOKA, sélectionné aux prix Juno, avec le violoncelliste classique Matt Haimovitz et le clarinettiste klezmer David Krakauer.
Cet automne voit la sortie de son film original queer-érotique, The Housesitter, ainsi qu'un nouvel album de chansons de théâtre yiddish principalement traditionnelles avec le Kaiser Quartett de Hambourg. Prévisible, il ne l'est certainement pas.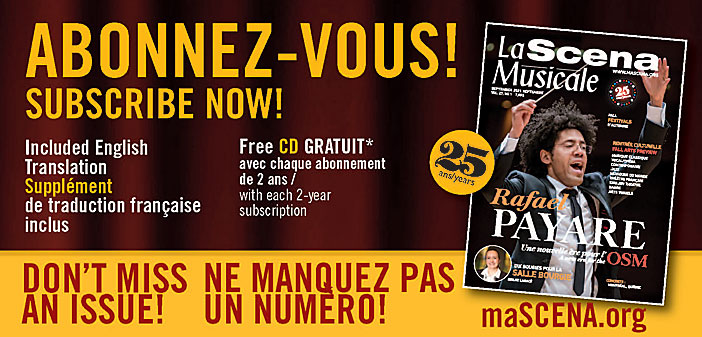 L'impulsion pour Die Frosh, sorti le 21 septembre (Socalled/Membran), remonte à plus de 20 ans, lorsque Dolgin, un producteur de hip-hop, commence à chercher de vieux disques yiddish dans les marchés aux puces et les friperies, à la recherche de pistes à mixer à des sons contemporains.
« Le hip-hop est basé sur des sons existants provenant généralement de la culture afro-américaine, explique Dolgin. Donc, en participant au hip-hop et au rap, ce fut une révélation de trouver ma propre culture à partir de laquelle m'inspirer. »
« J'ai commencé à trouver de petits riffs et des ruptures dans de vieux disques yiddish. Voilà une musique incroyable, funky et pleine d'entrain, à laquelle personne d'autre ne faisait vraiment référence. C'était vraiment frais et honnête. »
Le son révolutionnaire de Dolgin – entendu sur des albums comme The So Called Seder: A Hip Hop Haggadah (2005) et Ghettoblaster (2006) – a contribué à ce que l'on appelle le « renouveau yiddish ». Une culture de littérature, de musique, d'art, de danse et une langue autrefois menacée d'extinction a été stimulée et ressuscitée par des concerts, des conférences, des cours et des enregistrements ainsi que des festivals comme le KlezKanada dans les Laurentides.
« Les gens de la première vague du renouveau yiddish ont vraiment dû creuser, dit Dolgin. Ils étaient comme des archéologues à la recherche de trésors perdus et oubliés à la suite d'une véritable rupture de la culture […] La nouvelle génération a grandi avec cette culture, qui fait partie de sa conscience. Les jeunes sont allés à ces festivals quand ils étaient bébés, entendant les rythmes et les mélodies. Ils ne redécouvrent rien. Cela fait partie de leur identité vivante et de leur culture. »
Dolgin, qui a 41 ans, dit qu'il a grandi après la plus grande partie de la « relance » du renouveau yiddish : « Alors, je pouvais, comme jeune de 20 ans à l'ère du numérique, trouver un moyen de combiner cette musique aux nouvelles technologies. »
Vingt ans plus tard, par contre, malgré un déversement mondial de yiddish, Dolgin n'entendait pas les chansons avec le genre d'arrangements traditionnels et d'harmonies qui l'avaient inspiré au départ. Ainsi, au lieu de chercher des riffs à découper, il s'est consacré à apprendre le style de cette tradition, en jouant d'abord les mélodies à l'accordéon ou au piano, puis en chantant les chansons. Alors que Dolgin commençait à intégrer une partie de cette musique dans ses spectacles, il rencontrait un public enthousiaste ville après ville.
Les chansons sur Die Frosh sont arrangées pour un accompagnement de quatuor à cordes, la plupart par Dolgin lui-même. « C'est ma tentative de présenter certaines des chansons les plus incroyables de ce répertoire extraordinaire de manière très élégante et respectueuse », dit-il.
L'album comprend des chansons du répertoire théâtral yiddish, des mélodies hassidiques, des klezmers, des chansons folkloriques et des chansons de l'Holocauste et d'Israël. Les points culminants incluent le tristement nostalgique Kinder Yorn (Mon enfance), écrit dans les années 1930 ou 1940 par Mordechai Gebirtig, le grand poète de Cracovie, mais basé sur un arrangement choral des années 1950 du compositeur de théâtre yiddish Abraham Milstein. Afn Boydm (Au-dessus du grenier) est une chanson folklorique que Dolgin a transcrite d'une partition de piano éditée en 1912. La chanson-titre, Die Frosh (La grenouille) est une charmante chanson pour enfants, incluant des croassements aux accents yiddish.
La poignante Tsum Shtam (La source) est l'une des deux compositions originales de l'album, écrite pour Dolgin par le légendaire chanteur yiddish et survivant de l'Holocauste Arkady Gendler (1921-2017). « Il était un lien avec le vieux monde, un bel esprit, à la plus belle voix, et le gars le plus incroyable, dit Dolgin. Il était comme mon grand-père. »
Il y a onze ans, Gendler a rejoint la famille Dolgin lors d'une croisière culturelle yiddish sur le Dniepr en Ukraine. Gendler a écrit la chanson sur le bateau, une histoire touchante de retour à la maison.
L'excellent Kaiser Quartett avait déjà collaboré avec Dolgin à Hambourg pour sa comédie musicale de marionnettes The Season, parties 1 et 2. (Le quatuor peut également être entendu dans Chambers [2015] de Chilly Gonzales, autre Montréalais et ami proche de Dolgin.)
« Ils souhaitaient élargir leur répertoire et s'amuser. C'est un honneur de jouer avec eux et de faire travailler leur génie pour une bonne cause », dit-il en riant.
Dolgin se produit avec un nouveau quatuor à cordes dans chaque ville, dont Venise, Londres, Boston, New York et Toronto (avec le Warhol Dervish de Montréal) et pour des dates ultérieures à Paris et à Moscou. « C'était super édifiant et gratifiant, dit-il. C'est de la musique qui déborde de passion. Ces incroyables musiciens virtuoses, ils sont renversés partout où je vais. »
Die Frosh de Socalled semble prouver que la culture yiddish vivante est là pour de bon. « Le sentimentalisme excessif de cette musique est terminé, dit-il, il s'agit d'une musique de classe mondiale. C'est un trésor à partager. »
Traduction par Mélissa Brien
Pour plus d'information sur les concerts de Socalled, visitez www.socalledmusic.com.
This page is also available in / Cette page est également disponible en:

English (Anglais)