This page is also available in / Cette page est également disponible en:

English (Anglais)
Le compositeur vivant le plus aventureux d'Angleterre ne s'est jamais beaucoup soucié du piano. Harrison Birtwistle a commencé à la clarinette, a composé des opéras dans sa tête et en a écrit un sans cordes. Ayant reçu une commande de concerto pour piano, il a offert quelque chose appelé Antiphonies, qui est plus un combat de rue qu'une conversation entre piano et orchestre. On a l'impression qu'il n'aime rien d'autre dans un instrument que la coloration percussive.
Aujourd'hui âgé de 87 ans, Birtwistle a une imagination sonore unique et une approche de la musique à laquelle manquent plusieurs briques. Il m'a dit un jour que la seule symphonie de Mahler qu'il connaissait était la troisième et qu'il n'avait pas écouté Wagner avant d'avoir passé cinquante ans. Ainsi, toute association entre Birtwistle et Beethoven est basée sur la découverte d'affinités, une intercalation tardive de ces deux esprits originaux. Birtwistle dit lui-même : « Beethoven ne fait jamais ce que vous pensez qu'il va faire. C'est ce qui est génial. C'est toujours une surprise. Vous connaissez peut-être bien l'oeuvre, mais la surprise est toujours là. » De sa propre musique, il ajoute : « Je ne comprends pas mes morceaux, bien sûr. Et je ne veux pas les comprendre. »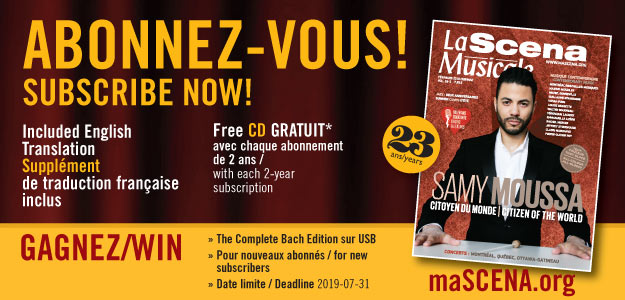 Je réfléchis à cet album depuis des mois, évitant délibérément toute recherche de sens. Le pianiste moderniste Nicolas Hodges voltige de la période tardive de Beethoven – l'insaisissable Bagatelles, opus 126 – aux œuvres tardives de Birtwistle, écrites entre 2006 et 2014. Ce qui est troublant c'est que Hodges fait sonner Beethoven à ce point comme Birtwistle et vice versa que vous, l'auditeur, ne savez jamais tout à fait où vous êtes. Une fois le choc surmonté, la confusion est exaltante.
Gigue Machine de Birtwistle pourrait si facilement être l'une des fureurs presque atonales de Beethoven, peut-être même Für Elise joué à l'envers dans la mauvaise tonalité. Il y a un allegretto de 1821 sans numéro d'opus que je n'avais jamais entendu auparavant. Il s'inscrit parfaitement dans la Dance of the metro-gnome de Birtwistle. Ceux qui écoutent de la musique avec un esprit ouvert s'amuseront avec celle-ci. Hodges est un génie, d'une manière étrange.
NL

Abonnez-vous à https://slippedisc.com/
This page is also available in / Cette page est également disponible en:

English (Anglais)