This page is also available in / Cette page est également disponible en:

English (Anglais)
#_EVENTTYPES placeholder matched
#_EVENTCLASSIFICATIONS placeholder matched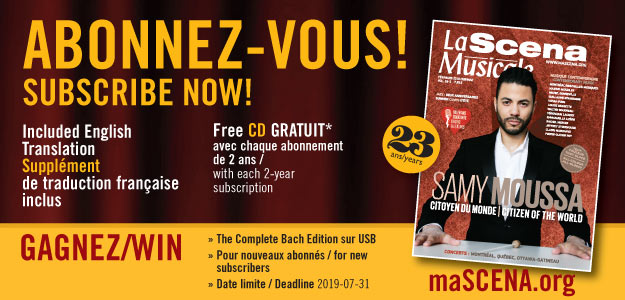 Chargement de la carte ....
Date/Heure
Date(s) - 20/10/2019
16:30 - 17:30
Lieu
Salle Claude-Léveillée, Place des Arts
Catégories
Types none
Classification de l'ensemble/soliste none
Artistes de l'évènement
Ensemble Paramirabo; Stefania Skoryna, danse
Prix
$8-12
Site Web de l'évènement
https://placedesarts.com/en/theme/bach-bedtime
Page Facebook de l'évènement
https://www.facebook.com/events/2458312307717057/
Numéro de téléphone
514-935-3933
En partenariat avec PROJECTION : Une semaine de dialogue
Venez entendre une version magique pour petit ensemble de l'oeuvre bien connue de Stravinsky. Une histoire fantasque, de la danse, ainsi que la participation des enfants agrémenteront ce concert.
MUSICIENS
Coproduction avec Ensemble Paramirabo et Stefania Skoryna, danse
*
In partnership with PROJECTION: A Week of Dialogue
Come hear a magical chamber version of Stravinsky's Rite of Spring with a whimsical story featuring original choreography.
MUSICIANS
Coproduction with Ensemble Paramirabo and dancer Stefania Skoryna
This page is also available in / Cette page est également disponible en:

English (Anglais)