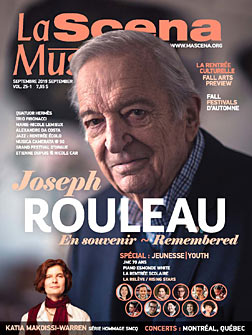 This page is also available in / Cette page est également disponible en:

Francais (French)
Les Petits Chanteurs du Mont-Royal are one of Quebec's most treasured cultural institutions. Having represented Quebec worldwide for over six decades, this boys' choir was dealt a hard blow last March, when the Commission scolaire de Montréal announced the termination of a long-standing agreement enabling 200 youths aged 8 to 17 to pursue their education at Collège Notre-Dame.
In Europe, boy choirs are an established tradition. In Quebec, Father Léandre Brault created Les Petits Chanteurs in 1956 on the belief that the teaching of music to the young would be for their greater benefit. The choir's makeup now is more ethnically and culturally diverse than ever. Admission requires good grades and some singing ability, but no prior training in music. The ultimate goal is to turn out well-rounded citizens motivated by self-improvement and a dual sense of discipline and personal rigour. To that end, students do not only receive music lessons, but are taught a wide range of subjects.
Since its inception, directorship has changed several times. Father Brault's first two successors were Charles-O. Dupuis and Gilbert Patenaude. Among its many distinctions, Les Petits Chanteurs have appeared numerous times abroad and shared stages with star performers like Luciano Pavarotti and notable organizations including the Opéra de Montréal, the Orchestre Métropolitain, the OSM and Les Grands Ballets Canadiens. The choir performs some 70 masses annually at St. Joseph's Oratory, its musical home. In 2016, the fate of the choir was entrusted to its current director Andrew Gray and its future seemed secure, at least until this year.
School Board Agreement
The agreement between Les Petits Chanteurs and the Commission scolaire de Montréal provided for schooling from Grades 3 to 11, ensured through a subsidy from the province's Ministry of Education. Its terms specify that all pupils would spend the bulk of their education at Collège Notre-Dame, a private educational institution. Parents, for their part, have been asked to cover fees related to the choir, a figure amounting to about $1,200 per annum. The college has the added asset of being right across the street from its rehearsal space in the Oratory. Three hours a day are allotted to the study of music, the curriculum comprising keyboard training, solfeggio, vocal technique and choral practice. In the higher grades, students are introduced to music notation and composition. All musical studies, including the steady schedule of rehearsals and concert or church performances and recordings, supplement the regular course load.
Future in Jeopardy
On March 26, the rug was unexpectedly pulled from under the choir's feet when Catherine Harel-Bourdon, chairman of the Commission scolaire de Montréal, unilaterally ended the long-standing agreement. Although the board reached its decision in October 2018, the move to withdraw financial support came out of the blue for Les Petits Chanteurs, who were never given advance notice. As a stopgap measure, students in the first three grades and those entering the next cohorts will have to attend the Académie Roberval from now on. But this facility is in the Villeray district, and that alone will cost students two hours of daily travel between the school and the Oratory. This will result in more wasted time for the students than savings, if any, for the school board. In response to protests, Bourdon-Harel stated the board's intention to create its own choral-music program in one of its own facilities by the 2020-21 school year. The Chairperson's promised "optimized" proposal has been met by much skepticism, simply because of the commuting issue, one that critics contend will increase absenteeism and hinder learning. A recent study even showed that 90% of parents intend to pull their sons out of the music education program altogether.
The Facebook page of Les Petits Chanteurs is laden with protests from parents addressed to Quebec Premier François Legault and his cabinet colleagues Jean-François Roberge, minister of education and Nathalie Roy, minister of culture and communication). The posts are unanimous in expressing incomprehension towards the decision and the ensuing travelling concerns.
"My son experienced the most stimulating year of his life, even if it took a lot out of him. […] The pace will be so hellish for him now that he will not be able to keep up." 
–Anne Paquin, mother of a 5th grader
"I cannot help but think about a bunch of kids who will have to endure long daily treks three or four times a week, if not more, to make it from school to their     rehearsal space." 
– Martin Drouin, father of 4th grader
S.O.S. Les Petits Chanteurs
Tous en chœur is the name of a petition now circulating on social media, accessed at [email protected], hashtag [email protected] To date over 17,000 people have signed a letter of support for its artistic director Andrew Gray. Of the names listed, there are 37 signatures by prominent local musical personalities, Kent Nagano, Yannick Nézet-Séguin, Gregory Charles and Serge Denoncourt among the notables.
On June 20, a demonstration was held in front of Collège Notre-Dame. On that occasion, Pierre Éloi-Talbot, chief administrator of Les Petits Chanteurs, made an urgent plea to the minister of education: either keep this one-of-a-kind institution as it is, or find an alternative solution within a reasonable timeframe. The choir braved the rain that day to give a short performance before a crowd of some 100 onlookers, with friends, sympathizers, concerned artists, politicians and journalists on hand.
Go to: www.pcmr.ca
Translation by Marc Chénard
This page is also available in / Cette page est également disponible en:

Francais (French)