PROFILE/REVIEW: of the 2018 Glimmerglass Festival Season: Silent Night by Kevin Puts and Mark Campbell; West Side Story by Leonard Bernstein, Arthur Laurents and Stephen Sondheim; Cunning Little Vixen by Leoš Janáček; and The Barber of Seville by Gioachino Rossini and Cesare Sterbini.
"It's remarkable how many important things happened in 1918," observes Glimmerglass Festival artistic and managing director Francesca Zambello, speaking at a recent pre-show audience address in Cooperstown. "The end of World War I. The birth of Leonard Bernstein. And the premiere of this piece" – this last a reference to Igor Stravinsky's The Soldier's Tale, which was offered in a spirited presentation at the festival's "Pavilion" on August 10, as a special add-on to the festival's 2018 mainstage season.
Glimmerglass, of course, dates its own founding to 1975; but it has seized the occasion of a remarkable centennial, assembling a richly rewarding, cogent yet varied retrospective on 100 years of artistic ferment, ingenuity, adventure, and heartbreak.
All Silent on the Western Front
Winner of the 2012 Pulitzer Prize for music, the opera Silent Night by composer Kevin Puts and librettist Mark Campbell has earned a reputation as among the most moving and memorable new operas of the 21st Century to date. Glimmerglass has now offered it in a timely, beautifully mounted and impeccably performed production directed by Tomer Zvulun and conducted by Nicole Paiement.
Based on Christian Carion's screenplay for the 2005 French film Joyeux Noël, the opera tells the true (if embellished) story of a unique battlefield Christmas in the early months of the First World War. Following incredibly powerful early battle scenes, three contending forces – Scottish, French and German – subside into exhaustion, their closely spaced trenches separated by a tight no-man's land.
In the tense lull of Christmas Eve, musics of gentler persuasion now come into play – skirls of bagpipe and strains of folksong from the Scottish lines, then the voice of a German tenor, Nikolaus Sprink (a former star of the Berlin Imperial Opera now conscripted as a common Dreckfresser) – conspiring to soothe the savage beast. A makeshift holiday ceasefire is arranged among the commanding officers; soldiers advance cautiously toward each other to share champagne and memories of home; commonalities across ancient divides and cultural asperities are discovered. Indeed, an awakening to the reality of shared humanity against the artifice of war is at the heart of Silent Night.
Puts' score surges with awesome, cinematic scope, with an amplitude at times reminiscent of Richard Strauss, while Campbell's humane and eloquent libretto is deftly constructed in the three salient native languages – English, French and German. Ingeniously, via score and text, two common aspects of the opera-going experience itself – on the one hand, the peculiarly heightened affect triggered by the operatic voice; on the other, the frequent frustration of linguistic asymmetry – themselves become central thematic synecdoches in Silent Night.
The tapestry of communal narrative is veined through with individual drama, as well: a French lieutenant pining for his pregnant wife and the child he may never see; a Scottish foot soldier recriminating with himself over the death of his brother, writing letters home to his mother with heartbreaking lies to conceal the loss; the German tenor's desolation in confronting the bootlessness of art in a world gone mad.
And, pitched between the grim and the transcendent, the opera also offers an entertaining narrative thread of plucky, slightly buffa anti-war aesthetic activism, in which tenor Sprink's soprano stage partner (and fiancée), a Danish soprano named Anna Sørensen, insists on visiting the front lines, at first merely to help buoy spirits before concocting a scheme to turn herself and Sprink into protester causes célèbres. If the plot here veers slightly toward the implausibility of operetta (or Hollywood – White Christmas, anyone?), it nonetheless provides canny leavening to the work's heavier elements (and even affords an exquisite platform for a moving diva turn for Anna, who sings a Latin pacem for the troops).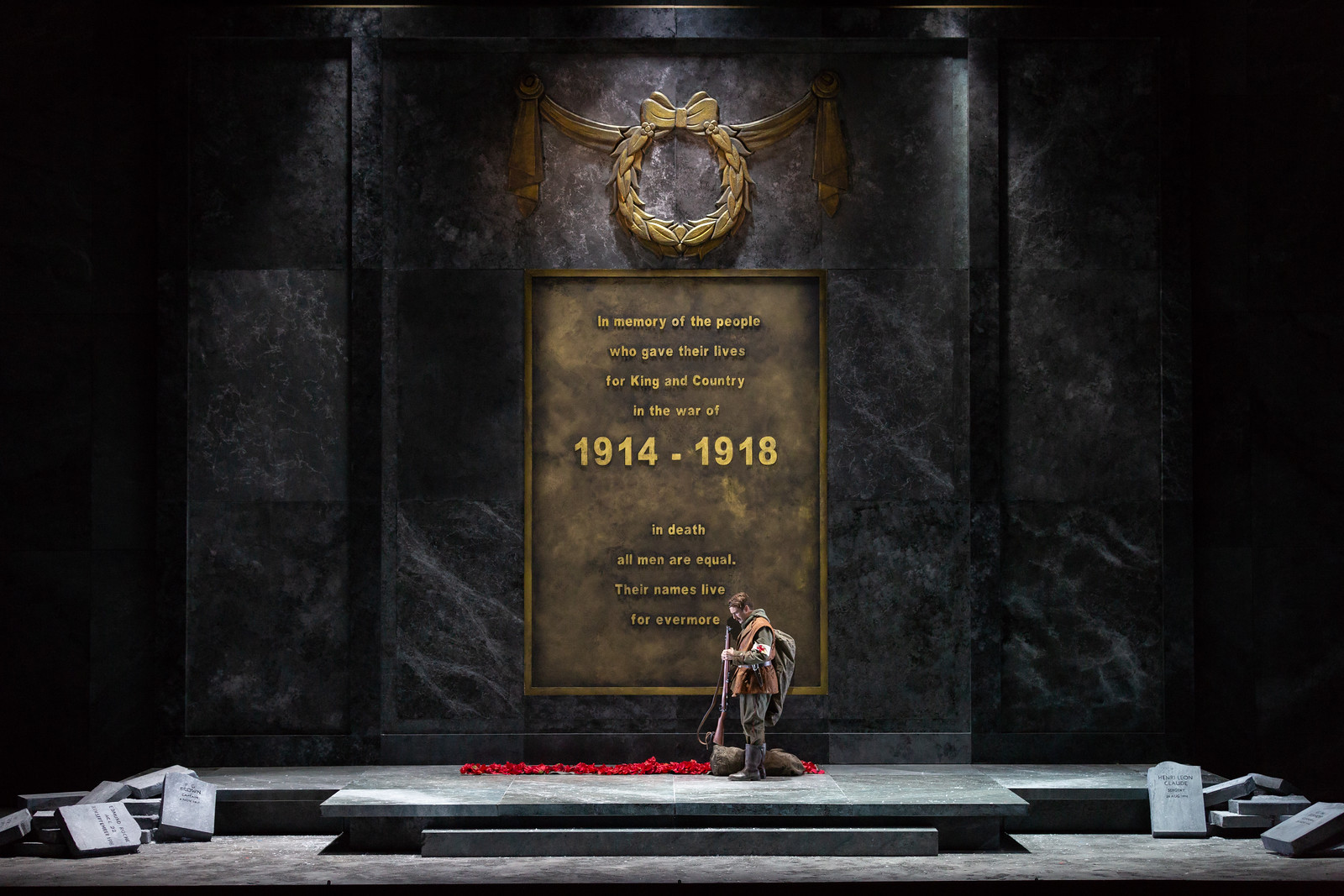 The production is visually stunning, too. An ingenious three-tiered set accommodates battle scenes played in horizontal triptych, with an effect akin to the expressive sublimity of a Griffith epic or an Eisenstein montage. And in a mellower sequence of no less chastening theatrical power, snow falls like bitter manna over a field of living and dead, corpses sharing a disquieting armistice with both comrades and foes, all of them all too aware of havoc's inevitable resumption.
Silent Night has a large cast and is performed at Glimmerglass almost entirely by members of the company's Young Artists Program. Tenor Arnold Livingston Geis is warm-voiced as the German opera singer Nikolaus Sprink, and handles his angst and spiritual evolution in a well-modulated performance. Soprano Mary Hangley is feisty and golden-toned as the Danish diva Anna Sørensen. Other notable performances are offered by baritone Michael Miller as the French Lieutenant Audebert, tenor Christian Sanders as Scottish soldier Jonathan Dale, baritone Michael Hewitt as the Jewish German Lieutenant Horstmayer, and baritone Conor McDonald in the finely etched comic-tragic supporting role of French barber turned aide-de-camp Ponchel, winning the audience early with his endearing Pierrot-like antics, and making his later, ill-fated misadventure in trying to sneak home for a visit to his mother one of the production's invaluable emotional touchstones. (McDonald also winningly performed the spoken-voice eponymous role of the Soldier, Joseph, in the above-mentioned August 10 presentation of Stravinsky's The Soldier's Tale.)
The production's scenic designs are by Erhard Rom; costume designs by Victoria Tzykun, lighting designs by Robert Wierzel; and the fierce, dramatically crucial early combat scenes have been devised (with far more verisimilitude than is typical for the opera stage) by fight choreographer Joe Isenberg.
(Silent Night was viewed August 12; Glimmerglass performances from July 15 through August 23.)
Go, West!
Moving from the battlefields of Europe to the blighted asphalt killing fields of mid-Twentieth-Century Manhattan, Glimmerglass has presented a full mainstage recreation of 1957's groundbreaking Broadway musical/quasi-opera, West Side Story.
With a book by playwright Arthurs Laurents, lyrics by a young Stephen Sondheim, a thrilling score by American composer and musical educator nonpareil Leonard Bernstein, and dazzlingly inventive and edgy choreography by Jerome Robbins, West Side Story's contemporary, race-relations take on Romeo and Juliet is among the indispensable treasures of the American stage canon.
Glimmerglass has mounted it with insouciance and admirable ambition, even bringing onboard choreographer Julio Monge, one of a handful of choreographers authorized to recreate Robbins' original dance work.
It is well to be thus reacquainted with the uncompromising, durable core of this piece of theater. Its depiction of violence and entrenched animus is as viciously vivid as any verismo opera (there is kinship of marrow here to Cavalleria Rusticana) while its tentative strains of romance and optimism are calibrated perfectly. West Side Story is tragic without cynicism; aspirational without banality.
Tenor Joseph Leppek is an attractive and ardent Tony, the hapless Polish Romeo who falls for his winsome Puerto Rican Juliet, Maria, the latter played with lyric loveliness by Vanessa Becerra.
Dancer-singer Amanda Castro energetically rises to the challenges of embodying the streetwise Anita, immortalized on stage and screen by Rita Moreno; Brian Vu makes for a memorable Mercutio/Riff; and the dark and mordantly charismatic Corey Bourbonniere, as Bernardo, is an ideal inner-city Tybalt.
Francesca Zambello has directed the production with her customary verve, sense of propulsion and attention to dramatic honesty, while the score is handled with brio by conductor David Charles Abell. Sets designs by Peter J. Davison, costume designs by Jessica Jahn, and lighting designs by Mark McCullough are all topnotch.
It's ironic to note, especially when considering a West Side Story presented by a landmark American opera company, that the topography of the real-life sites of the gang rivalries that inspired the musical are no more, tenements razed and streets ripped up more than 50 years ago to build the current Lincoln Center, New York's premiere opera and performing arts center. But the harsh verities of racial and cultural blood feuds have not been eradicated. West Side Story remains cautionary at any cardinal point of the human compass.
(West Side Story was viewed here on August 11; Glimmerglass performances from July 7 through August 24.)
Going Native
Interestingly, Leonard Bernstein earlier evoked a very different but no less endemic form of domestic American warfare in his 1952 one-act opera, Trouble in Tahiti. Set amidst the emotional minefields of upper-class American suburbia, the opera's pithy, jazz-inflected scenes from a marriage track a marital cold war between two disconsolate and baffled spouses, each wanting the other, each suing haltingly for peace, yet unable to articulate viable terms of surrender.
Members of the Glimmerglass Young Artists Program offered a snappy, bare-bones presentation of this intriguing Bernstein novelty at the Glimmerglass Festival Pavilion from August 7 through 20 (viewed here August 12), with bass-baritone Michael Hewitt and mezzosoprano Katherine Maysek pulling out all the stops as Sam and Dinah, the opera's two affluent Bickersons, and the trio of soprano Kresley Figueroa, tenor Spencer Britten, and baritone Schyler Vargas blending in smart virtuosity as the work's ironic chorus of singing, cocktail-set commentators.
Direction was by Eve Summer, costumes by Erik Teague, lighting by Peter W. Mitchell and the effective set unit, comprising a busy-box array of spinning panels adorned with kitsch 1950s marketing images, was by Ryan McGettigan.
It is worth noting that, despite 2018 being the Bernstein centennial year, no major revivals of Bernstein theater works seem to have made the calendar in the New York metropolitan area. All the more credit, thus, to Glimmerglass for its two-barreled West Side/Tahiti. (Kudos, too, to Bard SummerScape, for its recent exhumation of Bernstein's virtually forgotten score to a 1950 Broadway production of Peter Pan, reimagined this past June and July in fascinating pangender eccentricity by acclaimed director Christopher Alden).
The Air is Humming, Something Great is Cunning…
Czech composer/librettist Leoš Janáček's 1921/24 opera, The Cunning Little Vixen, is both beguiling and subtly disquieting – a fantastical yet deadpan musical masquerade about interspecies relations set alternately in the milieu of rural peasantry and the contiguous realm of forest fauna.
Central to the story are the exploits of the Vixen, an energetic and cagey young female fox, who is captured and brought home with an eye toward domestication by a gentle, phlegmatic forester, much to the chagrin of his wife, not to mention the chickens in the barnyard. The Vixen rouses the wife's jealousy-tinged contempt, stirs animal revolt, kills the chickens, and escapes back to the forest to find fertile married life with a rakish young male fox.
Meanwhile, human characters pine for love they never achieve, recite poetry, and face mortality with stoic peasant frankness.
The unusual, episodic work (based on a popular serialized print cartoon) has a gloriously listenable musical score in a style universally acknowledged as unique to Janáček – a synthesis of late European romanticism, Czech folk music, and the composer's own depth studies of the sounds and rhythms of both human and animal "speech." The opera is also said to express a kind of soft-pedaled pantheism and affirmation of nature's eternal cycles.
But there also seems to be a coy sub rosa eroticism in the work, reflective perhaps of certain recherché sentimental secrets in the composer's own life. Vixen is a late work of Janáček's, and was written against a background of marital coolness during which the composer is known to have been chastely enamored of a much younger woman, Kamila Stösslová, some 40 years his junior.
By dint of Janáček's fecund imaginative transformations, erotic yearning across an unbridgeable gulf of years could easily have been refigured as the unstated taboo between species.
However interpreted, the Glimmerglass production of Vixen is a beautiful, indeed lavish, spectacle. Glimmerglass young artist soprano Joanna Latini as the Vixen is a delight, with a voice of remarkable sparkle and a physicality both lithe and bewitchingly feral. Critically acclaimed bass-baritone Eric Owens brings superb subtlety to the enigma of the Forester, full-voiced yet emotionally understated.
Director E. Loren Meeker has activated his large cast with clarity and wit, while Glimmerglass music director Joseph Colaneri brings forth all the poignancy, lyricism and idiosyncrasy of Janáček's unusual melodies and orchestrations. Choreography by Eric Sean Fogel is admirably resourceful in defining the organic plasticity of the forest, as are set designs by Ryan McGettigan, costume designs by Erik Teague, and lighting designs by Mark McCullough.
Also to be commended are the fluent and delightful surtitles by resident Glimmerglass dramaturg Kelley Rourke (who also authored the ingenious libretto for the Glimmerglass opera for young audiences, Odyssey, based on Homer and with a score by Ben Moore, which was revived this season at the Cooperstown High School from July 31 through August 9; viewed here August 9).
Razor's Edge
Rossini's Barber of Seville is so appealing – easily among the funniest operas in the standard repertory – that it's easy to overlook both the controversy attending its premiere, and the subversions that it was thought to frame, from clashes of class and generations to inflammatory cultural appropriations. Stendhal, Rossini's indispensable early booster and commentator, in his Life of Rossini, narrates in gleeful detail the resentments and passions aroused by this opera before it became the most enduring vehicle of Rossini's immortality.
Glimmerglass' delightful 2018 production offers the opera's romantic shenanigans brilliantly unpacked by director Francesca Zambello amidst a funhouse whirl of gliding scenery, magically appearing satchels of lucre, and an irrepressible corps of commedia dell'arte zanies.
Tenor David Walton's Count Almaviva is the quintessential nobleman adventurer, vocally thrilling in his ardor toward the beleaguered Rosina, portrayed in turn by mezzosoprano Emily D'Angelo as quite the cunning vixen herself, a saucy soubrette of lusciously creamy voice and unassailable comedic chops, while baritone Joshua Hopkins as the title barber and jack-of-all-trades is a wry, winking, rich-voiced dynamo. Doctor Bartolo, the bourgeois sybarite who lasciviously yet lucklessly covets his ward, Rosina, is played and sung to side-splitting perfection by bass-baritone Dale Travis.
The production is choreographed by young artist program member Olivia Barbieri, and features colorful set designs by John Conklin; costume designs by Lynly Saunders and lighting designs by Robert Wierzel.
(The Barber of Seville was viewed here on August 11; with Glimmerglass performances from July 14 through August 25.)
As artistic and managing director Zambello is tireless in pointing out, it is never too early to consider subscriptions for the Glimmerglass 2019 season; information and tickets are available at www.glimmerglass.org.