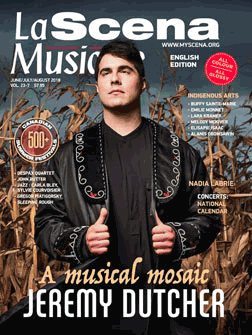 This page is also available in / Cette page est également disponible en:

Francais (French)
Music and Beyond, the annual classical music and arts festival, has been springing to glorious life throughout the city of Ottawa every July since 2010. This year, in an expanded run from July 4 to 18, it boasts a roster of more than 75 concerts and events, and approaches its start date buoyed by more than even its customary tide of rising anticipation. In May, the festival received Ottawa Tourism's coveted "Event of the Year" award for cultural contributions during the 2017 summer season.
"I was bowled over," says Julian Armour, the festival's founder and executive and artistic director. "The year 2017 was Canada's 150th birthday, and Ottawa being the capital, there was so much happening." Nonetheless, Music and Beyond won by unanimous decision of a five-judge panel.
Armour, who exudes seemingly boundless enthusiasm for his classical music evangelism, founded the festival on the notion that audiences would embrace music presented in relation to a panoply of other arts and cultural rubrics – history, visual arts, food, wine, architecture – and each year the festival pushes the concept in creative new directions.
Highlights in 2018 include an all-star production of Purcell's Dido and Aeneas, concerts with the popular British composer John Rutter and a performance by Grammy-winning jazz tango pianist Pablo Ziegler.
Website: www.musicandbeyond.ca
This page is also available in / Cette page est également disponible en:

Francais (French)