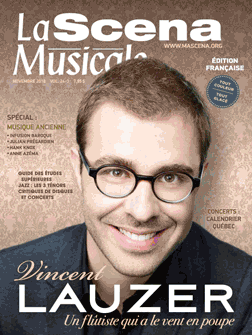 This page is also available in / Cette page est également disponible en:

Francais (French)
One might assume a leading expert on Early Music to be esoteric. Hank Knox shatters this assumption. An entire side of Knox's McGill University office is plastered with what he calls his "wall of shame," posters of productions of students and himself, that by the looks of it, he had thumbtacked organically through the years on wherever there was still space.
Knox has been director of the Early Music Program at McGill's Schulich School of Music for more than 20 years. He is godfather of the school's Cappella Antica (which is now directed by Grammy-award winning soprano Suzie LeBlanc) as well as a very active collection of about 24 small ensembles (coordinated by Betsy MacMillan and Tracy Smith Bessette and coached by a community of Montreal Early Music luminaries). In addition, he is music director of the McGill Baroque Orchestra and of one fully staged Baroque opera per year.
"The Baroque opera productions started out as a student initiative," Knox explains. "The first year, we did a Handel pastiche. Once the opera department saw how much interest that generated, we've been collaborating with them ever since. In fact, McGill is the only school in North America and one of the few in the world that mounts a staged production of an early opera every season."
This season, the opera of choice is a Canadian first, Francesca Caccini's La liberazione di Ruggiero dall'isola d'Alcina, premiering in March. Audiences can look forward to some unusual instruments. "There's a call for a lirone, which is a cello on steroids," Knox explains excitedly. "It's a large bowed instrument with 12 strings one plays 'normally' and two drone strings. You play big chords on it."
It makes sense to play on period instruments such as the lirone, as it does not have any contemporary descendants. But why insist on playing period instruments that do have modern counterparts?
According to Knox, the first reason is because of the difference in sound. "I've been in love with the sound of the harpsichord for over 40 years now. The sound of the Baroque violin, the Baroque flute with its soft wooden core… fits the writing and the balance of the accompanying instruments."
Then there's the difference of touch, "A harpsichord's touch, for instance, is very, very different from that of a piano. When you have a different touch, you immediately respond with a different tactile and musical approach."
Moreover, there are differences in tuning, pitch, and temperament: Not only are these important in terms of truthfully reflecting what the composers would have actually heard, they also directly affect the listener's experience. "When you get to the end of a piece that is tuned in mean-tone temperament, it's over," Knox says, closing his eyes briefly as though savouring the peacefulness of such a resolution. His eyes shoot back open as he grabs the air like a conductor: "It doesn't have that jangling of equal temperaments!"
Early music as new music
Knox feels strongly that music written hundreds of years ago still matters in the 21st century. "If you look at the texts, it's the same texts that we write now, usually about love and the complications or agonies that go with it.
"They may have been a little formal when they expressed these emotions a few hundred years ago, but I don't think there is any difference between our emotional lives and theirs."
Second, the spirit of Baroque music in particular is ceaselessly renewed because so much of it is improvised. In this respect, Baroque music (c.1600 — 1750) is much more akin to contemporary jazz than Classical music (c.1775 — 1825). "Classical music has… ossified itself," Knox laments. "We compare freeze-dried performances to one another. But if your only criterion is 'how does this performance fit into that template that you've heard over the last 20 years,' I don't think that it's very interesting in the long run.
"On the other hand, people who are willing to take a chance and add their own ornaments in Bach, or improvise their own Allemande in between a Prelude and Courante when playing something by a French composer, that is much more interesting."
Taking chances is what the composers themselves expected from performers. "Manuscripts were generally compiled so that the writer could play it themselves or so that a small group of students who had access to the writer could learn music. It was an aide memoire, not nearly the whole thing.
"In fact, if you look at the original manuscript in the writer's hand, you will see all kinds of slashes and scribbles. The problem comes when our modern editions take those scribbles, and then set them in neat and official typesetting, casting those living notes into stone. With this understanding, you realize that you have a lot more freedom and a lot more responsibility to exercise that freedom."
How does one tastefully exercise this freedom? "In a lot of ways, it's like jazz improvisation, which is obviously and equally unthinkable without its improvisational aspects.
"Jazz musicians can listen to recordings to inform themselves on how to improvise. There are no recordings from the 17th century, so you have to be a detective.
"You can read treatises, of course, but you can also look for written-out examples from the composers in some of their continuo realizations or in some solo repertoire that was intended for the printing press from the get-go. Usually those are much more detailed than the [personal]manuscripts."
While the endless detective work involved with working on Early Music may be frustrating to some, it is also what makes the endeavor fun. "You have to really love the thrill of the chase," Knox says. "You'll always be chasing something and you'll never catch it. I think that is key to what makes a long and interesting career."
Along with fastidious detective work, a musician performing Early Music will also need to internalize certain bygone skills such as improvisation so that he can truly be lifted from the page. Knox advocates for such skills as part of every musician's formative curriculum, "We have piano students come into my continuo class and learn how to realize figured-bass," he says. "It's not rocket science. You just need to practice."
He continues: "We make it a little complicated for ourselves because we start later than people did in the 17th or 18th century. Back then, little kids were taught from a very early age how to do the Rule of the Octave [harmonization of the bassline]and so on. When you're trying to do this as a young adult, it's already a bit late, not because you can't do it, but because you are aware of what you're doing. You get self-conscious, and that stymies your progress."
An unexpected journey
Knox's own musical beginnings came totally by accident. "I started off life as a pianist when I was very, very young, but Mozart just never did it for me," he recalls. "I understand that there are other people who like that, but I am more interested in the stuff that's off the beaten path.
"I didn't really want to go to university right after high school. I was studying organ as a high school student and my teacher's church had just installed a big organ by Hellmuth Wolff [one of Montreal's most acclaimed organ-builders]. Wolff was just getting started back then and needed an apprentice."
After a year of working as Wolff's apprentice, Knox fell in love with Montreal and decided to go back to school, first majoring in music theory rather than in harpsichord.
"As a theory major, you had to take an instrument, so I took the harpsichord. After a semester, I realized that playing the harpsichord was way more fun than writing about it, so I switched and never looked back!"
"Pigheaded curiosity and tenacity"
Decades later, Knox is now a highly respected performer and pedagogue. Speaking of present-day students, Knox quips, "There is so much stuff online now that I sometimes am anxious that young musicians aren't going to be able to find the market for what they do. You're not just in competition against last month's material but with all kinds of stuff that goes back about a hundred years."
How do you not lose your head then? "Pigheaded curiosity and tenacity. If you hear something or read something that grabs your attention, follow up on that. That will lead to something, and then something else. Don't get discouraged; don't give up!"
Hank Knox directs the McGill Baroque Orchestra at Redpath Hall, Nov. 7 at 7:30 p.m. www.mcgill.ca/music
This page is also available in / Cette page est également disponible en:

Francais (French)