Advertisement / Publicité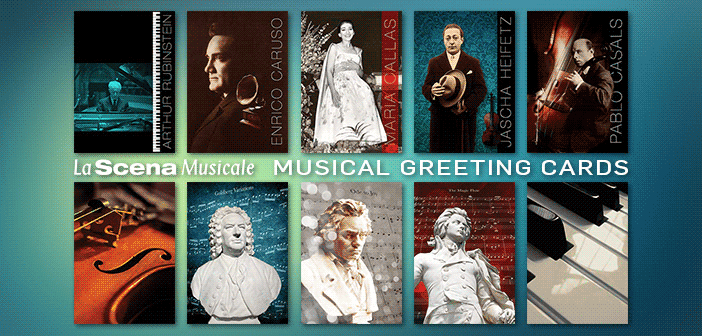 The Canadian Opera Company has opened its season in Toronto with the North American premiere of Robert Wilson's production of Turandot – and the world premiere appearances in this Puccini opera of Jim, Bob and Bill.
Opera fans who do not recognize these roles might be more familiar with Ping, Pang and Pong, the court bureaucrats who add comic relief to the tale of love and death in ancient Beijing. Their names were judged potentially hurtful by the COC's Equity, Diversity, and Inclusivity Committee, and particularly committee member Richard Lee, who is named in the credits as a production consultant.
"This act of renaming moves Turandot into a different space," Lee writes in program note, "one that recognizes the urgency and creative potential of having a conversation that pushes us to greater cultural awareness and inclusivity on our stages." His essay is also available online.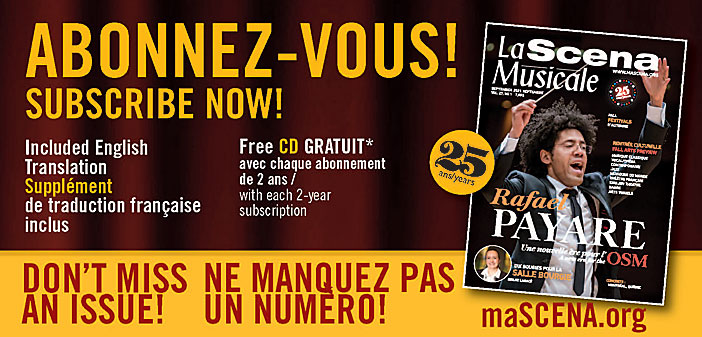 The new names were apparent in the surtitles at the opening of the run on Sept. 28 in the Four Seasons Centre. The singers – Adrian Timpau, Jim/Ping; Julius Ahn, Bob/Pang; and Joseph Hu, Bill/Pong – addressed each other on stage with the original names.
Rather than traditional costumes, the trio wore tight-fitting black smoking jackets. They were also the only active figures in an otherwise abstract presentation by the American director, who argues that they are derived from the commedia dell'arte tradition.
The co-production, which will eventually be presented in Houston, was seen last year in Madrid and Vilnius. There was no name change in these runs.
COC director of public relations Avril Sequeira said in response to questions that "the names of Turandot's ministers were certainly included in feedback notes [Lee] provided the artistic team" but that "any choices born of this conversation would have been made by Mr. Wilson, the director."
Wilson makes clear in his own program note that he consented to the changes: "To our ears, these names are dated and offensive, and they now distract from the figures' place in the work as sarcastic, slapstick commentators of the goings-on at court."
The introduction of Jim, Bob and Bill into a classic of the opera repertoire became a widely discussed issue after a report appeared on Slipped Disc, the popular website managed by the British critic Norman Lebrecht. More than 90 comments have been posted, most of them critical of the COC action. One of the moderate commentators (like most, anonymous) wrote: "Jim, Bob, and Bill sound like they're straight out of [Puccini's] La fanciulla del West[,] which isn't quite as incorrect a portrayal of America as Turandot is of China, but it's definitely a caricature as well. Are Americans supposed to get offended by that one now?"
Turandot continues at the Four Seasons Centre until Oct. 27. Coincidentally, the Metropolitan Opera is also staging the 1926 opera, in the lavish Franco Zeffirelli production, with music director Yannick Nézet-Séguin in the pit. Ping, Pang and Pong will be present. There is a Metropolitan Opera Live in HD simulcast on the afternoon of Oct. 12.