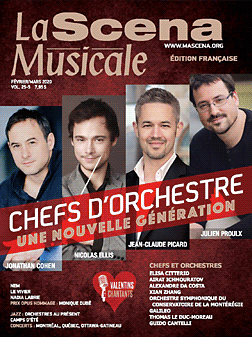 This page is also available in / Cette page est également disponible en:

Francais (French)
A harmonium you only find in heaven," Boris Brott said from his earthly lodgings in Montreal. "And even there they get tired of pumping with their feet." The music director of the Orchestre classique de Montréal was explaining why the Viennese program of Feb. 16 in Victoria Hall in Westmount will involve that least classical of all instruments – a synthesizer.
"A synthesizer that sounds like a harmonium," he clarified.
Also known as a pump organ, the harmonium is indeed in short supply, its heyday having passed about a century ago, which is approximately when Arnold Schoenberg and his acolytes Alban Berg and Anton Webern made the arrangements of Johann Strauss waltzes that will form the core of this triple-metre afternoon.
To rework 19th-century waltzes into chamber form might seem an odd activity for composers dedicated to progressivism and atonality, but Schoenberg was having trouble keeping his dead-serious Society for Private Musical Performances alive. It was hoped that a benefit pops concert on May 27, 1921 would stabilize the finances of this Viennese organization (which nevertheless disbanded the following December).
Brott argues that the arrangements Schoenberg, Berg and Webern created for the 1921 concert are in many respects truer to the Waltz King than the overwrought versions we hear from full-sized symphony orchestras.
"People don't realize that this was entertainment music," he says of works like Roses from the South and Treasure Waltz. "Often the orchestras were small and in a ballroom. They were more in the range of chamber music."
Some arrangements call for a flute, clarinet and piano as well as the harmonium (the purpose of which, in general, was to stand in for winds). While there was no singer at the 1921 event, a vocalist is close to de rigueur in a Viennese program today. Montreal soprano Aline Kutan will do the honours in numbers like "Mein Herr Marquis" from Die Fledermaus and "Vilya" from Franz Lehár's The Merry Widow. Brott and the pianist Rich Coburn will create reductions similar to those of the waltzes.
The OCM does not follow all the protocols of Schoenberg's Society, one of which was to forbid admission to critics. Another was to disallow applause, although Schoenberg relaxed this rule for the Strauss concert. The composer also transported his own harmonium from his suburban residence. Synthesizers were not available in 1921.
Brott is no stranger to the Viennese concert, having performed several in Hamilton and with the New West Symphony in California, as well as in England some years ago. Curiously, the Viennese formula was not a staple of the OCM when this ensemble was called the McGill Chamber Orchestra. It could become an annual offering, like Handel's Messiah.
"There are so many of these Strauss waltzes and light pieces from operetta," Brott says. "It really is a treasure trove of music."
The Orchestre Classique de Montréal under Boris Brott presents A Viennese Afternoon, featuring soprano Aline Kutan, on Feb. 16 at Victoria Hall in Westmount. Starting time is 3 p.m. Go to www.orchestre.ca
This page is also available in / Cette page est également disponible en:

Francais (French)