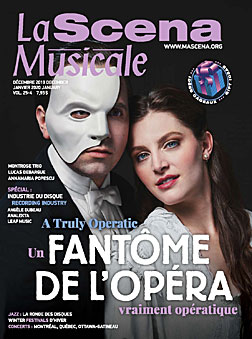 This page is also available in / Cette page est également disponible en:

Francais (French)
Radio-Classique 99.5 FM
Goes Pop-Rock
Radio-Classique 99.5 FM, a pillar of classical listening in Montreal for more than two decades, will become another pop-rock outlet if its new owners at Leclerc Communication have their way. The operators of 102.1 FM have reached an agreement with Gregory Charles to acquire the CJPX 99.5 FM band and transform it into a "radio différente" format mirroring WKND 99.1 FM in Quebec City. Charles bought Radio-Classique from its founder Jean-Pierre Coallier in December 2014, along with its Quebec City sister station, CJSQ 92.7 FM. The entertainer-entrepreneur justified the sale to Leclerc with the claim that most Radio-Classique listeners hear it through the web and that the web service would be maintained. The sale at press time required approval by the CRTC. CJSQ 92.7 FM is staying classical for the time being. Montreal's concert music community is worried by this change, and the Conseil québecois de la muisque will be presenting a brief to the CRTC.
Sir András Schiff at Loggerheads with the OSM
The Hungarian-born pianist was scheduled to appear as both soloist and conductor with the OSM on Oct. 23 and 24. Within an hour of the first rehearsal, which several musicians characterized as acrimonious, trombonist James Box was ready to walk. Schiff did leave, and the rehearsal was cancelled. After negotiations, the unhappy guest agreed to perform in two piano concertos, leaving the purely orchestral component of the program to the OSM's fledgling assistant conductor, Thomas Le Duc-Moreau. In the aftermath, Schiff told Christophe Huss of Le Devoir that the players were not prepared for Bartók's Dance Suite. Players countered in the Montreal Gazette that the veteran pianist (who in rehearsal accused the musicians of "sabotage") simply could not conduct.
Deutsche Grammophon Issues Berlin Phil on Vinyl
The vinyl trend has reached the classical market: Deutsche Grammophon has released Tchaikovsky's Symphony No. 6 "Pathétique" as recorded by the Berlin Philharmonic under Kirill Petrenko as a premium LP. Along with half-speed mastering and heavy-gauge vinyl, the Yellow Label promises "a lavishly designed slipcase and a comprehensive booklet." The issue does not signal a full-blast vinyl comeback: this collector's edition is limited to 2,019 copies ("corresponding to the year of its release"). A seven-LP cycle of Sibelius Symphonies with outgoing chief conductor Simon Rattle is also on offer. Only 2,000 copies have been pressed.
More Mariss Jansons Cancellations
The 76-year-old Latvian maestro, beset by health problems, appeared for only the first of two scheduled concerts in Carnegie Hall with the Bavarian Radio Symphony Orchestra. Eric Simpson reported in the New York Classical Review that on Nov. 8 the orchestra's chief conductor "seemed physically exhausted… at times barely giving a beat and struggling to lift his arms as high as his score." On Nov. 9 he was replaced by Vasily Petrenko. Jansons also cancelled five concerts with the Vienna Philharmonic because of what was described as an Achilles tendon injury. Czech conductor Jakub Hrůša was announced as his replacement.
Cristian Măcelaru Takes the Reins of the ONF
The Romanian conductor, who led the OSM in three concerts in September, will start as music director of the Orchestre national de France in 2021, replacing Emmanuel Krivine. This might seem to take Măcelaru out of the running for the OSM race, but Charles Dutoit managed to conduct both orchestras in the 1990s. Formerly conductor-in-residence of the Philadelphia Orchestra under Yannick Nézet-Séguin, Măcelaru is also the artistic director and principal conductor of the World Youth Symphony Orchestra at Interlochen Center for the Arts in Michigan – a one-week summer job.
Angela Hewitt
Wins Leipzig Medal
Angela Hewitt will become the first female recipient of the City of Leipzig Bach Medal in 2020. The Ottawa-born pianist, who has recorded all of Bach's major solo keyboard music for Hyperion, continues to champion Bach through her Bach Odyssey series of live performances in Florence, London, New York, Ottawa and Tokyo. The official conferral of the medal, by Leipzig mayor Burkhard Jung, will be on June 20, during the city's BachFest. Former medal winners include Herbert Blomstedt, Sir John Eliot Gardiner, Ton Koopman, Helmuth Rilling and Masaaki Suzuki. "All those hours spent with JSB have been worth it 100x over!" Hewitt wrote in a tweet about the news. Prime Minister Justin Trudeau tweeted his congratulations. Hewitt's next appearance in Montreal, in Mozart's Concerto for Two Pianos, is with Paul Lewis and the OSM under Kent Nagano on Jan. 16 in the Maison symphonique.
Low Canadian Turnout
in 2020 Grammys
Canadian classical participation in the 2020 Grammy awards is limited to the presence of vocalists Barbara Hannigan and Krisztina Szabó in the cast of George Benjamin's Lessons in Love and Violence, which is nominated for Best Opera Recording. Among the more interesting nominees in other categories is the Violin Concerto of Wynton Marsalis. This is shortlisted for Best Classical Instrumental Composition and (with a citation for soloist Nicola Benedetti) Best Classical Instrumental Solo. None other than Cristian Măcelaru conducts the Philadelphia Orchestra. The awards ceremony takes place on Jan. 26.
This page is also available in / Cette page est également disponible en:

Francais (French)