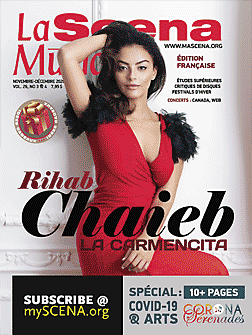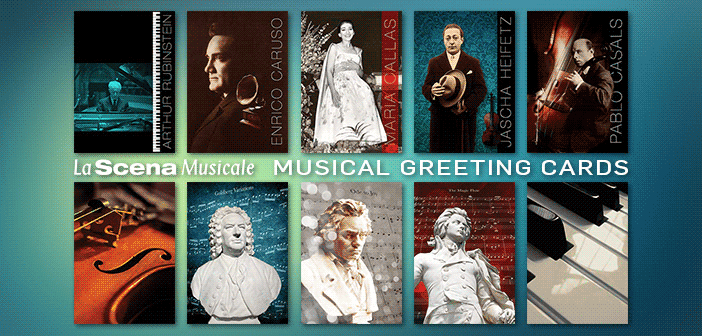 This page is also available in / Cette page est également disponible en:

Francais (French)
All ABOARD – and online
Classical presenters in Montreal released their virtual lineups almost in unison in late October as the Quebec government extended its concert hall lockdown to Nov. 23. The Montreal Symphony Orchestra replaced a substantial schedule involving foreign ­nationals (including potential music directors) with six online concerts featuring Canadian soloists (such as pianist Angela Hewitt, ­soprano Adrianne Pieczonka and contralto Marie-Nicole Lemieux) and Canadian or Canada-frequenting conductors (Jacques ­Lacombe, Alexander Shelley and Jean-Marie Zeitouni). Programs are mostly in the ­one-hour range. The interesting exception is the last, on Jan. 12, a three-piece affair concluding with Beethoven's Seventh Symphony as led by Zeitouni. A seat in your living room runs you $20. Zeitouni's final season with I Musici de Montréal comprises six virtual dates originating from the downtown St. Jax Church. The Festival Bach Montréal offers streamed concerts starting with an organ gala at St. Joseph's Oratory on Nov. 19 and ­concluding with a pair of co-produced performances (Dec. 5 and 6) by the Orchestre Métropolitain of Bach's Mass in B Minor as led by Yannick Nézet-Séguin. The OM is webcasting its Nov. 20 concert featuring YNS and cellist Stéphane Tétreault. The Ladies' Morning Musical Club has cancelled violinist Blake Pouliot's concert on Nov. 15 but is keeping a Dec. 6 date with the New Orford String Quartet, violinist James Ehnes and ­pianist Charles Richard-Hamelin on the books.
Yannick au piano
Sequestered in his hometown, Nézet-Séguin found time to join Montreal's Allegra chamber ensemble as a pianist for its 40th gala in Pollack Hall. One highlight of the virtual event in October was the Adagio middle movement of Brahms's Piano Concerto No. 1 as reduced by clarinetist (and Orchestre Métropolitain principal) Simon Aldrich for an accompaniment of string quartet and clarinet. "Brahms is Yannick's favourite composer," Aldrich comments at about the 50-minute mark of the video, which is available on YouTube (www.youtube.com/watch?v=g6y-L3V0O1k) and the Allegra Facebook page. Same goes for ­himself and Allegra's usual keyboard quarterback, Dorothy Fraiberg. Keep in mind that YNS was a piano student – not a conducting student – at the Montreal Conservatoire. The conductor also functions as a master of ­ceremonies in a post-concert gathering at Fraiberg's residence.
Lohengrin arrives early in Leipzig
German Chancellor Angela Merkel announced on Oct. 28 that theatres and concert halls in her nation would close on Nov. 2 for the ­balance of the month. Oper Leipzig acted quickly – by advancing the premiere of a new production of Lohengrin, originally planned for Nov. 7, to Nov. 1. "When, if not now?" asks the company's Intendant and music director Ulf Schirmer. This is not a conventional presentation of Wagner's opera but a shortened COVID-friendly version performed in one sitting. "Backstage, the stagehands, as well as the lighting, sound, makeup, costumes and props teams, are all speeding up their preparations," the company reports. To say nothing of the Gewandhaus Orchestra, which is on stage rather than in the pit. Patrick Bialdyga, standing in for the previously announced Katharina Wagner, is the director.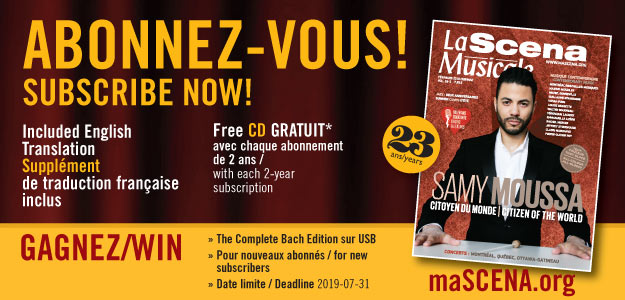 New Theremin ready to make waves
A non-celebratory year in many respects, 2020 does mark the centenary of the invention of the theremin by its namesake, Leon Theremin. This pioneering electronic instrument – the only instrument that does not require the ­application of a human touch – enjoyed limited success in the 1920s and 30s through the ­performing advocacy of Clara Rockmore. The gadget got something of a boost from its use in 1950s sci-fi films and a production ­revival by Robert Moog, later of synthesizer fame. Now the Moog company has launched the Claravox Centennial, which is dubbed "the most versatile Moog theremin in history" on account of its switchable analog and digital modes and other bells and whistles. If you want "DIN MIDI, USB, and CV inputs and outputs for integrating with DAWs," then you are in luck. The sticker: US$1,999.
Angela Hewitt: Red Alert
The Canadian pianist, an enthusiastic Facebook diarist, reflects positively on her decision to transport (at her own expense) a Fazioli F278 piano from Ottawa for a webcast concert with the Montreal Symphony Orchestra in the Maison symphonique: "I was a little worried not really knowing what it would sound like in there (each hall makes each instrument sound and feel different) but as soon as I played a few notes – it just rang and sparkled. And also a very lovely warm sound for that gorgeous slow movement of [the]Ravel [Concerto in] G major. Wonderful to play with the Montreal Symphony again and to work with the excellent conductor Jacques Lacombe. He did a fine job. We are more spaced out than usual (much more) and they have built an extension on the stage to fit us in, but it works…" In a later posting Hewitt gives us another reason to tune in on Nov. 10: "…You mustn't miss my 'vintage' red dress that I pulled out of storage to wear again after a gap of 10-15 years…Now that I've lost 10 pounds, it fits again! It came in handy when I had to walk on stage with my face covered. You'll see what I mean. I only got this engagement once I had left London where my current wardrobe is, and Ravel, after all, has to be played in a red dress."
Maynard Solomon 1930-2020
The American recording-executive-turned-biographer died in New York on Sept. 28 at age 90. Co-founder with his brother Seymour of Vanguard Records, a label with jazz and folk as well as classical titles, Solomon produced a biography of Beethoven in 1977 that relied on psychoanalytical speculation (including the ­proposal that the composer in 1801 "felt himself to be more deaf than his actual condition ­warranted at the time"). He also popularized the notion that Antonie Brentano (rather than the more widely nominated Josephine Brunsvik) was the composer's "Immortal Beloved." Father Leopold comes out as a ­baleful influence in Mozart: A Life (1995). ­Possibly Solomon's greatest scholarly exploit, in 1989, was "Franz Schubert and the Peacocks of Benvenuto Cellini," a paper published in 19th-Century Music that portrayed Schubert as gay. While the evidence was far from conclusive, Solomon did produce a classic of what used to be called the New Musicology.
Shutdowns and some relief
As disruptive as this ­autumn is for the arts sector in Quebec, it is not as bad as it could be in dollars and cents. On Oct. 2, Premier François Legault and Culture Minister Nathalie Roy promised $50 million in funding to compensate arts presenters for lost ticket sales through March. The MSO quickly issued a communiqué expressing thanks. Seven days later, the Opéra de Montréal was on the business end of a commitment of $700,000 in provincial funding to explore digital production options. The company pointed out in a press release that the grant will result in 900 fees paid to artists and production ­people. After webcasting a 2017 performance of Puccini's La Bohème, the OdM is making available its new chamber double bill of La voix humaine and L'hiver attend beaucoup de moi until Nov. 19.
Thinking positive in San Francisco
The San Francisco Ballet and Opera, like most companies, have shut down for the balance of 2020. They have also accelerated a seat-­replacement project originally scheduled for next summer to take advantage of the down time. Improved sight lines, better ergonomics and expanded handicapped seating are ­promised in the lavishly Beaux-Arts 1932 War Memorial Opera House. The opera orchestra has accepted substantial cuts in a contract running through midsummer 2023. The first performance on the books, on April 25, is of Rossini's The Barber of Seville.
Thus Spake Zubin Mehta
"Let's leave the blacklists to American ­puritanism," Zubin Mehta, 84, told the Milan-based Corriere della Sera. "[James] Levine has been destroyed by the U.S. media. Domingo had to leave the Los Angeles Opera, which was worth nothing before him. And all because of complaints that come from failed artists after 30 years. They are well versed in revenge." The former MSO music director views the pandemic from the perspective of a person who has ­recovered fully from surgery for kidney cancer. "Theatres are among the safest places," he points out. On opera directors: some are geniuses, ­others a pain in the neck ("rompiscatole"). Mehta now asks to meet the director before accepting an opera engagement. His November and December gigs at press time: Verdi's Otello at the Teatro del Maggio Musicale Fiorentino (where he is honorary director for life) and ­concerts with the Vienna Philharmonic highlighted by Strauss's Also sprach Zarathustra.
Cliburn looks to 2022
The 16th edition of the Van Cliburn International Piano Competition will take place in June 2022 instead of June 2021. "The Cliburn is there to help young artists to launch careers," said CEO Jacques Marquis in a Facebook ­announcement. "We can do better work and [provide]better support for 2022 and after." The postponement is clearly good news for the Concours musical international de Montréal, which itself moved its 2020 ­session – devoted to the piano – to May 22-June 2, 2021. Former Cliburn hopefuls can try their luck in Montreal. Assuming, of course, that COVID-19 by then is under control. Other piano competitions with spring 2021 plans are Queen Elisabeth (May in Brussels) and Géza Anda (May-June in Zürich).
An above-average controversy
Philip Ewell, an associate professor at the City College of New York who describes himself as "an activist for racial, gender, and social justice in the field of music theory," has attracted attention by calling Beethoven "an above-average composer" who is "propped up by white ­supremacy, including descriptors such as genius, master and masterwork." (The word master, Ewell argues, cannot be disentangled from the institution of slavery.) Tonality? "…A fine ­example of a racialized structure." And so on. Reaction and debate have been fiery and divisive. But a secondary controversy has erupted over Ewell's characterization (in a plenary ­address in 2019 to the Society of Music Theory and later a paper published on the SMT website) of the music theorist Heinrich Schenker (1868-1935) as "an ardent racist and German nationalist" whose approach to music analysis is consequently tainted. Contributors to the ­Journal of Schenkerian Studies were not exactly unanimous in their praise. One of the ­publication's editors, University of North Texas professor (and McGill alumnus) Timothy Jackson, wrote: "Ewell's denunciation of Schenker and Schenkerians may be seen as part and parcel of the much broader current of Black anti-Semitism. Given the history of racism against African Americans, there is a strong ­tendency today to excuse or downplay these phenomena, but they are real – and toxic. [N.B. The second sentence is usually omitted by ­journalists reporting on the controversy.] They currently manifest themselves in myriad ways, including the pattern of violence against Jews, the obnoxious lyrics of some hip-hop songs, etc." Hundreds of music theorists, including noted practitioners of Schenkerian analysis, signed a condemnation of the journal. Keep in mind that music theory is distinct from musicology, the former traditionally concerning itself with ­hardcore analysis, the latter being the more likely arena for cultural studies and race-and-gender reasoning.
Woke RECKONING at U of T
"As a leading Canadian institution of western ­classical and jazz music, the University of Toronto Faculty of Music is fundamentally ­implicated in the establishment and perpetuation of these racist, colonial, and otherwise ­oppressive structures." No, this is not a statement drawn from the U of T welcome webpage. It is an excerpt from a "call to action by alumni" signed by 372 former students and addressed on June 4 to the Faculty of Music's strategic academic planning committee. The statement perhaps claims new territory by including "institutionalized jazz music" as an area of creative endeavour that "can perpetuate trauma and oppression" – even if jazz "owes its existence to the labour of BIPOC communities." The call to arms comes not only from the outside: "We acknowledge that North American music theory urgently needs to reckon with its racist, anti-Black, white supremacist roots in order to evolve and grow," reads a statement from the music theory faculty on the Heinrich Schenker controversy (see above) that alludes to (but does not name) a former dean as a culprit.
Opera triumvirate in Banff
Joel Ivany is no longer the sole director of opera at the Banff Centre for Arts and ­Creativity. His new colleagues are composer Ian Cusson and soprano Karen Slack. The former, identified as Métis and French-Canadian, will "imagine new ways to create music and collaborate within and across Indigenous cultures." The latter, an American, will "focus on the contribution of Black composers to classical music." Among Cusson's assignments is to create a new opera with a BIPOC librettist. Opera has been part of Banff programming since the 1950s. The centre administers the well-known Banff International String Quartet Competition. Next edition of the BISQC: 2022. If all goes well.
This page is also available in / Cette page est également disponible en:

Francais (French)