Mozart and Tchaikovsky were the advertised attractions at a concert on Nov. 8 by Sinfonia Toronto. Ichmouratov and Kuzmenko – of Montreal and Toronto, respectively – were the composers I went to the Glenn Gould Studio to hear. With pleasure, as it turned out.
The world premiere was of Larysa Kuzmenko's "Skartaris" Duo Concerto, a work for piano, violin and strings derived from a visit by the composer to a volcano in Iceland, the Jules Verne adventure novel A Journey to the Centre of the Earth, and the 1959 movie based on the book, which has a score by Bernard Herrmann, duly quoted.
This is quite a bit of inspiration for a 17-minute piece in three movements. It showed in the exuberant feeling for melody, the glitter of the piano writing (Verne's diamonds and waterfalls could be marvelled at in the second movement) and the rhythmic impetus throughout.
Yet it must be said that a listener understood why piano and violin are so rarely matched in a concerto (Mendelssohn's teenage effort being the only example even remotely in the repertoire). Inevitably, the piano, played assertively by Christina Petrowska Quilico, was the foreground instrument. Marc Djokic seemed to be playing second fiddle, or more to the point, first fiddle among equals in an orchestra of strings. A traditional cadenza in the finale was helpful in establishing his identity. A little late.
The other novelty was Airat Ichmouratov's Letter from an Unknown Woman Op. 56, a 16-minute work originally written for string octet (which is say, two string quartets, another format reminiscent of Mendelssohn). This was the North American premiere of the version for string orchestra. The title refers to a Stefan Zweig novella of 1922 concerning a young woman who forms a destructive attachment to a man who hardly notices her.
One could sense the personal voice and the tragic mood right from the soulful viola solo of the opening minute. Textures were diaphanous or full-hearted according to expressive need. Although the overall sonority was rich, inner detail was clear. The obvious antecedent was Schoenberg's Verklärte Nacht: the storyline even includes an out-of-wedlock pregnancy. But this was a tribute, not a facsimile. I see there is a Chandos recording made in Belarus.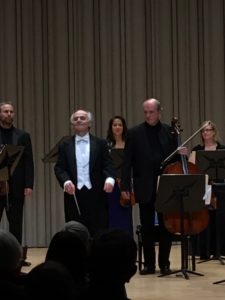 It is about time I mentioned Nurhan Arman, a demonstrative conductor with an energetic and forward-moving style. He elicited urgent feeling and glowing tone from the Ichmouratov and, after intermission, the Tchaikovsky Serenade. Not that the charm of the waltz was overlooked. The (sold out) concert began with a heavy-handed account of Mozart's Divertimento K. 138.