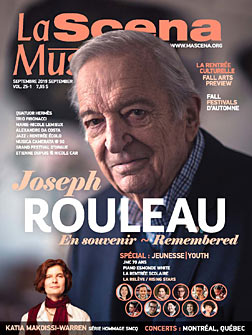 Orchestre symphonique de Montréal
Kent Nagano opens his last season as music director of the OSM on Sept. 17 and 18 with tough stuff: Shostakovich's Symphony No. 13 "Babi Yar." Mahler's Fifth Symphony on Sept. 19 and 21 will seem joyous by comparison. German superstar Anne-Sophie Mutter drops in on Sept. 24 and 25 with Beethoven's Violin Concerto. Guest conductor Cristian Măcelaru leads this and Schoenberg's well-intentioned orchestration of Brahms's Piano Quartet Op. 25. Pianist András Schiff leads and plays Haydn (Concerto in D Major) and Beethoven (Piano Concerto No. 2) on Oct. 23 and 24. Brahms and Bartók complete this program. On Oct. 30 and 31 François-Xavier Roth, a Frenchman sometimes mentioned as possible successor to Nagano, gives us Strauss's Ein Heldenleben. Edward Gardner conducts Rachmaninoff's Symphonic Dances on Nov. 9 and 10.
Finnish conductor Hannu Lintu appeals to modern tastes on Nov. 20 and 21 with Lutosławski's Symphony No. 4 before Nagano returns on Nov. 27 and 28 with Bruckner's Fourth Symphony. Concertmaster Andrew Wan performs a new violin concerto by Samy Moussa as part of this program. Nagano deals with Bach's Christmas Oratorio (Parts 1 through 3) on Dec. 3 and 4 before young Swiss newcomer Lorenzo Viotti on Dec. 11, 14 and 15 tries on Alexander Zemlinsky's lush tone poem Die Seejungfrau. Old pro Yefim Bronfman plays Mozart's Piano Concerto No. 24. Also worth a mention is the appearance on Nov. 12 of the Toronto Symphony Orchestra under its interim artistic director Sir Andrew Davis in Shostakovich's Symphony No. 10. All concerts are in the Maison symphonique. www.osm.ca 
Orchestre Métropolitain
Met or no Met, Yannick Nézet-Séguin remains in charge of the Orchestre Métropolitain. The first concert in the Maison symphonique on Sept. 29 includes Berlioz's Harold en Italie (Marina Thibeault, viola) and Respighi's Fountains of Rome. On Oct. 10, Alondra de la Parra, a Mexican-American, is the first of four female guest conductors in the 2019-20 OM season. Yannick is back on Oct. 25 and 27 for concert performances of Beethoven's Fidelio with an impressive cast including the soprano Lise Davidsen as Leonore and tenor Michael Schade as Florestan. If you like Bruckner's Fourth, this is your season: YNS leads it on Nov. 17 before embarking on an American tour. Star American mezzo-soprano Joyce DiDonato sings Mozart as part of the program. Nicholas Carter, an Australian, leads Prokofiev's Symphony No. 5 on Dec. 12 in an evening also featuring soprano Karina Gauvin in Britten's Les Illuminations. Some of these programs in the Maison symphonique are repeated (or previewed) in suburban settings. www.orchestremetropolitain.com
Les Violons du Roy
Music director Jonathan Cohen starts the Montreal season of this well-liked orchestra from Quebec City on Sept. 28 in the Maison symphonique with a program of three Magnificats, one each by J.S. Bach and his sons, C.P.E. and J.C. Vocals are provided by five soloists and La Chapelle de Québec. Guest conductor Mélanie Léonard and
cellist Stéphane Tétreault collaborate in a program of mostly Nordic music on Oct. 11 in Bourgie Hall. Also in Bourgie, on Nov. 30, Cohen takes charge of a wide-ranging program including Baroque arias (Christine Rice, mezzo-soprano) and Grażyna Bacewicz's Concerto for String Orchestra. Then the choir returns on Dec. 13 for Handel's Messiah under one of the oratorio's distinguished interpreters, Bernard Labadie. A sellout seems likely. www.violonsduroy.com
I Musici de Montréal
The chamber orchestra under Jean-Marie Zeitouni performs in Bourgie Hall for the balance of 2019. On Sept. 26 French cellist Cameron Crozman visits in a program of no fewer than 11 French pieces that will last not much longer than an hour. Five vocal soloists on Oct. 15 contribute to an evening of spiritually-tinged scores by Vivaldi, Brahms, Guillaume Connesson and Morton Lauridsen. On Nov. 28 the fare is even less predictable as the Sri Lankan-born Nova Scotian Dinuk Wijeratne leads Mozart's "Dissonant" Quartet and a selection of his own works. Shawn Mativetsky is the tabla soloist. Both the September and November programs are given twice on the same day. Coffee or wine is offered, depending on the time. www.imusici.com
Orchestre Classique de Montréal
This venerable but freshly-named chamber orchestra opens its season on Sept. 15 in the Spanish & Portuguese Synagogue in a program including Bruch's Kol nidrei (Shulamit Sarid, cello) and young Mendelssohn's Violin Concerto in D Minor (Marc Djokic). Arrangements of selections from Mussorgsky's Pictures at an Exhibition
and Bernstein's West Side Story are also heard. The choir of another synagogue, Shaar Hashomayim, performs on Oct. 6 in the Maison symphonique in a program also including Organ Concertos by Handel (Jean-Willy Kunz, soloist) and Poulenc (Alcee Chriss). Vivaldi's Gloria is the centrepiece of a Nov. 3 afternoon in Salle Pierre-Mercure featuring Bach's Piano Concerto in D Minor in Busoni's rewrite. Anne-Marie Dubois is the soloist. Handel's Messiah is heard on Dec. 8 in the appropriately devotional setting of St. Joseph's Oratory. Boris Brott conducts all of the above. www.orchestre.ca
More Orchestras
One of the most ambitious concerts in the Orchestre symphonique de Laval (www.osl.qc.ca) season is the Oct. 2 program in Salle André-Mathieu. Alain Trudel leads works by Satie (La Belle Excentrique), Champagne (Hercule et Omphale), Gershwin (Rhapsody in Blue with Philippe Prud'homme at the piano), Sibelius (the visionary Symphony No. 7) and Ravel (Bolero, which will showcase the OSL principals). On Sept. 18 and 19 in Quebec City the Orchestre symphonique de Québec (www.osq.org) welcomes the German mezzo-turned-soprano Petra Lang in a Wagner program. Fabien Gabel conducts with choral backup from the Université Laval and the Conservatoire. Jean-Claude Picard leads the Orchestre symphonique de Trois-Rivières (www.ostr.ca) on Nov. 16 in a substantial pairing of Debussy's La Mer and Vaughan Williams's A Sea Symphony (Symphony No. 1). Four conductors join forces in Salle Pratt & Whitney to open the Orchestre symphonique de Longueuil (www.osdl.ca) season on Oct. 3. Alexandre Da Costa plays the rarely encountered Violin Concerto of Siegfried Wagner; Richard Wagner's Prelude to Die Meistersinger and Sibelius's Finlandia are more familiar. Also heard are works by Airat Ichmouratov. Among student ensembles take note of performances by the McGill Symphony Orchestra (www.mcgill.ca/music) in Pollack Hall under Alexis Hauser on Sept. 20 and 21 (the highlight is Hindemith's Symphonic Metamorphosis of Themes by Carl Maria von Weber) and Nov. 22 and 23 (all-Berlioz); the Orchestre de l'Université de Montréal in Salle Claude-Champagne (www.musique.umontreal.ca) under Jean-François Rivest on Oct. 12 (Shostakovich's Fifth Symphony) and Dec. 7 (Berlioz's Symphonie fantastique); and the Orchestre symphonique du Conservatoire de Montréal (www.conservatoire.gouv.qc.ca) under the baton of Jacques Lacombe on Sept. 26 (Brahms's Fourth Symphony). From Oct. 18 to 20 the Arion Baroque Orchestra (www.arionbaroque.com) offers a program of the music Telemann wrote for Parisian audiences in 1737. The big undertaking, however, is Bach's Mass in B Minor under the direction of Italian conductor Andrea Marcon on Nov. 29 in St. Jean Baptiste Church. This collaboration with the Studio de musique ancienne de Montréal is presented by the Montreal Bach Festival (www.festivalbachmontreal.com). Another orchestral offering of the MBF is the AKAMUS Orchester Berlin performing a selection of Brandenburg Concertos and Orchestral Suites on Nov. 22 and 23 in the Church of Saint-Léon-de-Westmount.
Fall Highlights: Chamber and Solo
Pro Musica (www.promusica.qc.ca) offers the long-lived Borodin Quartet (Beethoven and Shostakovich) on Nov. 1 and violinist Isabelle Faust and pianist Alexander Melnikov (Beethoven, Bartók, and Stravinsky) on Nov. 21. These concerts are in Salle Pierre-Mercure. Russian virtuoso Denis Matsuev plays Liszt's Sonata in B Minor in the Maison symphonique on Oct. 13 in a co-production with the OSM. The Ladies' Morning Musical Club (www.lmmc.ca) present – in Pollack Hall as always – British pianist Christian Blackshaw on Sept. 15 (Mozart, Schumann, Schubert); the Quatuor Hermès from France (Beethoven, Hahn, Dvořák) on Oct. 6; French cellist Victor Julien-Laferrière on Oct. 27 in a solo program; the American String Quartet with violist Cynthia Phelps on Nov. 17 (Mozart, Mendelssohn, Brahms); and Korean violinist Hyeyoon Park with British pianist Benjamin Grosvenor on Dec. 8 (program TBA). Other important purveyors of chamber music are the modern-minded Quatuor Molinari (quatuormolinari.qc.ca) and Quatuor Bozzini (www.quatuorbozzini.ca). The latter is on tour: its only remaining Montreal stop in 2019 is a Oct. 28 program of three quartets by Ana Sokolović at the Sala Rossa. The Arte Musica Foundation presents dozens of concerts at Bourgie Hall under the auspices of the Montreal Museum of Fine Arts. On Sept. 29 the cycle of Bach Cantatas continues with the orchestra and choir of Trinity Wall Street under Julian Wachner. The Seiler-Carr-Laplante Trio plays the three piano trios of Brahms on Oct. 22. Many early-music concerts take place at Bourgie Hall. The season brochure is available at www.mbam.qc.ca.