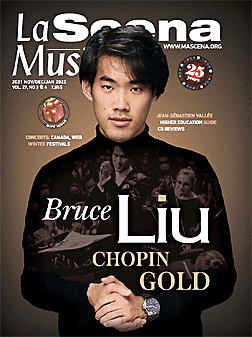 This page is also available in / Cette page est également disponible en:

Francais (French)
Forewarned is forearmed. "There will be no interval," reads the audience advisory for the Festival Bach Montréal presentation in Bourgie Hall of The Art of Fugue. 

Montrealers, of course, are now accustomed to pandemic protocols that require sitting for 80 minutes without a break. But sitting through the 14 movements (each known formidably as a "contrapunctus") of Bach's valedictory composition is a special kind of sitting, even when the performers on Nov. 25 are Les Violons du Roy under their founding conductor Bernard Labadie, who supplies the arrangement.
"No doubt a rigorous work, but also one equally touching and eloquent, it asserts a perfection which moves the heart as much as it satisfies the spirit," states the online program, quite accurately.
Festival founder Alexandra Scheibler sees the bright side of doing without a break.
"With this type of music, and also The Well-Tempered Clavier, you get so much into it, that time flies," she contends. "It's almost an advantage not to have a pause. Your concentration is not interrupted while you're floating or meditating or however you encounter this music."
Scheibler's reference to The Well-Tempered Clavier is not hypothetical. The Armenian-American pianist Sergei Babayan will deliver the first 24 of the famous 48 pairs of Preludes and Fugues in a nonstop recital on Dec. 2 in St. James United Church.
"It's just Book 1," Scheibler clarifies. "Not Books 1 and 2. That would be a little long."
Some FBM concerts have intermissions. It would not be practical to perform the Christmas Oratorio uninterrupted, even if this festival-opening concert of Nov. 21 in the Maison symphonique comprises only cantatas 1, 2, 3 and 6. The Czech conductor Václav Luks leads the Festival Orchestra and Chorus.
Another choral biggie, the St. John Passion, will be heard on Nov. 26 in the Église Saint-Édouard in a radical reduction for tenor, harpsichordist/organist and percussionist. Benedikt Kristjánsson, an Icelander noted for his work in Bach, sings multiple roles while doing a little acting on the side.
Seen by hundreds of thousands last year in a webcast from the Thomaskirche in Leipzig, this presentation given its premiere in 2019 in the southern German city of Esslingen requires a public congregational chorus of the sort Bach would have expected. It is a tall order in the age of COVID. The festival will assemble a chorus of about 30 well-behaved amateurs and distance them suitably along the sides of the church. (You can contact the festival if you wish to number among the elect.)
This is the 15th edition of the FBM but a more formidable anniversary – the 300th – belongs to the Brandenburg Concertos. The Orchestre de l'Agora performs all six in a mixed order on Nov. 25 in the Church of St. Andrew and St. Paul under festival frequent flier Nicolas Ellis.

The Orchestre de l'Agora is a modern-instrument ensemble, as is the Festival Orchestra. The FBM has never been doctrinaire about the use of period instruments, although historically informed players are always represented. The local baroque band L'Harmonie des Saisons under the American harpsichordist and conductor Eric Milnes will perform the Magnificat at the Église Saint-Viateur on Dec. 4, the day after the well-regarded period choristers and players of the Studio de musique ancienne de Montréal give a trio of popular cantatas (including No. 140 "Wachet auf") at the Église Saint-Jean-Baptiste.
Will such a concert draw on the same well of Bach-lovers as more contemporary presentations like the wind quintet Pentaèdre (transcriptions of the Chaconne and other works on Nov. 24 at the Conservatoire de musique de Montréal). 
Albert Cano Smit (Nov. 23 in Bourgie Hall) and Martin Helmchen (Nov. 27 in Salle Pierre-Mercure) are pianists, not harpsichordists.
Scheibler is not an advocate of musical tribalism. "I don't believe in this 'baroque audience' concept," she says. "I'm sure that if a 'non-baroque' audience hears, say, Akamus [the Akademie für Alte Musik Berlin], they will be convinced right away and know that it is amazing. And it is all period instruments."
One debate that Scheibler feels firm about, after a substantially livestreamed 2020 edition of the festival, is the superiority of 
in-person listening.
"There's nothing like live," she says. "You sit there and have the music touch you in a different way…. And the concentration is different if you're in the hall." A few 2021 FBM concerts might be streamed, pending the confirmation of funding. At press time, it was an entirely live-public undertaking.
Bach is not the only composer to be heard. Also in the lineup are Bach and Bach – Carl Philipp Emanuel Bach (1714-1788) and Johann Christian Bach (1735-1782).
Handel is Bach's special guest at St. Joseph's Oratory on Dec. 5 in a free compare-and-contrast afternoon program (reservation required) featuring organist Vincent Boucher and the Schola de l'Oratoire. A concert on Dec. 1 given by the Romanian countertenor Valer Sabadus with Montreal's Pallade Musica in the Church of St. Andrew and St. Paul excludes Bach in favour of his contemporaries Handel, Porpora and Vivaldi. As for the closing concert on Dec. 5 in the Maison symphonique by the Orchestre Métropolitain under Ellis, this concludes with the Symphony No. 1 of one of Bach's greatest fans, Felix Mendelssohn.
The star attraction is in no danger of being eclipsed. "Bach, he is so much at the base of everything that comes after, influencing every classical composer," Scheibler says. "Up to jazz, everything.
"He is so broad. It is just too small to talk about 'baroque' in that context."
For program details, including information on the 
Off-Festival Bach featuring free 45-minute concerts, 
go to www.festivalbachmontreal.com
This page is also available in / Cette page est également disponible en:

Francais (French)