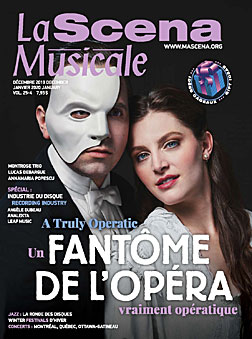 This page is also available in / Cette page est également disponible en:

Francais (French)
Annamaria Popescu has both a harpsichord and a piano in her studio at the Schulich School of Music of McGill University.
"I require all my students to do early music," says the mezzo-soprano and assistant professor, who will be one of the soloists in Handel's Messiah as performed on Dec. 8 by the Orchestre classique de Montréal under Boris Brott.
"And they start with Italian. Because if they start with Italian early music, they see the evolution. If they do a piece from the mid-1500s and from the 1600s and the mid-1700s, then when they do their Bellini song, they have a background in where this melody evolved from. They are not singing Bellini working backwards with what they know today."
Such historical consciousness might sound surprising from a Montreal native who has recorded Rachmaninoff songs for Chandos and once made her living singing Suzuki in Madama Butterfly at La Scala.
"If I were to start all over again, I would study early music," she says. "But when I was a girl in school, it wasn't a thing yet. And when it did start, countertenors were all the rage."
In a sense Popescu is starting over again, attending seminars and summer camps in Europe and arranging private sessions with baroque authorities. Her studies extend to the history of Italian (which, along with Romanian, French and English, she speaks fluently). How the dialects of the competing principalities compare; how they came to agree on spelling and pronunciation – these are among the subjects that fascinate her.
"I learn as much as I can because I just love it so much," Popescu says. "It's everything I didn't learn in school, or wasn't able to learn, because it wasn't being offered yet."
This summer she travels to Viterbo, north of Rome, to delve into Handel's operas, almost all of which were written in Italian. The more imminent assignment, of course, is an oratorio in English.
Arguably the most famous number for alto in Messiah is "He Was Despised," a heartbreaking lament on Christ's sorrows. The tempo marking, one of Handel's favourites, is Largo. How slow should it go?
"You have to use your common sense," Popescu says. "A Largo marking with a modern orchestra in a big venue is different from a Largo with a period orchestra in a little Roman church. Period instruments don't ring or vibrate as much. Things move along. Even though they feel just as Largo."
As for the B section, with its vivid description of Christ's torments, it is curiously marked Un poco Pia ("a little pious") – hardly an invitation to step on the gas. "People tend to do it fast," Popescu says. "I like it a little more ominous."
High velocity also exacts a price in crispness. "It gets all muffled. And the more resonant the place, the more percussive it has to be." Backed by the modern strings of the Orchestre classique in the resonant Crypt of St. Joseph's Oratory, Popescu expects to seek the golden mean, singing the A section not too slowly, and the B section not too fast.
Her other big Messiah assignments are "But Who May Abide" and "O Thou That Tellest." They are far from a matched pair. The former can be sung by a soprano, alto or bass.
"It is a different use of technique, a different passage into the chest voice," Popescu says of these arias. "The coloratura section of each is produced in such a different physical way that there's hardly time to reorganize your mind in 'O Thou That Tellest' after having sung 'But Who Made Abide.' It is as if it was written for another person."
Which it probably was. Handel was quite prepared to reassign arias according to his needs and resources. "But Who May Abide," with its fiery prestissimo B section, was once recast for a famous visiting castrato.
The most significant variable in a contemporary Messiah has to do with whether the alto part is sung by a mezzo or a countertenor. Countertenors have made serious inroads on mezzo (or contralto) territory, even though there is no reason to believe that Handel himself heard a solo countertenor in Messiah in London.
Popescu is not opposed to countertenors: she teaches them at Schulich and even convinced one, Nicholas Burns, to make the leap up from tenor. Like most of her countertenor students, Burns is "almost a contralto" and "doesn't sound soprano-y at all."
Countertenors, of course, come in different varieties and are no less subject to the rules of appropriate role placement than other types of singers. "When they start singing things written for women, they can sound miscast," Popescu says. "When they sing Tancredi – he just came home from the Crusades! Rossini wrote it for a contralto for a reason. It should sound full and rich, like a warrior.
"In Handel operas, I find it difficult to be convinced by a high-sounding countertenor in the role of Julius Caesar. I find a mezzo-soprano like Daniela Barcellona way more convincing as the leader of the civilized world than a young man who sounds like a soprano singing in the same range."
Handel's Messiah will be performed by the Orchestre classique de Montréal on Dec. 8 at 3 p.m. in the Crypt of St. Joseph's Oratory. The soloists are Aline Kutan, soprano; Annamaria Popescu, mezzo-soprano; Zachary Rioux, tenor; and Gregory Dahl, baritone. Three choirs – Les chantres musiciens, Les filles de l'île and the OCM Choir – make up the chorus. www.orchestre.ca
This page is also available in / Cette page est également disponible en:

Francais (French)