Today mezzo-soprano Clara Osowski, baritone John Brancy, soprano Gemma Summerfield and baritone Julien Van Mellaerts performed to a full house at Bourgie Hall in the Finals of the Art Song division of CMIM 2018.
Although the official results will only be announced on June 7, the winner appears to be Brancy. He and his pianist Peter Dugan understood how to captivate the audience, building a program that crescendo to a grand finale with Rachmaninov's Zdes Khorocho and Vesennié vody. I tweeted during the performance "Back in April we predicted John Brancy would earn first prize at CMIM 2018 for Art Song. He is proving us right today with his performance." It will be a surprise if Brancy doesn't win one of the top three prizes. He did have some flaws, like a rough open note in Schubert's "Du bist die ruh," however said note felt as if it came from his guts and I hope judges have a way of grading positively someone who sings with so much heart, even if sometimes it means that the technique is not perfect. Also, during Du Bist die ruh the complicity with pianist Peter Dugan was evident. They seemed to be taking cues from each other, like musical conversation between two masters. Wah Keung tweeted "Brancy's performance of Schubert's Du bist die Ruh full of feeling."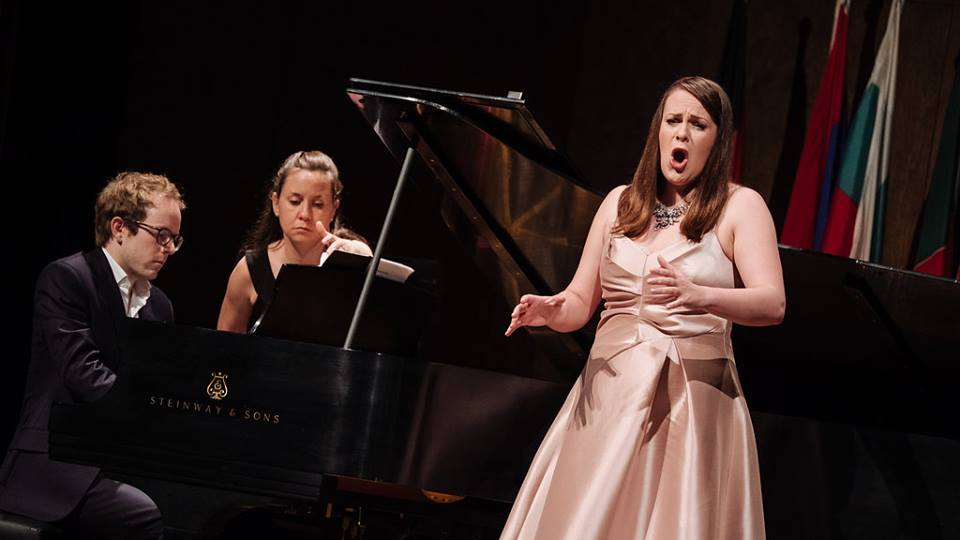 Gemma Summerfield had her strongest performance of the competition. Maybe she was saving the best for the end? Her Sibelius set was a very good choice to start the program. This set also showcased the musicality of pianist Sebastian Wybrew. Vocally the highlight of her program was Strauss's "Ruhe, meine Seele." I wish she would have ended her program with that piece. Wah Keung tweeted "Great choice by Summerfield to end with R. Strauss. Ruhe, meine Seele was breathtaking. Cäcilie was radiant."
Clara Osowski was her typical self: measured, musical and with a mezzo voice that is brighter than we expect , but that has at the same time the right squillo to be convincing. Her program was quite innovative, all the works were dedicated to women. Her magical moment came in "Everything is black" by Robert Fleming, she propelled one particular high note in such a way that it seemed to resonate for more than 10 seconds, as if the voice became alive and decided to dance around the hall.
Prediction:
My prediction: John Brancy 1st place, Genna Summerfield 2nd Place, Clara Osowski 3rd place. As I mentioned before, I feel Brancy is the big favourite to win. However, determining the second place was not as obvious; although I enjoyed more Osowski's clear mezzo-voice, I found Summerfield's program more entertaining. I hesitated switching them between 2nd and third place, back and forth, before finally making my final decision.
Best Collaborative Pianist Award: Sebastian Wybrew
---
Julien Van Mellaerts's FINAL programme
Richard Strauss
Traum durch die Dämmerung op. 29 n° 1
Robert Schumann
Liederkreis op. 39
Mondnacht
Frühlingsnacht
Hugo Wolf
Ganymed (Goethe-Lieder)
Liebchen, wo bist du? (Reinick-Lieder)
Leslie Adams
For You There is No Song
Robert Owens
Genius Child (Mortal Storm)
Claude Debussy
Trois ballades de François Villon L. 119
Ballade de Villon à s'amye
Ballade que Villon feit à la requeste de sa mère pour prier Nostre-Dame
Ballade des femmes de Paris
Gemma Summerfield`s FINAL programme
Jean Sibelius
Vilse op. 17 n° 4
Flickan kom ifrån sin älsklings mote op. 37 n° 5
Se'n har jag ej frågat mera op. 17 n° 1
Roger Quilter
Seven Elizabethan Lyrics op. 12
Weep You No More
My Life's Delight
Damask Roses
The Faithless Sherpherdess
Brown is My Love
By a Fountainside
Elizabeth Maconchy
Sun, Moon and Stars (Sun, Moon and Stars)
Claude Debussy
Ariettes oubliées L. 60
Aquarelles 1 : Green
Aquarelles 2 : Spleen
Richard Strauss
Vier Lieder op. 27
Ruhe, meine Seele
Cäcilie
John Brancy's FINAL programme
William Denis Browne
To Gratiana Dancing and Singing
Charles Ives
The Things Our Fathers Loved
In Flanders Fields
Tom Sails Away
Francis Poulenc
Bleuet FP 102
Priez pour paix FP 95
Franz Schubert
Der Schiffer D 536
Der Wanderer D 493
Du bist die Ruh D 776
Sergueï Rachmaninov  
Zdes khorocho op. 21 n° 7
Vesennié vody op. 14 n° 11
Clara Osowski`s FINAL programme
Franz Schubert
An Sylvia D. 891
Hector Berlioz
La mort d'Ophélie H. 92A
Robert Schumann
Gedichte der Königin Maria Stuart op. 135
Abschied von Frankreich
Gebet
Robert Fleming
The Confession Stone (Songs of Mary)
Bring me those needles, Martha
Everything is black
Oh, my boy Jesus
Franz Schubert
Die junge Nonne D. 828
Virgil Thomson
A Prayer to Saint Catherine
---
CMIM Aria Semi-finals:
On June 4 and 5 the competition will continue with the semifinals of the aria division of the competition with the OSM at Maison symphonique at 7:30 pm.
This is the list of contestants and the order:
Dilyara Idrisova, soprano
Kidon Choi, baritone
Mihail Mihaylov, tenor
Emily D'Angelo, mezzo-soprano
Andrew Haji, tenor
Jongsoo Yang, bass
---
Other news for Art-song fans / Festival Classica mélodie competition:
The Festival Classica will be holding their Second International Mélodie Competition (focus on French Art Songs) on Sunday, June 10 at 4:00 pm at Saint Andrews Presbyterian Church. CMIM finalist Clara Osowski,  as well as fellow CMIM quarter-finalists mezzo-soprano Hagar Sharvit and soprano Magali Simard-Galdès  will be performing there. Tenor Jean-Philippe Fortier-Lazure (Canada) and mezzo Caroline Gélinas (Canada) round out the five finalists.