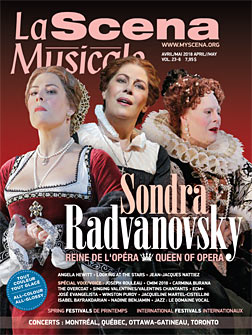 This page is also available in / Cette page est également disponible en:

Francais (French)
To help navigate the 2018 edition of the Concours musical international de Montréal (CMIM), La Scena listened to all 38 participants to arrive at our prediction of the winners. This year's contest is split into two divisions, Aria and Art Song. This has made the competition more interesting, with a highly competitive field in each division. Only two singers will participate in both.
The 24 singers in the Aria division include highly decorated winners of recent international competitions. Besides the top two, there is a cluster of 13 other singers who stand a chance to reach the podium. This year, three tenors are in the mix, and if they shine in the finals, they may repeat Keonwoo Kim's first prize from 2015.
The 16 singers in the Art Song division were more difficult to judge owing to varying audio fidelity. Closely-miked singers sound better. Consequently, we were not able to agree on the third place.
Meet the singers who may make the podium:
Emily D'Angelo – mezzo-soprano
Canada/Italy
One of five winners of the 2016 Metropolitan Opera Auditions, second prize (women) in the 2017 Neue Stimmen competition and most recently a winner of the 2018 George London Awards, Emily D'Angelo is La Scena's choice to win this year's CMIM. D'Angelo possesses natural dramatic instinct, a very bright, almost Marilyn Horne-type ringing sound, great ability to sing difficult coloratura passages, the skill to sing softly and a large dynamic range.
D'Angelo should advance to the finals. One concern, however, is that she might be playing it to safe with her choice of repertoire. But is this a bad thing? The CMIM has always favoured artistry and Canadian soprano Measha Brueggergosman rode a safe program to victory in the first CMIM. The other concern is that historically, mezzo-sopranos don't seem to do well in competitions.
Prediction: First Place Aria
John Brancy  – baritone
USA
American lyric baritone John Brancy returns to the MIMC six years after taking third prize behind Canadian baritone sensation Philippe Sly, who bulldozed through the competition, winning every single prize.
Now armed with a deeper timbre and more experience, Brancy is back. Empirical proof of his evolution is available on YouTube. An emotional rendition of Yeletsky's Aria from Tchaikovsky's The Queen of Spades during last year's International Belvedere Competition in Moscow earned him the Media Prize.
Brancy should reach the finals of the Aria category with a good chance of winning it all. However, given the fiery nature of his performances and his decision to compete in both Aria and Song, stamina could determine his final outcome.
With only 16 singers, the competition seems to be less deep in the Song division. Since his voice suits perfectly such a vast array songs, it is difficult imagining his failing to earn first place in that category.
Prediction: Second Place Aria, First Place Song
Kang Wang – tenor
Australia
This Chinese-Australian lyric tenor has already an impressive resume to match his voice. In 2017-18 he replaced superstar Jonas Kaufman in a Moscow Gala concert of opera arias. In 2017, he won second prize at the Belvedere International Competition, while making the finals at the Cardiff Singer of the World.
His high notes are the most impressive feature of his voice, reminiscent of old-school tenors such as Jussi Björling and Aureliano Pertile. However, his middle voice seems to be a bit unstable and sometimes even shaky. Overall, his competition repertoire seems overly ambitious, as he seems to be an all-or-nothing type of competitor. If he gets tired, he might crash and burn in the finals. However, true lyric tenors are difficult to come by, and if he is on at the finals, he could win it all, as Keonwoo Kim did in 2015.
Prediction: Third Place Aria.
Hagar Sharvit – mezzo-soprano
Israel/Germany
This velvety mezzo-soprano is our choice for second prize in the Song category. In the past, she won first and the audience prize at the 2015 Das Lied International Song Competition in Heidelberg, first at the 19th International Johannes Brahms Competition and most recently third in the 2016 Internationaler Robert-Schumann Wettbewerb in Zwickau, Germany.
However, in some of her audio submissions, the voice sounds husky and lacks resonance. The root of this vocal issue is not clear. We can speculate that is due to a lack of technique, but also it could be her interpretation of the piece or simply that she was tired and having a bad vocal day.
Prediction: second place song
Clara Osowski – mezzo-soprano
USA
Osowski's available audio shows irregularities in the levels of her performances. In some excerpts, such as a recorded live broadcast of Schubert's Im Abendrot, her voice sounds as pure gold. In other recordings, her voice, although still beautiful, sounds unsupported and lacks tone.
Nevertheless, she has proven herself in competitions: In 2017 she won the Richard Tauber Prize for best interpretation of Schubert Lieder at the Wigmore Hall/ Kohn Foundation International Song Competition, and came second in Das Lied.
Adrian's Prediction: Third Place Song
Samuel Hasselhorn – baritone
Germany
Hasselhorn's voice seems to be made for Lieder and his timbre is reminiscent of many past great German baritones. His signature song is Schubert's Erlkönig, which he has been singing for years. He was awarded the 2018 Emmerich Smola Prize, first prize in the 2017 Das Lied, second at the 2015 Wigmore Hall Song Competition in London, and third in the Hugo Wolf Competition in Stuttgart in 2016.
Wah Keung's Prediction: Third Place Song
This page is also available in / Cette page est également disponible en:

Francais (French)