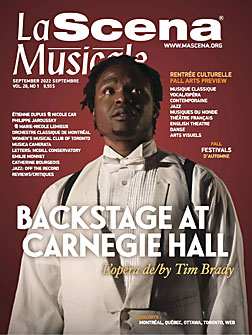 This page is also available in / Cette page est également disponible en:

Francais (French)
This recently published Musicor album is pulled from the Orchestre symphonique de Longueuil's "Les Balcons symphoniques" tour, during which they played well-known music outside medical centers at the height of the pandemic to deliver moments of peace and emotional release to residents and personnel; a form of "spiritual medicine and vaccination," according to the orchestra.
To appreciate the disc, it's important to keep in mind this human gesture undertaken by the orchestra during such a crisis. The disc is comprised of instrumental versions of well-known, magnificent works loved by the public. Some featured Quebecois songs include J't'aime comme un fou, Une chance qu'on s'a, Quand les hommes vivront d'amour, Hallelujah and several others. Some French songs are featured as well, notably La valse à mille temps, La vie en rose and Emmenez-moi et la Bohème.
Their interpretation pattern corresponds directly to the experience they gave to their original listeners. The theme of Alexandre Da Costa's violin phrasing is essentially lyrical, and the orchestra harmonizes in such a way that highlights this theme. The central melody remains at the center of the arrangement: it's well done, it's musical, and it has a good sound.
Quand les hommes vivront d'amour is particularly well received, its symphonic character revealing a new dimension to a simple yet touching melody. One can imagine the emotions of those who heard the live rendition of Raymond Lévesque's superb work. The role of the orchestra's arrangement in generating new emotions for such a well-known work is undeniable. Especially in such a tragic context.
Each arrangement and interpretation has a soothing, lyrical quality. It's possible that such a disc could encourage listeners to familiarize themselves with the universe of classical music. It's become a practice in Quebec to use symphonic forms to make popular works known under a new light. In my opinion, the Orchestre symphonique de Longueuil must be congratulated for their human initiative and solid music.
This page is also available in / Cette page est également disponible en:

Francais (French)