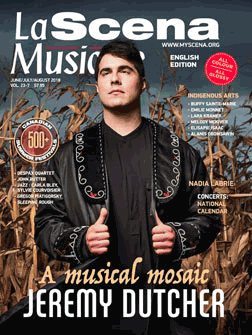 This page is also available in / Cette page est également disponible en:

Francais (French)
First Nations theatre company Ondinnok was the first in Quebec to offer a new means of dramatic expression to its community. "Ondinnok" is a Huron word referring to a theatrical healing ritual that unveils the secret desire of the soul. Born in the urgent environment of cultural reconstruction, Ondinnok aims to reconquer an imaginary land of dreams as well as to repatriate memories in order to see the future. Since its first production, Le Porteur des peines du monde (1984), Ondinnok has taken us through three great circles of creation; the mythological theater, the healing theater and a theater exploring the identity of 21st century Indigenous people. "Art is an essential pivot of access to dignity," says Yves Sioui Durand, founding member of the company.
Understandably, the company's creation and course were linked to the major historical events affecting First Nations in North America. Its aesthetics are those of a contemporary theatre aiming to deconstruct the stereotype of the "Indian." Ondinnok is also committed to the development of Indigenous emerging artists. In fact, the team created a training program at the National Theatre School of Canada from 2004 to 2009 and produced works written and/or performed by emerging artists. Since 2013, the company has reinvented itself by developing a cultural mediation component with neighborhood organizations, for instance Marie Debout and Projet Rhizome. They also explore visual arts and dance.
Ondinnok has been successful for its two first editions and presented Printemps autochtone d'Art 3 in seven venues in 2017. The company succeeded in producing several events and five readings or productions last year. The youth public project was sold out at the 2018 edition of the Les petits bonheurs Festival (Makatek et l'étoile disparue). This year there was also the work Corps dansant, corps entravé, organized by the founding member Catherine Joncas and Tangente.
Dance has always had a privileged place in Indigenous culture and arts. This was an art of social cohesion at major gatherings, ceremonies and celebrations. Dance brings force, power and joy to its members. Everywhere in North America, repression and colonialism have attacked the native body. Consequences were dramatic. To activate ancestral memory, to decolonize the territory from torture, to foster Indigenous bodily expression, and to help First Nations healing, the event hosted three days of reflection, discussion and contemporary dance workshops. One notable success was Oieron:ta – Corps entravé, Corps dansant by Kahnawake choreographer Barbara Kaneratonni Diabo as performed by Cheryl McDonald from Kanesatake. The audience experienced dance as a shamanic art that changes both audience and performer.
Translated by An-Laurence Higgins
www.ondinnok.org
This page is also available in / Cette page est également disponible en:

Francais (French)