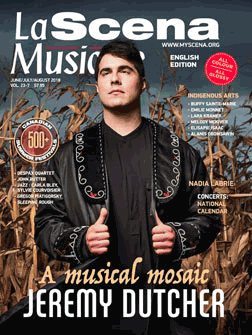 This page is also available in / Cette page est également disponible en:

Francais (French)
A choreographer and multidisciplinary artist of Ojie-Cree and Mennonite origin who has been recognized as a human-rights activist by the Montreal Holocaust Memorial Centre, Lara Kramer works with an awareness of the brutal relations between Indigenous people and colonial society. Kramer is a professor at the Indigenous Dance Residency at the Banff Centre. Her work addresses scars resulting from cultural genocide. Fragment (2009) is inspired by her mother's stories about the Canadian residential schools; Native Girl Syndrome (2013) addresses the internal trauma of Indigenous women. Windigo (FTA-2018 + CNA 2019) is a work in which traumas are externalized through various bodies and objects.
The installation Phantom Stills & Vibrations, created in Artspace in Peterborough and re-created at the MAI, takes the audience to the location of the Pelican Falls former residential school at Sioux Lookout in Ontario, where her family for three generations were sent by force. "I have yet to discover the guidebook explaining how to live with the consequences of being raised by parents who lived for three generations deprived of their language and culture, taken away from their families and sent to these horrible residential schools," the young woman says. "And now that I now have my own children, I have new questions."
Kramer wants to pursue her work in denouncing hidden realities and deep traumas affecting her people's history. "With all these links to my personal history, and probably because of the shame my mother internalized at the residential school, I had a lot to absorb during the creation process." As a performer and choreographer she wanted to go further, to reflect the staging differently by superimposing ghosts of children who either committed suicide or who were murdered on the dream of another peaceful world.
For her, the body is always implied, even in an installation. The silence around this genocide and this suffering affects all the community. It's part of her daily life and certainly affects her. Kramer concludes: ''The weight of the residential school has the violence of an injury. I still feel the impact of it, and I would like never to talk about it."
Translation by An-Laurence Higgins
www.larakramer.ca
This page is also available in / Cette page est également disponible en:

Francais (French)