This page is also available in / Cette page est également disponible en:

Francais (French)
Why did it take so long to change the name? This is my first question for Boris Brott, artistic director of what is now called the Orchestre classique de Montréal.
"Well, it was a hard decision and a matter of finding the right name," the conductor says in what he calls his Toronto office – the Library Bar of the Fairmont Royal York Hotel. "Whatever we considered didn't seem to fit until one day, our accountant said, 'Why not call it Orchestre classique de Montréal' and everybody said, 'Wow, that's the right name!' Even unilingual anglophones will understand it!"
Boris had just returned from Montreal – as we've been on a first-name basis for more than 40 years, he'll be "Boris" rather than "Brott" – where the evening before he had conducted the first-ever concert by the ensemble under a name other than the McGill Chamber Orchestra/Orchestre de chambre McGill (MCO/OCM). The word "chamber" was dropped, explains Boris, "because from a general audience point of view, it often suggests something not quite for them, something esoteric and elitist – which we are not!"
The McGill Chamber Orchestra had evolved from the McGill String Quartet, founded by Boris's father, composer-violinist-conductor Alexander Brott (1915-2005) when he joined the McGill University faculty in 1939. Cellist Lotte Goetzel became a member of the quartet in 1942 and the following year she and Alexander Brott were married. As Lotte Brott (1922-1998) she was the mother of Boris (b. 1944) and his brother Denis (b. 1950), who himself has enjoyed a successful career as a cellist and festival entrepreneur.
Gradually, the McGill String Quartet expanded its range and repertoire by performing in larger ensembles conducted by Alexander Brott, and in 1953 the McGill Chamber Orchestra was officially established. Depending on the repertoire, the number of musicians at any given concert could vary from its "chamber music" nucleus of 15 or 16 string players to as many as 60, making it a true "classical orchestra." "This flexibility," says Boris, "to diminish or enlarge our numbers has always been part of the orchestra's DNA and still is."
As the ensemble developed, members of the Montreal Symphony Orchestra, for which Alexander Brott served as concertmaster and assistant conductor, with Lotte Brott in the cello section, were recruited to perform as part of the MCO/OCM. A who's-who of Canadian and international superstars appeared as soloists, including singers Maureen Forrester and Marilyn Horne, pianist Glenn Gould, flutist Jean-Pierre Rampal, violinists Yehudi Menuhin, Isaac Stern and David Oistrakh, and cellists Mstislav Rostropovich and Yo-Yo Ma.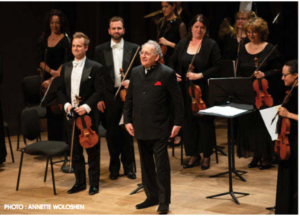 But in 1980, when Alexander Brott retired from the McGill faculty, the now internationally-acclaimed ensemble, which had long been performing off-campus at major Montreal venues, effectively severed its ties with the university. Yet Alexander Brott insisted on retaining the "McGill" in its name.
"It's because my father felt great loyalty to McGill and we discussed keeping the name while he was alive." Recognizing that many concertgoers logically assumed that the ensemble was still connected, one way or another, to the university, "The board," says Boris, "wanted to rename it Orchestre Alexander Brott." Never ego-driven, "my father was completely against that, using as an excuse the traditional Jewish belief that naming someone or something after a living person hastens that person's death." So the McGill name remained. Until now.
In 1989, Boris was appointed the ensemble's associate conductor and became its artistic director upon his father's death in 2005. For its first season under a new name, the OCM is performing a total of nine concerts, culminating next June 7 in the Maison symphonique with Beethoven's Ninth Symphony. For this, the ensemble's core of 16 players (nine violins, three violas, three cellos and one double bass) will be sitting with another 40 or so musicians plus, of course, a chorus for the Ode to Joy. That core will be more modestly enhanced – with oboe, trumpet and timpani – on Nov. 3 for a program in Salle Pierre-Mercure that includes the Busoni arrangement of Bach's Piano Concerto in D Minor (with Anne-Marie Dubois as soloist) and Vivaldi's Gloria with Les Petits Chanteurs du Mont-Royal.
Boris's connection with the ensemble has truly been lifelong, as he grew up watching and listening to his parents rehearsing at home and attending their performances with the quartet, chamber ensemble and the OSM. According to what he told me back in 1976, Boris's musical education may even have begun in utero. He had said, "When I study symphonic works that I've never studied before, sometimes I find I will know the cello line intimately and literally know what's coming next. And then I've checked with my mother or looked in her scrapbook, and each time it's turned out to be something she played during the time she was carrying me, before I was born!"
Boris was only three years old when his father brought home a one-eighth-size violin and began giving him lessons. He was a fast learner. At five, Boris made his solo debut at an OSM young people's concert, playing the first movement of a Vivaldi violin concerto. But when he was about 12, he put down his bow and fiddle in favour of the baton. "It was because I didn't like feeling so isolated from my school colleagues, practising the violin at home instead of playing sports. And one day, I brought my violin to an assembly and it was a big disaster – I got snowballed all the way home. I had two neighbours in the same grade who became my 'protectors' and went everywhere with me to make sure I wasn't bullied too much.
"Igor Markevitch, then music director of the Montreal Symphony, who spent a lot of time in my home, as did many of the visiting musicians, told me that I had a remarkable way of expressing myself and should consider becoming a conductor. It was he who saw this in me and announced at the dinner table that I should come to study with him in Mexico City."
Boris began studying conducting with Markevitch and Pierre Monteux and again, he was a very fast learner, winning first prize at the 1958 Pan-American conducting competition in Mexico City. The following year, at 15, he founded the Philharmonic Youth Orchestra of Montreal, making his public conducting debut, following in the footsteps of his baton-wielding, orchestra-founding father, with whom he shared, along with talent, a birthday – March 14.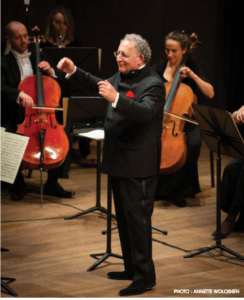 Boris's conducting career has now spanned 60 years, during which he has specialized as a builder of orchestras – and their audiences – serving as artistic director and/or principal conductor of the Lakehead/Thunder Bay Symphony Orchestra, Regina Symphony, Hamilton Philharmonic Orchestra, CBC Winnipeg Orchestra, Northern Sinfonia (U.K.), Symphony Nova Scotia, Ontario Place Pops Orchestra, BBC Welsh Orchestra and New West Symphony, California.
Looking back, he recalls with particular pleasure his association with Leonard Bernstein. "I won the Dimitri Mitropoulos competition in 1968 and became Bernstein's assistant conductor with the New York Philharmonic, spending time studying scores with him. He was a tremendous influence on me, so it was a very special experience when I conducted the first performance at the Vatican of Bernstein's Mass in 2000, with the pope in attendance, a work that had initially been severely disparaged by the Catholic Church."
Boris's many awards include the Order of Canada, Order of Ontario and Order of Quebec, but I wasn't surprised when he told me he was proudest of the Canadian National Child Day award he received in 2007 in recognition of his having introduced over a million children to the beauties and thrills of classical music. Boris has always enjoyed performing for children and for many years he regularly conducted the children's concerts of the National Arts Centre Orchestra. "After all," he says, "children are our next audiences, so we have an important role to perform."
Are there any favourite works, so-called "party pieces," that he's often returned to? "Not really," he says. "For me, the work I'm studying and performing has to be, at that moment, my 'favourite' piece; otherwise I couldn't perform it convincingly. But the styles that I love to perform over and over again are the German and Russian Romantic repertoire – I come from a background that's Russian on my father's side and German on my mother's – and also the music of the last century, although I've never found the greatest degree of sympathy with the Second Viennese School of Schoenberg, Berg and Webern.
"From a programming aspect, the Baroque has been taken over by those who subscribe to 'authentic performance practice' with so-called 'original instruments.' Well, the OCM isn't that kind of an orchestra. Our repertoire tends to be away from the Baroque and includes lots of music from the 19th century to the present. That was always the orchestra's practice, including fostering Canadian music and composers. Every year, they commissioned one new work and we're continuing that tradition."
With some 50 concerts scheduled for the 2019-2020 season, Boris shows no signs of slowing down. Why should he? At 75, he's in the prime of life for conductors, a profession that encourages longevity in its practitioners by requiring prolonged physical, emotional and mental activity, so that many distinguished conductors have performed well into their 80s and 90s. Boris continues to direct the annual summer Brott Music Festival that he founded in 1988 in Hamilton, his home base, and the festival's training adjunct, the National Academy Orchestra of Canada. "With the NAOC," he says proudly, "we have 'graduated' well over 1,600 musicians into the profession all over the world. We see it as our mission to help them make the transition from school to employment – often that means not only musical talent but other 'people' skills useful when applying for jobs.
"My goals for the future are to breathe new life into the OCM, to expand not only the quantity of our activity but our cultural boundaries. Our Music for Everyone program is intended to increase the diversity of our audiences and create connections with all our different ethnic and cultural communities, getting their composers and performers to work closely with us, marrying their magical musical cultures with our classical, European-based traditions.
"I'm in the process of reconstructing Opera Hamilton, the company I started 40 years ago. We've already done La Bohème, set in contemporary Hamilton. We'll concentrate on the Italian repertoire at first, because the second language in Hamilton is Italian, not French. I've always wanted to conduct Wagner's Ring cycle, but that's probably never going to happen.
"Of course, I've performed many orchestral excerpts from Wagner's operas and have loved them since I was a child, listening to them with my German grandfather. I'm also interested in the medical aspects of music – 'music hath charms to soothe' – and how we can get the OCM working with seniors' homes and programs for people struggling with emotional and mental problems. I think there's a tremendous contribution to be made in that field."
Despite a long career filled with accomplishment, Boris is still clearly looking forward, rather than back. There's still lots yet to be done and – who knows? – maybe even Hamilton's first-ever Ring.
For information about the Orchestre classique de Montréal, go to www.orchestre.ca. For information about Boris Brott, go to www.borisbrott.com.
This page is also available in / Cette page est également disponible en:

Francais (French)