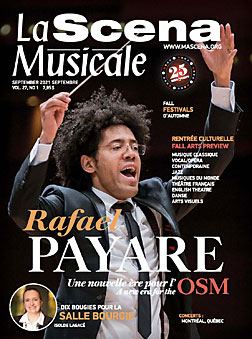 This page is also available in / Cette page est également disponible en:

Francais (French)
"A Joyous Reunion – A Season of Remembrance and Renewal." That's what Sinfonia Toronto calls its 2021-2022 series of seven concerts, beginning Oct. 23 with Bach's Violin Concerto No. 2 in E Major, Wieniawski's Faust Fantasy for violin and orchestra, Tchaikovsky's Souvenir de Florence and the world premiere of Resurrected Angel II, a tribute to health workers by Toronto composer Alice Ping Yee Ho.
"We've always included world premieres in our concert series," says Nurhan Arman, Sinfonia Toronto's founder and music director. "This will be our 23rd season, and by now I'd guess we've done 75 or 80." Three other world premieres are scheduled for the coming season, two by Canadians – Vania Angelova's Polyphonic Miniatures and Robert Rival's Violin Concerto – and American composer Stanley Grill's 1916 for voice and strings. Other Canadian works on the programs are Jocelyn Morlock's Nostalgia, Saman Shahi's Suspended Doorways and Larysa Kuzmenko's Prayer.
Adaptations – enlargements and reductions – make up much of this season's offerings. Arman explains: "We've been doing this for many years. The string-orchestra repertoire becomes stale without adaptations. Great music is great music whether played by a 100-piece orchestra or a string quartet. Adaptations give audiences a different perspective on the music. The composer's notes, harmonies and phrases are still all there, providing a rewarding experience for the audience, the musicians and for me, too."
This season, Sinfonia Toronto's 14 string players will offer audiences "a different perspective" on string quartets by Haydn (the "Lark", in a new arrangement by Arman), Schubert, Dvořák, Janáček and Shostakovich. (Tchaikovsky's Souvenir de Florence, originally for sextet, is often performed by larger ensembles.) "These expanded adaptations," says Arman, "exploit the music's symphonic proportions, adding new dimensions of colour and dynamics to the original."
In contrast, several symphonic classics will be heard in slimmed-down arrangements – Mozart's Symphony No. 40 and Piano Concertos Nos. 12 and 22, Beethoven's Symphony No. 8 and Piano Concerto No. 2 and both of Chopin's Piano Concertos. "This is nothing new," says Arman. "In many cases, composers authorized reduced versions for publication, as Beethoven did with arrangements for string quintet or sextet of his Sixth, Seventh and Eighth Symphonies. I've adapted these for our size, expanding Beethoven's string parts. Chopin actually marked the score of his Second Piano Concerto 'for orchestra or string quintet.' I've developed arrangements for both concertos for Sinfonia Toronto."
The remaining dates for the coming season in Toronto are Nov. 12, Dec. 10, Jan. 21, March 5, April 1 and May 7, plus some out-of-town performances in Barrie, Sault Ste. Marie and Sarnia. "It's a hybrid season," says Arman. "People can choose to attend in-person, in limited numbers with proof of vaccination, or watch and listen online. They can even convert, if wanted, from one format to the other. Either way, we'll be there for them."
This page is also available in / Cette page est également disponible en:

Francais (French)