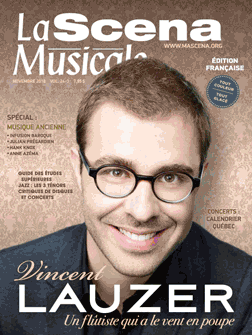 This page is also available in / Cette page est également disponible en:

Francais (French)
My maternal grandmother introduced the sound of the harpsichord into our home. When I was still a child, she gave us records and her turntable. In quick succession, I discovered Bach's Fourth and Fifth Brandenburg Concertos and, not long after, his famous Toccata in D minor for organ – preludes to my first listening of Beethoven's Fifth Symphony.
It was only much later, during a stay at the music camp founded by Father Lindsay, that I first laid my eyes on a harpsichord. We young campers were learning about musical history in a modest chalet nicknamed the Sorbonne – it still amuses me to this day to say I discovered the harpsichord aged 11… at the Sorbonne! Joking apart, I remember a short musical interlude on television a few years later where I first heard Les Barricades mystérieuses by Couperin. From that day on, the harpsichord had me in its clutches. In fact, I love it so much now that have I added yet another instrument to my existing collection of four. On Nov. 24 I will play all five harpsichords, plus another one with pedals, and a clavichord. The recital, held under the auspices of the Montreal Bach Festival, begins at 7:30 p.m. at the Notre-Dame-de-Bon-Secours Chapel.
The passion for such a noble plucked-string instrument led to the Clavecin en Concert series in 1994. After its modest beginnings with four solo recitals, the series gradually expanded its scope by including small ensembles and voice, thus opening the door for more ambitious projects. Now in its 25th edition, the chickens are finally coming home to roost. By way of example, I have just directed two operas by Marc-Antoine Charpentier, Les Plaisirs de Versailles and Actéon, both fully staged at Bourgie Hall, complete with costumes and sets.
I also am also very fortunate to direct the Atelier de musique Baroque at the Université de Montréal. Students play on replicas of original instruments at a tuning lower than the modern piano. On Nov. 30 and Dec. 1, I will conduct Henry Purcell's The Fairy Queen at the Salle Claude-Champagne (show times at 7:30 p.m.). This event is a co-production with the Atelier d'Opéra de l'UDM under the direction of Robin Wheeler. Marie-Nathalie Lacoursière is in charge of sets and the choreography.
_____
Luc Beauséjour leads an active career on several fronts. He has travelled throughout the Americas and Europe as a recitalist. The Conseil québécois de la musique selected him as performer of the year in 2003. He is also a seven-time winner of the Opus award with two more trophies awarded to him at the annual ADISQ gala. As a soloist and musical director, he appears on more than 35 albums, most on the Analekta and Naxos labels. He holds a doctorate in music from the Université de Montréal, where he currently teaches.
Translation by Marc Chénard
This page is also available in / Cette page est également disponible en:

Francais (French)