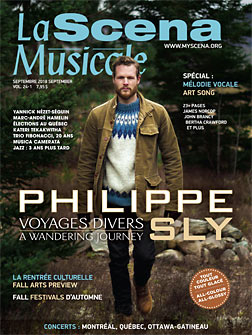 This page is also available in / Cette page est également disponible en:

Francais (French)
On May 5, various stakeholders in the art of song in Canada – teachers, singers, pianists, presenters, scholars – met in Walter Hall at the University of Toronto to discuss the future of the art form. Co-sponsored by National Association of Teachers of Singing, Voice Studies of U of T's Faculty of Music, the Art Song Foundation of Canada and the Canadian Art Song Project, this one-day seminar offered presentations and performances, but also gave its audience of about 120 participants the chance to discuss at length the various challenges faced by song recitals and possible creative responses.
The day began with four brief talks intended to open up the town-hall discussion. James Norcop, co-founder of the Art Song Foundation of Canada, addressed the issue of the perceived decline in audience for song recitals, exhorting his listeners to work together to establish the necessary (and missing) infrastructure for song and to create and stimulate new audiences for recitals, perhaps in innovative new venues.
The lively discussion that followed centered on the possible means to attract those new audiences, including the welcome suggestion to break down the current genre silos to allow for new formats in different performing spaces.
Next, collaborative pianist and teacher Warren Jones tackled what he called the single most important element of a song recital: communication. The artists' ability to deliver meaning, feeling and expression to those listening, he argued, is what will create new audiences and keep existing ones. Singers, presenters and teachers who responded all emphasized different aspects of Warren's challenge to communicate, including practical suggestions, such as speaking to audiences about the song and poem before performance. Others emphasized the need to broaden the song repertoire to better reach out to our current multicultural society.
Rena Sharon, founder of the Vancouver International Song Institute at the University of British Columbia, addressed the question of why song matters in today's world. Outlining the art form's long history, she urged performers to take up the cause of luring new audiences to keep recitals alive, both in their traditional format and in newer dramatized and less formal ones. The subsequent discussion ranged widely as many examples from around North America were shared of successful endeavours to do just this.
In the final presentation of the morning, by Andrew Kwan, whose management agency has represented Canadian artists for decades, addressed the topic of creating opportunities. In the process, he pointedly noted that every other arts industry does research to understand its audience, but we do not (yet) really know who our audience is and how to attract it.
Responding to his point that we need to work to be sensitive to our audiences and change accordingly, as museums and other arts institutions have done in recent years, audience members presented models of ways in which new opportunities have indeed been created, both through new media and through new recital formats, especially home concerts.
In the afternoon, four groups of performers, invited by the Ontario Arts Council, presented brief examples of their conceptions of the kinds of song recitals that might attract new audiences:
Soprano Danika Lorèn and pianist Stéphane Mayer presented new works they composed (Prairie Spring by Mayer, text by Willa Cather; Lorèn's settings of Lorna Crozier's witty poems from The Secret Life of Vegetables: Onions, Carrots and Cauliflower) in combination with Richard Strauss and Felix Dahn's Epheu from Mädchenblumen.
The Pocket Concert group explained their recital (and business) model of intimate chamber concerts held in homes, workplaces, parks, and other untraditional venues. Violist and co-founder and co-director Rory McLeod, mezzo-soprano Victoria Marshall and pianist Jared Tehse then performed Gestillte Sehnsucht from Brahms's Two Songs for Low Voice, Viola, and Piano Op. 91.
Deliberately mixing the contemporary and the canonical, soprano Alexandra Smither and pianist Trevor Chartrand presented a varied program that included Smither's arrangement of Annea Lockwood's I Give You Back, Alex Taylor's Sea Rose, Emma Wine's The Kind Moone, and Vivian Fung's Mix a Pancake – along with Poulenc's Il Vole and Schubert's Gretchen am Spinnrade.
Tenor Lawrence Wiliford and pianist Steven Philcox, the co-founders and co-artistic directors of Canadian Art Song Project (CASP), spoke of CASP's double mission, both historical (recovery and publication and recording of earlier Canadian art song) and contemporary (commissioning Canadian composers to write songs for Canadian singers). Illustrating the first, Wiliford sang Healey Willan's Music When Soft Voices Die and Derek Holman's Fair Daffodils. To demonstrate their innovative dramatizations of new commissioned songs, they played a video excerpt from Brian Harman/David Brock's Sewing the Earthworm, followed by a one from Ana Sokolovic's Dawn Always Begins in the Bones, a song cycle commissioned for the sesquicentennial celebrations by the Canadian Opera Company Ensemble Studio.
The discussion that followed ranged widely, as audience members responded to these different creative models and brought to bear on them their various thoughts. Among the many issues raised were the challenges of communication and constant funding problems, new venue opportunities, the need to increase the diversity of the repertoire and to explore new experiments – in format, genre, media, surtitles and other technologies.
There was a strong consensus among the stakeholders that more such meetings as this would be welcomed in order to share new ideas, but also to talk through the problems and difficulties faced by teachers, students, performers and presenters in both keeping and creating an audience for this vital art form.
Linda Hutcheon is University Professor Emeritus in the Department of English and the Centre for Comparative Literature at the University of Toronto. For a fuller summary of the proceedings of the seminar, visit: www.artsongfoundation.ca.
This page is also available in / Cette page est également disponible en:

Francais (French)