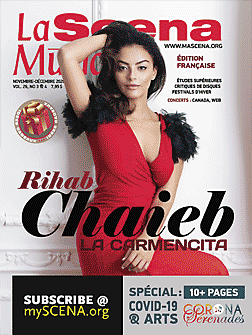 This page is also available in / Cette page est également disponible en:

Francais (French)
Erin Wall, a Calgary native (who also grew up in Vancouver) whose sumptuous voice and dignified stage presence kept her busy as both a concert and opera singer, has died at age 44.
It was known as early as January 2018 that the soprano was suffering from breast cancer. In one of her own tweets she made a reference to having contracted COVID-19. 
"Once I was an opera singer," reads what appears to be her last message. "Then COVID-19 and stage IV cancer changed everything."
A regular on major stages around the world, Wall in 2017 performed both as Strauss's Arabella with the Canadian Opera Company and in Brahms's Ein deutsches Requiem with the Toronto Symphony Orchestra. 
The strength of her voice from top to bottom made her a frequent choice for symphonic work. According to the Montreal Gazette, Wall "made the notoriously taxing soprano part seem no effort at all" in a 2006 performance of Beethoven's Ninth Symphony in Place des Arts that marked the first appearance of Kent Nagano as music director of the Montreal Symphony Orchestra. 
Her last performances appear to have been as Magna Peccatrix in Mahler's Symphony No. 8 on Jan. 18 and 19, 2020, with the City of Birmingham Orchestra under Mirga Gražinytė-Tyla. "…Her voice cut through clearly and dramatically at the big moments, despite all the musical tumult surrounding her," one reviewer reported. 
This was almost two years after Wall cancelled an appearance in Chicago in Gounod's Faust to receive chemotherapy treatment. She was back on the job in June 2018 for a production of Britten's Peter Grimes in Vancouver, where she grew up.
"What's really nice when you're going through having cancer and cancer treatment is anytime you can grasp at normalcy, and anytime you can do something that uplifts you, makes your feel good and gives you hope, and for me, singing really was that," Wall told the CBC at the time.
According to The Canadian Encyclopedia, Wall earned a Bachelor of Music degree at Western Washington University in 1998 before pursuing a master's at the Shepherd School of Music at Rice University in Houston. 
"…In 2000, Wall attended the Aspen Music Festival and the Music Academy of the West, where Marilyn Horne and Warren Jones were her teachers. She then made her professional debut in 2001 as a member of the Ryan Opera Center at the Lyric Opera of Chicago. She was the recipient of a Sara Tucker Study Grant (2002) and a Richard Tucker Award (2004) from the Richard Tucker Foundation. In 2003, she earned critical acclaim when she represented Canada in the finals of the BBC Cardiff Singer of the World Competition in Wales."
A dual citizen, Wall lived in Chicago from 2001 to 2009, when she moved back to Canada. According to her website Wall lived in Toronto with her husband and children. As desert island disc she referenced a Bach recording featuring Lorraine Hunt Lieberson, 1954-2006, a singer known for her courageous work in spite or what turned out to be a fatal case of breast cancer.
Wall's last tweets included a plea not to use the word "battle" in reference to her illness. Memorial plans were not known at press time.
Some Highlighted Performances

"I know that my Redeemer liveth" from Handel's Messiah

"Frühling" from Strauss's Vier letzte Lieder

"Ich kann nicht sitzen" from Strauss's Elektra
This page is also available in / Cette page est également disponible en:

Francais (French)