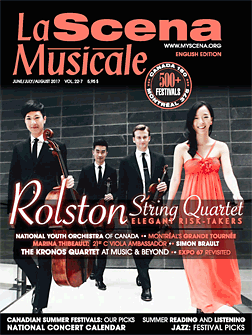 This page is also available in / Cette page est également disponible en:

Francais (French)
Festival de musique de chambre de Montréal
Until June 18
The Festival de musique de chambre de Montréal continues its Beethoven quartet "marathon" in June with four concerts by Dover Quartet (June 2, 4, 9, and 11 at Pollack Hall, McGill University). A discussion by musicologist Richard Turp before the concert will encourage the public to explore new format features. On June 3, saxophonist Rémi Bolduc will pay tribute to George Shearing, a great pianist and conductor, at Bourgie Hall.
The French-Canadian premiere of a Rolston String Quartet and Dover Quartet collaboration is not to be missed. Both ensembles were winners at the Banff International String Quartet Competition; they will present works by Beethoven, Mendelssohn, and young Canadian composer Zosha Di Castri (June 8, Pollack Hall). Another French-Canadian premiere at the Festival includes a performance by the Israeli Chamber Project, featuring compositions by Brahms, Bartók, Weber, and an original composition by Israeli-American composer Shulamit Ran (Canadian premiere). Lastly, the Festival will invite us to a wonderful musical evening with Canadian pianist Jan Lisiecki and works by Johann Sebastian Bach, Beethoven, and Chopin (June 14 and 16, Pollack Hall).
The Matinées musicales series takes place Saturday mornings, June 10 and 17, at McGill's Tanna Schulich Hall. These free concerts will feature winners of the Canada Council for the Arts Musical Instrumental Bank. These up-and-coming, talented musicians will be featured at the 22nd annual closing concert with astronaut and classical music lover Julie Payette (narration). She will take children and adults on a journey in the wonderful world of Camille Saint-Saëns's Carnaval des animaux. The Festival will triumphantly end with ­Vivaldi's famous Four Seasons (June 18, ­Pollack Hall). www.festivalmontreal.org —Hassan Laghcha
Festival Montréal Baroque
June 2 to 25
Festival Montréal Baroque celebrates the 220th anniversary of Montreal's first circus. The program's theme is "Musical Circus," and is spearheaded by Matthias Maute and Susie Napper. The program gives high priority to musical acrobats, trumpet clowns, and other crazy fiddlers. Fourteen indoor concerts, outdoor concerts, and circus shows are on the program. Ensemble Caprice, conducted by Matthias Maute, will feature Monteverdi's Vespro della Beata Vergine in the Grands concerts series to commemorate the composer's 450th birthday (June 22, 7pm, Chapelle Notre-Dame-de-Bon Secours). On June 23, NovAntica and Marie-Nathalie Lacoursière will offer a musical setting of the festival's theme with Flûte Alors! Alkemia, Rendez-vous baroque, and Passiflore at the UQÀM Agora des sciences. On June 24, Suzie LeBlanc and Constantinople will present Soieries aériennes, featuring a journey of Italian repertoire with a tinge of Eastern flavours, at Salle polyvalente UQÀM. The world premiere of Althea, a new opera by Bach! is a must-see performance. This is a brilliant project by Bruce Haynes and the Bande Montréal Baroque, and will be conducted by Eric Milnes (June 25, Agora des sciences, UQÀM).
As part of the Festival's Concerts intimes series, renowned musicians and young artists will please baroque music lovers with all kinds of repertoire. Two conferences will be part of the Festival through the Institute for the Public Life of Arts and Ideas (IPLAI). www.montrealbaroque.com —Hassan Laghcha
Summer Evenings in the Park Festival
Pointe-Claire, until August 17
Pointe-Claire's Summer Evenings in the Park promises to have something for everyone. On July 5, internationally renowned Italian tenor Manricho Tedeschi and friends present L'Italie Chante ! Canta Italia! at Stewart Park, which is an exploration of romantic Neapolitan songs and celebrated opera arias, with Makiko Awazu and other invited guests. Before the concert, grab a taste of Italy with an Italian-style BBQ, during which the West Island Italian Association choir will sing.
The festival offers several concerts of world music. On August 2, Ayrad will present a show at Stewart Park, where cultures will intertwine, soaring with different rhythms: Andalusian, Berber, Reggae, Latin, and Moroccan.
Not to be missed also is the Summer Beats in the Park series. On July 20, the group of diverse roots Nomad'Stones presents a festive concert featuring a mix of musical styles, including chaâbi, reggae, rock, swing, and gypsy jazz at Alexandre-Bourgeau park. On August 17, Yordan Martinez & The Cuban Martinez Show present a sprited tribute at Valois Park to the Buena Vista Social Club to highlight twenty years of a career that has greatly contributed to the promotion of Cuban musical culture. It promises to be a colourful celebration of Cuban music, including bolero and traditional salsa, in a show specially designed for the occasion. www.pointe-claire.ca —Hassan Laghcha
Domaine Forget International Festival
Saint-Irénée, June 17 to August 20
The 39th season of the Domaine Forget International Festival offers its usual high-quality performances by renowned classical musicians, such as the violinists Midori, Noah Bendix-Balgley, Elizabeth Wallfisch and James Ehnes, pianists Louis Lortie,  Benedetto Lupo and Alexandre Tharaud, vocalists Jennifer Larmore, Michèle Losier and François Le Roux, cellists Johannes Moser and Stéphane Tétrault, and flutist Mathieu Dufour as well as Les Violons du Roy and the Orchestre symphonique de Québec. Domaine Forget will also present a great artist originally from Charlevoix, violist Marina Thibeault (read a profile here). For more information, visit www.domaineforget.com. —Orphée Russell
Classical Music at the Festival international de jazz de Montréal
June 28 to July 8
As part of its classical music component, the Festival international de jazz de Montréal will present L'orgue dans tous ses états by organist Jean-Willy Kunz on the Grand Orgue Pierre-Béique (July 5, Festival à la Maison symphonique). Concertgoers will enjoy a double bill performance on July 1. American saxophonist Colin Stetson will prepare a performance featuring neoclassical rock music, and Armenian pianist Tigran Hamasyan will present a melancholic and contemplative ballad from his home country. Jean-Michel Blais's minimalisme(s) is a must-see concert (June 29, Cinquième Salle, Place des Arts). This Montreal-based pianist will take us on a journey to the greatest minimalist composers he likes, especially Philip Glass, Arvo Pärt, Steve Reich, Max Richter, and John Cage. Maxence Cyrin will give his world premiere of a new project featuring piano variations (June 30, Cinquième Salle), which is devoted to Aphex Twin, the most innovative electronic music repertoire. www.montrealjazzfest.com —Hassan Laghcha
Montréal Organ Festival
Montréal, June 30 to July 6
The Montréal Organ Festival takes place from June 30 to July 7 this summer at venues throughout Montreal. With over 30 concerts, the festival is sure to please organ and general music lovers alike. The festival's official opening concert is on July 1st with the Organized Crime Duo, an organ duo based in the UK, sharing the evening with organist Melanie Barney and the brass ensemble Buzz in a presentation of Holsts's The Planets.
The festival features solo recitals by many luminaries of the organ. Among them is Hans-Ola Ericsson, chair of the organ department at the Piteå school of music in Sweden, who performs on July 2. On July 3, audiences will discover the playing of Cherry Rhodes, the first American to win an international organ competition. On July 4, Jean-Willy Kunz, organist in residence with the Orchestre Symphonique de Montréal, will perform at the Maison Symphonique. On July 5, amateurs of the organ are in for a special treat, as the renowned Olivier Latry, titular organist at the Cathedral of Notre-Dame in Paris and Professor of Organ at the Paris Conservatory, will be in recital. And on July 6, the festival closes with Renée Anne Louprette, who was hailed by the New York Times as "one of New York's finest organists." Audiences should also be sure to catch the Choir of King's College London. The choir, one of the leading of its kind in England, will perform evensong every day from July 2 to 5! www.montrealorganfestival.org —Orphée Russell
Le Festival de Lanaudière
Joliette, July 1 to August 6
The Festival de Lanaudière's 40th anniversary season opens with a spectacular concert featuring the Orchestre Symphonique de Montréal under Kent Nagano in a program featuring Mahler's Fifth Symphony. Other highlights include the combined orchestras I Musici de Montréal and Les Violons du Roy in Schubert's Unfinished and Beethoven's Eroica, pianist Marc-André Hamelin in both concerto and solo recital performances, and the highly anticipated completion of the Jupiter Quartet's complete Beethoven string quartet cycle. For the full program, visit www.lanaudiere.org. —Orphée Russell
International Organ Festival at Notre-Dame of Montreal
Montreal, July 1 to August 20
The stunning Notre-Dame Basilica will host an International Organ Festival from July 1 to August 20. Pierre Grandmaison, the church's titular organist since 1973, will open the festival on July 1 with a Tribute to French music. Then, every Sunday from July 9, the historic church will host a respected organist in a solo recital performance.
French organ repertoire will be well represented throughout the series. On July 16, George Ben will present a recital of works by Marcel Dupré. On August 13, Chantal de Zeeuw will give a recital of music by French composers. And on August 20, French organist Didier Matry will close the festival with his performance of music by Charles-Marie Widor, known for his ten organ symphonies.
The festival will also feature several local ­organists. On July 9, Jonathan Oldengarm of Montréal's Church of St. Andrew and St. Paul will perform English music. On July 23, audiences will be treated to an evening of Italian music, performed by Federico Andreoni. On August 6, Vincent Boucher of the famous Saint Joseph's Oratory of Mount Royal will give a recital of Canadian composers. And on July 30 Michelle Quintal will give a Tribute to French and German composers.
The festival is also a unique chance to hear the church's great organ, built in 1891 by Casavant et Frères of Saint-Hyacinthe. Tickets are $10 for each concert and can be purchased at the door. The festival is sure to delight organ and general music lovers alike! www.basiliquenddm.org  —Orphée Russell
CAMMAC
Harrington, July 2 to August 13
The CAMMAC Music Centre offers summer programs to amateur musicians of all ages and levels. From July 2 to August 13, the festival also offers a series of professional concerts, the Musical Sundays Festival. Concerts start at 11am and are followed by a brunch. This year's edition features a varied and excited program. On July 2, Flûte Alors!, a quartet of young recorder players, will kick off the series. On July 9, the renowned Vienna Piano Trio will perform. The July 16 concert will feature cello prodigy Stéphane Tétrault, who is a graduate of the Université de Montréal. Tétrault made headlines as the recipient of the famous 1707 Stradivarius "Countess of Stainlein, Ex-­Paganini" cello.
On July 23, the series continues with another rising classical music star, the violinist Kerson Leong, winner of Junior First Prize at the 2010 Menuhin Competition. Leong is currently an Artist in Residence at the Queen Elisabeth Music Chapel in Belgium. On July 30, jazz pianist and 2015–16 Jazz Révélation Radio-Canada Guillaume Martineau will perform. Martineau was in fact introduced to jazz while studying at CAMMAC at the age of 13! The August 6 400 years of opera tells the story of opera, with musical excerpts sung by two exceptional singers. Finally, the series closes on August 13 with the male a cappella vocal quartet Quartom in a program featuring music of all styles. For more information: www.cammac.ca. —Orphée Russell
Festival international Hautes-Laurentides
Laurentides, July 6 to August 6
To open this 19th season, the Garnati Ensemble interprets Bach's Goldberg Variations (July 6). On July 13, Natalie Choquette presents a musical fantasy and July 14, Les Voix humaines ensemble presents Vivaldi's Four Seasons. One of the highlights of the festival is the concert by celebrated violinist Alexandre Da Costa, artistic director of the festival, who, alongside his quartet, presents Prokofiev's Romeo and Juliette and the world premiere of a transcription of Bach's Chaconne by British composer Paul Sarcich on July 16. On July 21, renowned lyrical artist Marc Hervieux interprets some of the best songs in the popular repertoire. On July 22, Alexandre Da Consta is joined by stars of the Orchestre de la Francophonie in an open-air concert in Domaine Saint-Bernard. On July 27, the Orchestre de la Francophonie, conducted by Jean-Philippe Tremblay, and Alexandre Da Costa present at Mont-Laurier two new verions of Berlioz's Roméo et Juliette and Beethoven's First Symphony.
Also not to be missed, a show of African drumming (Samajam, July 15), Un amour d'opéra (July 20), Music of the Royal 22nd Regiment (July 23), the guitar ensemble Forestare (July 28), Quartetto Gelato (July 29), Sonate 1704 ensemble (August 5), and Irem Bekter (August 6). www.concertshautes-laurentides.com —Hassan Laghcha
Orford Music Festival
Orford, July 7 to August 12
Orford Music Festival's 2017 edition features more than 70 events, with Canadian artists ­figuring prominently in the program. Whether it be saxophonist Yannick Rieu, the Kuss Quartet, and harpist Valérie Milot, or audience favorites Marc-Andre Hamelin, Lorraine Desmarais, Stéphane Tétrault, the Orchestre de chambre I Musici de Montréal and André Laplante, the festival's star-studded lineup is sure to delight classical music lovers. For more information, visit www.orford.mu. —Orphée Russell
Montréal Vocal Arts Festival
July 24 to August 12
The 14th edition of the Montréal Vocal Arts Festival, presented by the Canadian Vocal Arts Institute (CVAI), takes place from July 24th to August 12th. The festival offers a prime opportunity to witness some of opera's most promising young artists firsthand. During the festival, 44 young singers from across the globe will study with renowned faculty and grace the concert stage. The festival is co-directed by two luminaries of the Metropolitan Opera of New York: Joan Dornemann and Paul Nadler.
The undoubted highlight of the festival will be the August 10th performance of two short operas: The Medium, by Gian Carlo Menotti, and Gianni Schicchi by Giacomo Puccini, known for its famous aria O mio babbino caro. The concert takes place in Claude Champagne Hall at the Université de Montréal's Faculty of Music. The operas will be staged by Joshua Major and directed by Nadler.
Other highlights include a new series of concerts conceived and staged by CVAI faculty at Université de Montréal's Jean-Papineau Couture hall. On August 1st, audiences will be treated to a concert of Spanish & Italian operas. On August 4th, the festival offers the program German music from Kurt Weill and his contemporaries. And on August 8th, festival faculty Rosemarie Laundry and Robin Wheeler will team up to present a Paris-Montréal postal card.
True to its educational mission, the festival will also offer three public masterclasses. Tenor Richard Margison will give a masterclass on July 25th, renowned mezzo-soprano Judith Forst will offer a class on July 27th, and Dornemann herself will offer her wisdom to the public on July 28th. There will also be a recital of celebrated arias at Saint-Médard church in Warwick to the east of Montréal on August 6th. The festival promises to come to a brilliant close with its gala concert on August 12th! For more information on the festival, visit icav-cvai.ca. —Orphée Russell
Concerts aux Iles du Bic
Rimouski, August 5 to 13
This year is the 16th edition of Concerts aux Îles du Bic. The festival is codirected by husband-and-wife team James Darling and Élise Lavoie. Darling related the inspiration behind the festival in an interview with La Scena Musicale: "she [Elise] had a desire to come back to her native region, and I was happy to follow her. Our freelancing life was wonderfully busy, and the idea was to find a different way to be a meaningful part of the community."
The venues in the Bas-Saint Laurent region also inspired the festival. "At the start of when we were dreaming of this festival, one of our friends said we had to see the chapel at Saint-Fabien-sur-Mer. It's a little church that has a rounded ceiling and seats about a hundred. It's always the hardest ticket to get. Since several years we've had it be a brunch, and we have cinnamon rolls and coffee as people wait by the shore. Its really an idyllic setting." Indeed, the union of music and nature is "part of the allure of the festival. Half our public comes from outside the Bas-Saint Laurent area. They'll be hiking and kayaking at the breathtaking Parc du Bic and then coming to see Messiaen and Takemitsu in the evening."
This year's program is exciting and varied. "I think one of my favorites will be the gala program. We have the Appalachian Spring by Copland for 13 musicians, as well as some Piazzolla, and the Menotti Suite for Two Cellos that I'll be playing with Marie-Thais Levesque." There's also "a string program, where a young group from Switzerland, Valéik, will do the Dvořák Quintet with bass, and then we'll do the 2nd Brahms Sextet for Strings." Darling also underlined the Parfums d'Asie concert. "One of our artists that we expect will draw a lot of attention is Yuki Isami, a young flute player based in Montreal. She plays with the Orchestre Métropolitain, but she mainly does concerts based around traditional and contemporary Japanese music."
Darling perhaps best summarizes the atmosphere of the festival with these words: "our public is a really important part of the festival. Our experience is that we can push the envelope if the setting is convivial and the music is really meant to be shared. I think the musicians go away with a great memory of the concerts, and it's a real joy to see and receive our colleagues." For more information, visit www.bicmusique.com. —Orphée Russell
La Virée Classique OSM
Montréal, August 10 to 13
The Orchestre Symphonique de Montréal's Virée Classique features more than 30 concerts over just four days. On August 10, the OSM and its conductor Kent Nagano will perform Gershwin's Porgy and Bess at the Esplanade Sun Life at Montreal's Olympic Park. On August 13, the OSM will share the stage with a gathering of amateur choirs to close the festival with Beethoven's celebrated "Ode to Joy." For the full program, visit www.vireeclassique.osm.ca. —Orphée Russell
MISQA
Montreal, August 13 to 26
The McGill International String Quartet Academy invites world-renowned professors to Montreal who are members of prestigious string quartets to Montreal to teach exceptional young string quartets from around the world. This year, the festival will hold six concerts in McGill's Pollack Hall. The opening concert on August 13 will feature MISQA faculty, the Escher Quartet. The quartet is current in residence at Southern Methodist University in Dallas and takes its name from graphic artist M.C. Escher. In 2013, the quartet became one of the only chamber ensembles to be awarded the Avery Fisher Career Grant.
The concerts on August 17, 18, 24, 25 will feature four young quartets that have won prizes in international competitions: The Rolston Quartet, The Idomeneo Quartet, The Giocoso Quartet, and the Zorá Quartet. The Rolston Quartet is sure to be a highlight of the festival. In 2016, they were awarded first prize in the Banff International String Quartet Competition. This fall, they will become the new fellowship quartet in residence at Yale University.
This year's closing concert on August 26 features the Van Kujik Quartet with guests Valentin Erben and Mathieu Herzog.  The quartet is a first prizewinner of both the Wigmore Hall International String Quartet Competition and the Trondheim International Chamber Music Competition. They are currently quartet in residence at Proquartet in Paris. Their debut recording, featuring works by Mozart, was released in 2016 to critical acclaim. For more information, visit www.misqa.com. —Orphée Russell
Translation: Dwain Richardson, ­Orphée Russell & Kiersten van Vliet
This page is also available in / Cette page est également disponible en:

Francais (French)