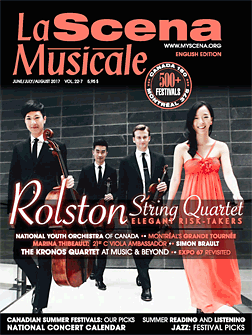 This page is also available in / Cette page est également disponible en:

Francais (French)
"It's 2017!" is the new ­benchmark expression of ­disapproval for antiquated modes of thinking and doing, and we need only to look at the success of Marina Thibeault's debut album Toquade to recognize that the viola has a voice ­autonomous from its petite counterpart and that henceforth all viola jokes must be met with exclamations of the date rather than laughter.
They're just not relevant anymore," says Thibeault. "They're like the embarrassing jokes that your uncle tells."
Reaching the top four Classical albums on iTunes on the day of its release, Toquade is but the cherry on the top of a year that began with being named Radio-Canada's 2016–17 Révélation in Classical music (read a review of Toquade here). The decorated 28-year-old, who is the recipient of the Sylva ­Gelber Foundation award (2016), as well as first-prize winner of the Prix d'Europe (2015), and the McGill Concerto Competition (2015), capped off a busy performance season that included appearances alongside Charles Richard-Hamelin, Marie-Nicole Lemieux, and Valérie Milot with a CD launch on April 11 at the Salon de thé Cardinal. Surrounded by her family, friends, mentors, and collaborators, the then-8-month-pregnant violist smiled and said, "This feels like a ­wedding… or maybe a baby shower."
Toquade and Other Collaborations
Along with the honour of being named a Révélation, Thibeault won a few days in the studio. "I had been thinking about recording for a few years, but this was the push I needed," she says. "Your first album needs to feel like a strong contribution: it needs to be the right program and it needs to represent yourself."
Recorded in two sessions in October and November 2016 and released on ATMA this spring, Toquade explores the dynamic and vibrant landscape of viola repertoire – from well-loved standards such as Mikhail Glinka's Viola Sonata in D minor to contemporary character pieces like Ana Sokolović's gypsy-inspired Prelude and Czech-Canadian composer Milan Kymlička's Rubato e agitato, the first piece composed for Thibeault. "I wanted to share music that was important to me and the object of the CD was still relevant," she explains.
The record opens with an arrangement of Tchaikovsky's Valse sentimentale inspired by the version for violin and piano by Ivry Gitlis. "I thought maybe it would be cheesy, but actually it puts people into the right mindset: this is not a violin, this is a viola. The piece is not even a bonbon; it's too dark," explains Thibeault. "Later, we see all the backbends the viola can do and the transformations it can undergo."
Like many violists, Marina Thibeault started on violin. At the age of 9 she was the youngest student to enter the Conservatoire de Musique de Québec. "I heard the viola for the first time in recital at Domaine Forget when I was 14. I thought, 'Okay, this is exactly what I need to be playing,'" she says. "It was a natural choice ­because the sound and the repertoire, for me, was more fulfilling." She studied with François Paradis at the Conservatoire until 17, when she attended the Curtis Institute of Music to study with Michael Tree. Currently, she studies with André Roy at McGill University, where she ­finished her Master's degree.
Another McGill professor, Jean Lesage, had a prominent role in shaping the trajectory of Thibeault's recording project by composing the work that would become the title track. Toquade, or Crush in English, is a virtuosic showpiece based on translations of Baroque ideas through the film of memory. "It wasn't originally going to be on the album, but I loved it so much. It's such an important contribution to the repertoire."
A couple of years ago Thibeault reached out to Lesage via email to request a work for solo viola that pushed the boundaries of the repertoire. "I asked for a piece that's not meditative, wise, profound, and dark, but something more tiring and fun," says Thibeault. "Then two years later it landed in my inbox like magic. We had not talked between those two years, he had just been writing and thinking."
Thibeault, who plays on a beautiful 1854 Jean-Baptiste Vuillaume viola and a W.E. Hill Sons bow generously loaned by Canimex, workshopped the piece with Lesage in the fall. The size of the instrument itself played an important role in shaping Toquade. "There were some passages that were really high and double-­fingered with chords. I said to him, 'You can keep the chords or the octaves, but you can't have all of it because I only have four fingers!'"
Currently, Thibeault is working with Afro-American composer Jeffrey Mumford on a large-scale Viola Concerto. "I've never worked with anyone like him before," says Thibeault. "He works a lot with colours and visual elements – his wife is a visual artist – and he's sending me paintings that inspire sound." Though the ­musical material is still in sketch form, they are currently in discussion with the L.A. Philharmonic and other major orchestras about a ­possible premiere within the next few years.
Transcultural Crossings
One of the themes that unites the CD is the inclusion of works inspired by Eastern ­European folk idioms. Czech composers like Martinů and Kymlička are attracted to the viola's darker and more sonorous timbre. "I think it's because the viola is such a folkloric instrument in that region," says Thibeault. "If you cross the Charles Bridge in Prague, you'll see either a clarinettist or a violist playing."
Thibeault's inclusion of the Glinka among the more avant-garde works is an interesting on multiple levels. The Viola Sonata in D minor, which is conservative in style, is one of the works every young viola student learns. "I wanted to put something on the album to draw students, and then they can discover the rest," she says. Thibeault, who started the instrument in her adolescence, was introduced to this piece while she was studying with Bruno Giuranna in Lugano, Switzerland at the Conservatorio della Svizzera italiana, with the aid of the Canada Council for the Arts and the Eskas Scholarship.
She chose to study with Giuranna because he is a close friend of Michael Tree; however, his teaching style was much more conservative than she was used to in North America. "This teacher would come only once a month to take lessons," Thibeault explains. "It was super old school: everyone was supposed to show up at 8 in the morning when the first lesson would start and you would have to stay until 6 pm.
"In my first lesson I played Bach's Chaconne but I was falling asleep so much he made me play last," she says. After asking if she had ­dutifully practiced her Carl Flesch scales, ­Giuranna assigned Telemann's Viola Concerto, Glinka's sonata, and Marin Marais's Five Pieces – all considered learning repertoire. "I had such big hopes when I moved to Lugano," says Thibeault. "I wanted to take that year to prepare for competitions, but it was clear from the first lesson that was not happening."
Though Thibeault had a scholarship to stay for three years, she opted for just one; the pedagogical style was not right for her development in that moment. "I already knew what I wanted to do and for me technique – of course we all have things to work on forever – has to be worked out together with the music. It's not isolated.
"But I ended up loving the Glinka. Maybe I would have never played it if I hadn't had to… downgrade," laughs Thibeault. "It's funny, I ended up recording the Glinka and in November I am playing the Telemann with the Appassionata Chamber Orchestra and Jean-Philippe Tremblay. Life wants me to commission and play all of these crazy viola projects and also the most celebrated viola repertoire."
Next Steps
In the fall, Thibeault will ­return to McGill for a doctorate, studying with André Roy while balancing a busy schedule of solo, chamber, and solo orchestral performances, including her February 2018 debut with Orchestre Métropolitain under Daniele Callegari, playing Mozart's Sinfonia concertante for violin, viola, and orchestra with concertmaster Yukari Cousineau. She hopes to ­pursue a research project that will explore social ­diversity in music. "I've been strongly influenced by some literature on the matter such as Susan McClary's Feminine Endings and Jill Halstead's The Woman Composer," she ­explains. "I hope to learn further about the role of gender, race, and sexual identity in music," mentioning a desire to study with ­musicologists Lloyd Whitesell and Lisa Barg at McGill.
"I often think of my social impact as a ­performer," says Thibeault. "You want to be engaged and engaging as a performer in your community. It's wonderful that we have a music scene to support this effort."
---
Marina Thibeault is joined by Jean-François Normand (clarinet) and Philip Chiu (piano) for Trio Canoë's debut at Domaine Forget on August 4 for a tribute to Robert Schumann. They play at Camp Musical Père Lindsay on August 13.
For more information about upcoming concerts, visit www.marinathibeault.com.
This page is also available in / Cette page est également disponible en:

Francais (French)