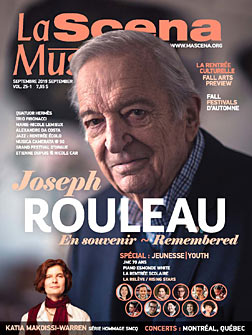 This page is also available in / Cette page est également disponible en:

Francais (French)
Samuel Blanchette-Gagnon's career is taking shape – in fact, it's taking off. In May the young pianist won the prestigious 2019 Prix d'Europe, the Claire-Charbonneau-Clerk Award and the Canadian Music Centre Award for Quebec. He has performed Book 2 of Debussy's Images and Prokofiev's Piano Concerto No. 2.
This isn't the first time Blanchette-Gagnon has won awards. A former student of Gérald Lévesque, he has been enrolled in a master's program at the Conservatoire de musique de Québec since 2018.
In 2014, Blanchette-Gagnon won the Canadian Music Competition grand prize, playing Liszt's Piano Concerto No. 1. This competition gave him the opportunity to perform with Appasionata, a chamber orchestra led by Daniel Myssyk. Bach's Piano Concerto No. 5 in F minor was the featured work. Blanchette-Gagnon was also awarded first prize at the Concours de musique de la Capitale in Quebec City.
In 2015, Blanchette-Gagnon was part of the Mélodînes series presented by the Pro Musica Society. He performed works by Scarlatti, Debussy and Prokofiev. In 2018, he was guest soloist with the Orchestre symphonique de la Côte-Nord. Ravel's Concerto in G was one of the works he played at the Centre des arts de Baie-Comeau.
Aside from his solo career, Blanchette-Gagnon takes part in chamber music concerts with violinist Émilie Auclair and cellist Simon Desbiens, as overseen by violinist and professor Darren Lowe. In July 2015, this piano trio performed at the Festival de musique de chambre de Sainte-Pétronille. Blanchette-Gagnon has had opportunities to perform at the Orford Arts Centre and the Cathedral of the Holy Trinity in Quebec City with violinist Marie Bégin. Blanchette-Gagnon and Bégin will make a recording at the Domaine Forget before the end of the year.
Blanchette-Gagnon will be the guest artist with pianist Lydia Jardon during the Concerts Couperin, a chamber music series in its 63rd year. On Oct. 20 he will present Chopin's Nocturnes Op. 62 as part of the opening concert at the Musée de l'Amérique francophone in Quebec City. Lastly, he will play this composer's Piano Concerto No. 2 with the Orchestre symphonique des jeunes de Montréal in March 2020.
Translated by Dwain Richardson
https://www.youtube.com/watch?v=XOxpbCxGmyM
This page is also available in / Cette page est également disponible en:

Francais (French)