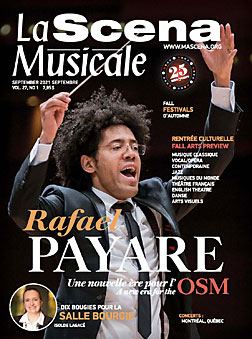 This page is also available in / Cette page est également disponible en:

Francais (French)
They have not been led by their conductor, Jonathan Cohen, since the start of the pandemic. Thus the spirit of a reunion will prevail on Sept. 22, when Les Violons du Roy present their first concert of the season at the Palais Montcalm.
There will be a reunion also with the French soprano Sandrine Piau, who sang for the first time with this Quebec City chamber orchestra in 2003. "She was to give a gala concert with us in April 2020," explains Les Violons artistic director Laurent Patenaude. "This will be our first guest from abroad since the beginning of the pandemic."
On the program are the "Paris" Symphony by Mozart and Haydn's "La Reine" as well as concert arias by Mozart and three arias from The Marriage of Figaro by three different characters. Quite a challenge for any singer.
Les Violins du Roy offer several safe bets: Handel's Messiah in December, Bach's St. John in February, Mozart's Requiem in April. It should also be noted that during the concert on Nov. 11, the orchestra will reunite with violinist Kerson Leong, following their collaboration this summer at the Lanaudière Festival. On the program is Philip Glass's Violin Concerto No. 2, "The American Four Seasons." This concert is one of a few that go a little off the beaten track, Patenaude confides. "We have a concert with American pianist Jeremy Denk, who will be both conductor and soloist and with whom we are planning an American tour in March. He will perform Bach concertos and also conduct Renaissance music transcribed for strings. We wanted to make the connection with Bach, as if he were the heir to the polyphonic music of this period."
The Cantor of Leipzig will be honored on a few occasions. As part of the Montreal Bach Festival, Les Violons du Roy perform The Art of Fugue and reunite with their former music director, Bernard Labadie. A little history: they recorded this work in 2001, exactly 20 years ago. At the time, Labadie had crafted this transcription for string orchestra as well as a completion of Contrapunctus XIX.
Whatever happens this season, Les Violons du Roy will be able to count on their loyal followers. "We canceled many of concerts, but our listeners almost always preferred to donate their tickets rather than being reimbursed," Patenaude says. "We are getting the message that people are attached to Les Violons du Roy and are eager to rediscover us. Feeling this love and solidarity has been the happiest part of the pandemic."
This page is also available in / Cette page est également disponible en:

Francais (French)