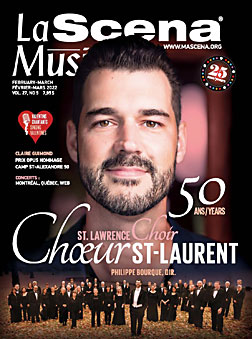 This page is also available in / Cette page est également disponible en:

Francais (French)
Gabriel Pierné: Feuillet d'album
Antoine Laporte, piano
Self-produced with the support of CALQ (2021)
The unique repertoire of this double album is reason enough to recommend it. It plunges us into the little-known musical universe of Gabriel Pierné (1863-1937), a French composer contemporary of Claude Debussy and Gabriel Fauré.
The title Feuillet d'album, which appears on the cover of the box set, is also taken from Pierné's Fifteen Pieces for the Piano. We remain in awe of the composer's inventiveness, moving from fluid writing to more square writing, from lyricism or an almost aquatic atmosphere to a funeral atmosphere.
The last piece on CD 1 introduces us to another important facet of Pierné's compositions: virtuosity. Antoine Laporte perfectly restores the breath and energy of Etude de concert, op. 13, and it is with the thirst to hear more that we move on to CD 2.
In Trois pièces formant une suite de concert, we appreciate Pierné's talent for orchestration. Antoine Laporte takes the score head on and gives us a brilliant performance. It persists with the same force and precision of attack in the nine Variations en ut mineur, especially in the last two rapid movements. We can nevertheless regret that Antoine Laporte opted for a single 25-minute track and not isolated each of the variations.
In chronological order, it concludes with another series of six pieces, published posthumously, in which Pierné mainly pays homage to his masters, to others who influenced him and to some of his composer friends.
This page is also available in / Cette page est également disponible en:

Francais (French)