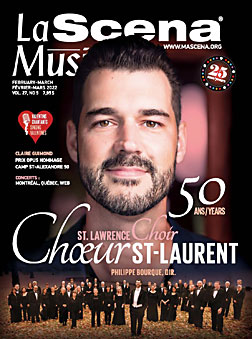 This page is also available in / Cette page est également disponible en:

Francais (French)
Bruce Liu: Chopin
Bruce Liu, piano
Deutsche Grammophon, 2021
Following his resounding victory at the 18th Chopin Competition last October, Montreal pianist Bruce Liu received honors from the prestigious Deutsche Grammophon label. It has released a live recording of some of its performances from the Philharmonic Concert Hall in Warsaw (Poland). The opportunity to live or relive this event that marked musical life on a planetary scale, in a world still struggling with the pandemic.
It all begins with the Andante Spianato in G major in an interpretation full of grace and elegance. Bruce Liu creates a feeling of comfort by simply making the high notes flow gently, like raindrops on a rainy day. The next piece, Grande Polonaise Brillante in E flat major, makes us rather admire its great agility in a movement of very high stature.
In the series of Mazurkas, it is yet another palette of colors that the young pianist gives us a glimpse of. Waves of music reach us successively, in a well-dosed rubato that testifies to the great musicality of the artist.
In the presto movement of the Etude in C sharp minor, Op. 10, Liu brilliantly runs through all the notes on the keyboard, bringing out each one very distinctly. The larghetto of the Nocturne in C sharp minor, op. 27, brings a soothing and very welcome slowness after the two studies at full speed.
Last work on the program, the Variations sur Là ci darem la mano. Liu still makes his ease speak in both expansive and introspective passages. The first and third variations retain several features in common with the original Mozart theme, but otherwise we mostly hear Chopin in all his glory.
This page is also available in / Cette page est également disponible en:

Francais (French)