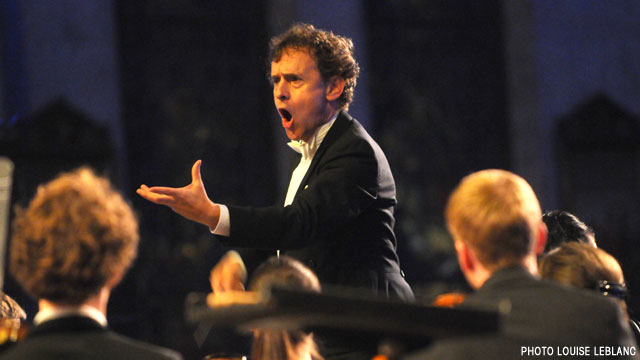 The lights come up, and you're on stage at Montreal's Notre-Dame Basilica. Every seat is filled: 2700 people. Nervousness increases if your orchestra is called I Medici di McGill. You may tell yourself, as an amateur, "Well, let's be professional." But the question is, what is expected of amateur ensembles?
"I don't like the word 'amateur'," says Maestro Gilles Auger, I Medici di McGill's conductor. "I prefer to say non-professional." And indeed, almost half of I Medici's members study or work in health sciences, far from the music jungle. Amateur ensembles are common: in Montreal, some amateur choirs allow people to sing opera, for example with Opéra Immédiat or Opera da Camera. In Québec City, there is, among others, l'Orchestre symphonique de Lévis, an educational orchestra, which Maestro Auger also conducts.
The term "amateur" has a negative connotation, but the reality is different. I Medici succeeds in selling about 200 to 400 tickets per production, with 3 public concerts per season. This does not include special performances, for example during international conferences such as the one organized recently by the Research Society on Alcoholism, which sold 1500 tickets. With a complete orchestra, each section is represented fully.
The approach to music for non-professionals differs. Firstly, Maestro Auger explains that I Medici's musicians cannot practice as often. It would be unthinkable to criticize the absence of an emergency physician. Everyone has to audition to prove themselves, but knowledge is not always complete. The members' musical education was, for the most part, an extracurricular activity. And so Maestro Auger adopts a rather pedagogical approach. "With professional orchestras, I start where non-professional orchestras have found their limit," he says. For example, he could ask his professional musicians to describe a musical phrase with a qualifier, but in front of non-professionals, he would have to express it himself.
This approach allows an ensemble to develop and grow from A to Z. By comparison, there is no need to guide professionals, since they've already reached a certain professional apex and their orchestra is already functioning at full speed. Maestro Auger finds something very interesting here. Not surprisingly, the Orchestre symphonique de Lévis is an educational orchestra and I Medici has a fair number of students. This philosophy is similar to El Sistema, the social project developed by José Antonio Abreu in Venezuela. According to Maestro Auger, the focus is on the sense of well-being offered by the sheer joy of playing. There is no competition, as solidarity is essential. And so, Maestro Auger was also inspired by Leonard Bernstein, whom he met while studying at Julliard and whose musical philosophy is expressed in his book, Joy of Music. For Maestro Auger, we need to transcend the code of music; the main goal is "to have the audience experience moments of beauty and joy." We can tolerate and even dismiss false notes if the orchestra reaches that objective. Non-professional or professional status does not matter.
We sense an energy of newness coming from non-professionals. Sophie de Cruz, musical director at Opéra Immédiat, explains that they have "an effervescence, a willingness, energy on stage." "The result is different because of their joy of being on stage," she adds. This effervescence is what attracted Maestro Auger to I Medici. The musicians' motivation is compounded by the pride of participating in an artistic experience that differs so much from their regular occupation. No contradiction here: the logical side of science can be matched with the human and emotional aspect of music. Music, with its concepts of tempo and measure, is linked to mathematics and logic. In order to offer an added value, one that is almost therapeutic, some I Medici members gather and perform at health institutions. Carole Tremblay, a psychologist who participates in about 6 non-professional choirs, explains that music acts on cardiac coherence, and so "the choristers all have the same heart rate when they sing together, and they end up relaxing together." Music does have beneficial effects on health and relationships. The palpable energy amongst I Medici members is rooted in that hypothesis, as well as a passion for musical esthetics.
Members also find the motivation to participate in administrative work. For example, singers at Opéra Immédiat sell tickets. But this investment of time and energy is still volunteer work. Moreover, I Medici, like most of these ensembles, has a membership fee, and its members are responsible for buying and maintaining their instrument. And so the involvement is a kind of "leisure work", according to Maestro Auger.
"It's not a question of being professional or not. We all have to be professional. You can be the greatest amateur musician; if you work at it, you'll have been professional to the end. We are amateurs, but professional in our attitude," says Geneviève Tessier, alto singer at Opéra Immédiat. All ensembles, professional or not, seem equal when sound esthetics is a common goal. If everything is done with pleasure, performance quality remains the same. "A happy orchestra plays well; an unhappy orchestra plays badly," says Maestro Auger.
---
Upcoming I Medici concerts: February 7 (with Golden Violin winner Byungchan Lee) and April 3. www.imedici.mcgill.ca
Opéra Immédiat: L'Elisir d'Amore, April 9 and 10. www.opera-immediat.com