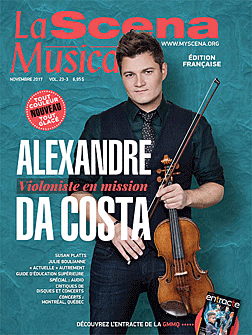 This page is also available in / Cette page est également disponible en:

Francais (French)
To mark the 30th anniversary of the ­ensemble Les Idées heureuses, which she founded in 1987, Geneviève Soly is ­tackling her favourite project once more: bringing the virtuoso harpsichordist and composer Christoph Graupner, one of the great contemporaries of J.S. Bach, out of obscurity.
November 19 at Bourgie Hall, 30 years to the day that the ensemble performed their first concert, Les Idées heureuses will ­celebrate their anniversary with a benefit ­concert that pairs Johann Sebastian Bach and Christoph Graupner. These composers are the backbone of the ensemble's repertoire and the particular favourites of its director, the ­harpsichordist and musicologist Geneviève Soly. An expert in Graupner's music, she tried to bring this forgotten genius out of obscurity but in 2011 gave it up as a hopeless cause. "I felt I'd hit a brick wall," she explains. Using musicological and historical documents to support her theories, she believed the composer would quite naturally be restored to his rightful position among his eminent ­contemporaries. However, although she gave up the struggle, she never gave up hope.
Now she has returned to the project she launched in 2001, redoubling her efforts to ­introduce Christoph Graupner to a wider ­audience. "I went about it in a very organized way this year," she says, citing the 2017–2018 program that underlines the "surprising links" she has found between Graupner and a ­number of other illustrious composers. So ­following the concert "De Monteverdi à Graupner" ­(September 19) and "Bach et Graupner réunis" ­(November 19), the ­ensemble will pursue the same theme in 2018 with "De Graupner à Mozart" (January 30) and "Couperin et ­Graupner réunis" (May 10).
International acclaim
The work of Christoph Graupner is fundamental to Les Idées heureuses and has helped gain them international renown. As one of the oldest Baroque music groups in Montreal, they have contributed greatly to the city's ­reputation in the field. "In all North America, Montreal has the most expertise in the ­performance of Baroque music," says Soly, ­enjoying the fruits of her efforts to rediscover and dust off the jewels of the Baroque repertoire, efforts that earned her the 1997 Opus Prize awarded by the Conseil québécois de la musique in the "Personality of the Year" category. In 2010 she was invited to sign the City of Montreal's Golden Book in recognition of her international reputation as a Graupner specialist.
She is currently looking forward to a high point in her career, the 2018 publication of her first Graupner harpsichord book by one of the world's great music publishers, Breitkopf und Härtel. This means she will be the first Canadian to be published by the German firm, a vindication of her popularizing talent. She is also respected for her managerial qualities, having steered Les Idées heureuses on a glittering voyage through the ­musical scene with over 130 concerts and some 400 other artistic projects, including many ­educational activities for young people.
"Bach et Graupner réunis", a benefit concert in honour of the 30th anniversary of Les Idées Heureuses, Bourgie Hall, November 19, 2017. www.ideesheureuses.ca
Translated by Cecilia Grayson
This page is also available in / Cette page est également disponible en:

Francais (French)