Œuvre magistrale, Philip Glass a réinventé
la relation entre la musique et l'image au cinéma.
« […] la musique de 
KOYAANISQATSI
 est vivifiante, souvent d'une beauté qui donne le frisson, et elle crée une synergie presque extraordinaire avec les scènes projetées à l'écran. […] Les images de M. Reggio hantent le spectateur, accompagnées d'une des bandes sonores les plus surprenantes et les plus originales jamais écrites. » 
[Traduction]
– The New York Times
______________________________
MONTRÉAL, le 10 avril 2019 – Dans le cadre d'une tournée nord-américaine et européenne célébrant cette année le 50e anniversaire du Philip Glass Ensemble, Traquen'Art est fier de présenter l'unique représentation en sol canadien du ciné-concert KOYAANISQATSI – Life out of Balance, à la Maison symphonique de Montréal, le samedi 14 septembre 2019, à 20 h.
La projection du chef-d'œuvre cinématographique de Godfrey Reggio sera accompagnée sur scène par le légendaire Philip Glass, compositeur de la musique originale, et le Philip Glass Ensemble sous la direction musicale de Michael Riesman. Ce sera une occasion unique pour les cinéphiles et les mélomanes de voir et entendre ces icônes musicales.
KO-YAA-NIS-QATSI (de la langue autochtone hopi1) n. 1. Vie de folie. 2. Vie tourmentée. 3. Vie en désintégration. 4. Vie déséquilibrée 5. Un état d'existence qui appelle un nouveau mode de vie.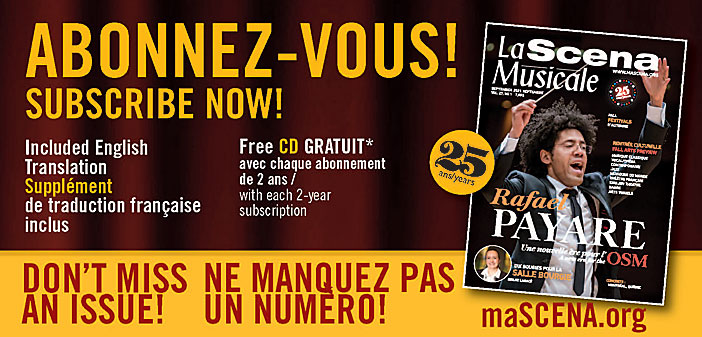 KOYAANISQATSI (1982), premier film de la trilogie QATSI qui comprend aussi POWAQQATSI (1987) et NAQOYQATSI (2002), est le fruit d'une collaboration de vingt ans entre Godfrey Reggio et Philip Glass. Inclassable, hors des normes et au cœur du monde, le film créé entre 1975 et 1982 est l'une des œuvres cinématographiques les plus fortes de la fin du 20e siècle.
Ce film sans paroles fait place aux idées, aux images et à la musique – qui agit comme une trame narrative –, le tout orchestré dans le temps et l'espace afin de présenter au spectateur le monde où il vit sous un angle différent: c'est un monde où s'opposent la culture et la nature, et où la technologie prend le contrôle sur l'existence humaine. KOYAANISQATSI s'affiche sans intrigue, acteurs ni dialogues, donnant préséance à l'échange entre le spectateur et l'œuvre.
Créé à l'intention d'un public mondial, KOYAANISQATSI transmet son message au moyen des langages universels de l'image et du son. À la fois poème visuel et méditation, le film instaure une synergie intense entre la musique et le déferlement d'images orchestré par le réalisateur. Le film a ainsi transformé pour toujours la relation unique entre la musique et l'image en mouvement. Partout dans le monde, cinéastes, vidéastes et photographes, ainsi que compositeurs et musiciens de tous genres (du classique au rock), reconnaissent l'influence déterminante qu'a eue KOYAANISQATSI dans l'émergence d'un langage nouveau et inoubliable
Depuis 2000, le film KOYAANISQATSI (1982) est classé au Na/onal Film Registry de la Bibliothèque du Congrès à Washington.
KOYAANISQATSI et au-delà
Considéré comme l'un des compositeurs les plus influents de tous les temps dans le monde du cinéma, et au-delà avec son œuvre magistrale, Philip Glass a réinventé la relation entre la musique et l'image au cinéma. Au lieu de simplement fournir une bande originale pour accompagner un film autrement complété, Glass considère la musique comme une force narrative essentielle. C'est dans cette optique qu'il a travaillé auprès de réalisateurs de longs métrages tels que KOYAANISQATSI, POWAQQATSI et NAQOYQATSI (Godfrey Reggio), Mishima (Paul Schrader), The Thin Blue Line (Errol Morris), Bent (Sean Mathias) et Kundun (Martin Scorsese), conceptualisant la musique dès les premières étapes du film et participant même au processus de montage.
Un classique incontournable pour les cinéphiles et mélomanes
Au fil des ans, la musique écrite pour KOYAANISQATSI n'a fait que grandir en prestige, et ce trésor abonde en moments palpitants et vivifiants. C'est pourquoi voir et entendre Philip Glass sur scène apparaît comme un incontournable aussi bien pour les cinéphiles que pour les mélomanes.
Une œuvre culte à découvrir ou redécouvrir !
À propos de Traquen'Art
Fondé en 1982, Traquen'Art est un organisme sans but lucra>f de Montréal dont la mission est la promotion et la
diffusion d'événements des arts de la scène, et plus par>culièrement en musiques du monde, musique actuelle,
jazz et musique improvisée.
Aujourd'hui, Traquen'Art possède une feuille de route impressionnante avec plus de 600 concerts et autres formes d'arts d'interprétation. Une programmation riche et variée, introduisant sur différentes scènes québécoises de grands artistes de renommée internationale comme Jordi Savall, Manu Dibango, Diego el Cigala, Nusrat Fateh Ali Khan, Israel Galván, Zakir Hussein, Salif Keita, Angélique Kidjo, Fela Kuc, Mariza, le Mystère des voix Bulgares, Youssou N'Dour, Paco Peña, Art Ensemble de Chicago, Philip Glass Ensemble, Quatuor Arditti, Mercedes Sosa, King Sunny Adé et bien d'autres.