This page is also available in / Cette page est également disponible en:

English (Anglais)
#_EVENTTYPES placeholder matched
#_EVENTCLASSIFICATIONS placeholder matched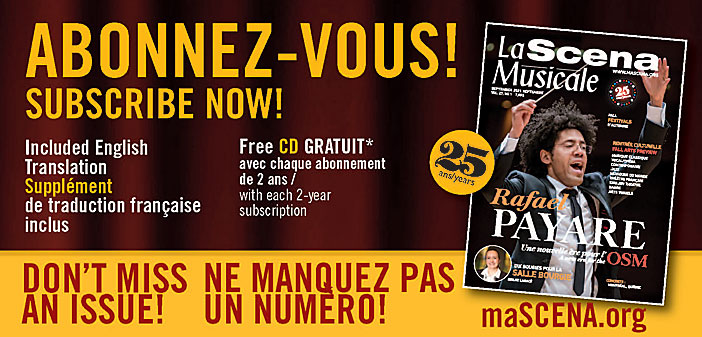 Chargement de la carte ....
Date/Heure
Date(s) - 22/11/2016
0:00
Lieu
Tanna Schulich Hall
Catégories
Types none
Classification de l'ensemble/soliste none
Artistes de l'évènement
No Information
Prix
20
Site Web de l'évènement
http://allegrachambermusic.com/bach-before-bedtime-concerts
Numéro de téléphone
5149353933
Stella, Fairy of the Forest
Tuesday, November 22 2016 11am and 4:30pm
Join us for a special Bach Before Bedtime concert on Tuesday, November 22 2016 (11am and 4:30pm) to welcome acclaimed children's author Marie-Louise Gay in a performance of her beloved story, Stella, Fairy of the Forest. Ms. Gay will join the musicians on stage to narrate her story while her enchanting watercolour illustrations from the book will be projected on stage.
After the concert, families will have the chance to meet Ms. Gay and purchase copies of her book.
Marie-Louise Gay is a widely-celebrated Canadian author and illustrator and her series Stella and Sam has distinguished itself as a literary "must-have" for parents of young children.  The series has been translated into 12 languages and a television adaptation was created in 2013 for various children television networks.
RSVP Online: 11am and 4:30pm
– Or –
email: [email protected]
Stella, fée des forêts
Le mardi, 22 novembre à 11h et 16h30
Veuillez vous joindre à nous lors d'un concert spécial de Bach Avant Dodo le mardi 22 novembre 2016 (11 h et 16h30), afin d'accueillir la célèbre auteure de livres pour enfants, Marie-Louise Gay. Dans une présentation de son conte tant aimé de tous, Stella, fée des forêts, Madame Gay se joindra aux musiciens sur scène pour en faire le récit alors que ses merveilleuses aquarelles illustrant le livre seront projetées en arrière plan.
Les familles auront l'occasion de rencontrer Madame Gay et de se procurer une copie de son livre après le concert.
Marie-Louise Gay est une auteure et illustratrice canadienne de grande renommée. Sa série Stella et Sam est reconnue comme étant incontournable pour les parents de jeunes enfants. La série a été traduite en douze langues et a fait l'objet d'une adaptation télévisuelle conçue en 2013 pour diverses chaînes de télévision pour enfants.
This page is also available in / Cette page est également disponible en:

English (Anglais)