This page is also available in / Cette page est également disponible en:

English (Anglais)
#_EVENTTYPES placeholder matched
#_EVENTCLASSIFICATIONS placeholder matched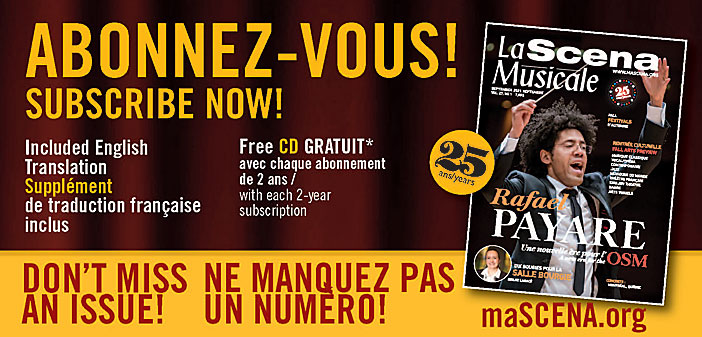 Chargement de la carte ....
Date/Heure
Date(s) - 11/10/2016
11:00 - 17:45
Lieu
Salle Tanna Schulich
Catégories
Types none
Classification de l'ensemble/soliste none
Artistes de l'évènement
Quintette à vents Kaleïo;piano : Dorothy Fieldman Fraiberg;contrebasse : Reuven Rothman;guitare : Jean RenéFeaturing the Kaleïo Woodwind Quintet;piano : Dorothy Fieldman Fraiberg;doublebass : Reuven Rothman;guitar : Jean René
Prix
$20
Site Web de l'évènement
http://www.allegrachambermusic.com/bach-avant-dodo-programmation
Numéro de téléphone
514-935-3933
À l'aide mes amis!
Bach avant dodo, un organisme fondé par Musique de chambre Allegra en 2008, initie les enfants de tous âges à la musique de chambre par l'entremise d'une série de concerts amusants, interactifs et stimulants tout au long de l'année. Bach avant dodo offre bien plus que l'occasion d'entendre de la musique exceptionnelle. Bach avant dodo crée une expérience pour toute la famille.
Le mardi, 11h octobre à 11h et 16 h 30
Apportez vos instruments à percussion!
Don suggéré: $20 par famille (reçu pour fins d'impôt inclus)
Des grignotines enfantines seront servies.
With a little help from my friends! 
Bach Before Bedtime (BBB), founded by Allegra Chamber Music in 2008, introduces children of all ages to a fun, interactive, and sensory-stimulating series of chamber music concerts throughout the year. BBB offers more than an opportunity to listen to exceptional music. BBB creates an experience for the whole family.
Tuesday, October 11am at 4:30pm
Don't forget to bring your percussion instruments!
Suggested Donation: $20 per family
Nibbles will be provided
This page is also available in / Cette page est également disponible en:

English (Anglais)