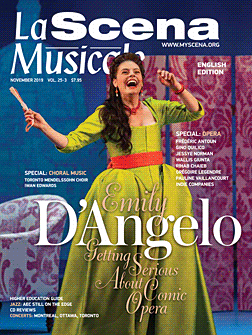 This page is also available in / Cette page est également disponible en:

Francais (French)
Glenn Gould School
Following a banner academic year, which saw the convocation of The Glenn Gould School's first class of Bachelor of Music students, GGS welcomes soprano Adrianne Pieczonka as Vocal Chair and Head of the Vocal Department. In August, two students, mezzo-soprano Jillian Bonner and cellist David Liam Roberts, were included in the 2019 CBC Music "30 Hot Canadian Classical Musicians Under 30" list. In fall 2018, Clara Wang, harp, won the 2018 OSM Manulife Competition, while Sae Yoon Chon, piano, received Third Prize at the Vendome Prize for Piano at the Verbier Festival in Switzerland this summer. Hillary Simms, trombone, won the Stratford Symphony Orchestra's 2019 Emerging Artist Concerto Competition in May.
Schulich School of Music, McGill University
Professors John Rea and Hank Knox were inducted into the Royal Society of Canada and Professor Peter Schubert was awarded The Gail Boyd de Stwolinski Prize for Lifetime Achievement in Music Theory, Teaching and Scholarship. The Schulich School of Music welcomed Professor Dorian Komanoff Bandy to a position in historical performance practice and musicology, held jointly between the school's Performance and Music Research departments. Alumni Victor Fournelle-Blain, Rémi Pelletier and Yolanda Bruno were hired by the Toronto Symphony Orchestra and alumna Lara Deutsch won the $125,000 Mécénat Musica Prix Goyer. Student Jacob Do won the first Oliver Jones Award from the Montreal International Jazz Festival and doctoral student Marina Thibeault joined the University of British Columbia's School of Music as Assistant Professor of Viola and Chamber Music. This Schulich concert season includes the third edition of the Musical Chairs Chamber Music Festival, an event which brings together musicians from eight institutions across four continents for almost 10 days of workshops, concerts and masterclasses.
Orford Musique
The winner of this year's Orford Music Award was Vendome laureate Sae Yoon Chon, who received the prize with a unanimous vote from the jury. To celebrate the fifth anniversary of the Orford Music Award, this year's competition will be open to all musicians who have attended Orford Music Academy since 2016. The goal is to identify emerging artists who are not only technically excellent but who also have interesting stories to share through their music. The competition is open to all instruments, including voice.
University of British Columbia
Patrick Carrabré joined the School of Music as its new director this summer. The School of Music also welcomed Marina Thibeault as the new Assistant Professor of Viola and Chamber Music. Pianist Nicole Linaksita (BSc/BMus '16) and composer and conductor Jaelem Bhate (BMus '17, MMus '19) are listed among the 2019 CBC Music "30 Hot Canadian Classical Musicians Under 30."
University of Guelph
The University of Guelph has broken ground on the renewal and expansion of its performing arts facilities. The 45,000-square-foot project aims to inspire the next generation of performers. A new theatre will be dedicated to the study of improvisation. The project is expected to be completed in the spring of 2021.
University of Toronto
Undergraduate Jazz Performance student Evan Gratham received the Developing Artist Grant for Jazz Performance from the Hnatyshyn Foundation. Recent graduate Sara Schabas also received a Developing Artist Grant for Classical Voice Performance. Composition Professor Christos Hatzis celebrated the Mexican tour of GOING HOME STAR: Truth and Reconciliation in October, as well as the world premiere in Novemeber of his new work Face to Face at Lincoln Center in New York City. Professors Michael Thaut, Aiyun Huang and Eliot Britton have acquired a state-of-the-art MOCAP system. This new research tool has potential applications in movement disorders and the study of high-performance motion in music.
Western University
Associate Professor Colleen Richardson was elected President Elect of the World Association for Symphonic Bands and Ensembles. Professor James Grier was awarded the Margaret Wade Labarge Prize for his book Ademarus Cabannensis, Monachus et Musicus (Brepols, 2018), which is about the musical life and legacy of medieval monk, Adèmar de Chabannes. Associate Professor Patrick Schmidt has a new book aimed at music teachers titled Policy as Practice: A Guide for Music Educators.
Wilfrid Laurier University
Laurier appointed award-winning Kira Omelchenko as conductor of the Laurier Symphony Orchestra. Order of Ontario recipient Leslie Fagan was appointed as head of the Voice Program. Community Music Undergraduate Program Coordinator Deanna Yerichuk received the Ontario Undergraduate Student Alliance Award for Teaching Excellence. Student Ramya Ramchandra was awarded the 2019 Tamil Karaoke Star Champion in the first international competition of its kind. Alumnus Liam Gordon was a recipient of the 2019 MusiCounts Scholarship. Laurier kicked off this year with a new campaign, Making Space for Music, which aims to expand practice and performance facilities. Laurier was named by Maclean's magazine as No. 1 in Student Satisfaction for the fourth consecutive year.
Morningside Music Bridge Program
Over the course of its first two decades, about 1,000 young artists have benefited from the barrier-free music making experience offered by Morningside Music Bridge, a program supported by the Calgary Philharmonic. In October alumna Yuja Wang won a Gramophone Classical Music Award in the instrumental category for her recording, "The Berlin Recital."
This page is also available in / Cette page est également disponible en:

Francais (French)