This page is also available in / Cette page est également disponible en:

Francais (French)
With its CAN $100,000 top prize and half-a-million dollars career development package program, the Honens Piano Competition is the biggest piano prize worldwide. Accepting only 50 pianists selected via auditions in London, Berlin and New York, Honens claims a special self-imposed challenge: finding the Complete Pianist, a performer defined as "an awe-inspiring virtuoso, a communicator, a risk-taking explorer, a dreamer."
The finalists were all top-level piano virtuosos, Henry Kramer (US, 28), Artem Yasynkyy (Ukraine, 27), and young Luca Buratto (Italy, 22), who showcased masterful control, strong technique and inspiring skills before 1,600 enthusiasts in early September in Calgary. "We've always had the cream at the top but this was really a high level of musicianship across the borders," said Artistic Director Stephen McHolm.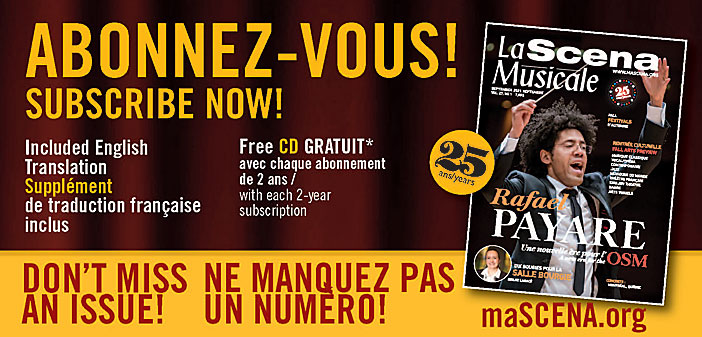 The youngest, Luca Buratto, won the first prize. He immediately connected with audiences through his musical skills and his personality. "He really took us on a journey," McHolm commented. "That collaborative recital will be one of the highlights of any competition that I've been with, and that's saying a lot." Buratto's performance was a transparent expression of art and passion. Moving between drama, play and conflict, he shared his passion for classical and contemporary composers such as Hungarian György Ligeti (1923-2006). Capable of exquisite delicacy and flow over complex scales, he also brought life to moments of silence and tension.
This fresh and natural performance was complemented by his ability to connect with others. Well aware of the multi-dimensional character of a 21st century artist, Buratto explained, "Being a piano player is not only about practicing piano; you also have to be connected to other things, theater, or even science […] not only playing perfect music."
For Buratto, a rising star of classical music, "beyond competition, having fun" is what's important. He doesn't like the idea of the "God Star", inaccessible, and with people just adoring him. Instead, the young professional likes to be involved with his audiences and fellow musicians. He says, "It is part of your work, and if you don't like your work and don't want to share it with others, it is meaningless." Buratto had fun… and won.
This page is also available in / Cette page est également disponible en:

Francais (French)