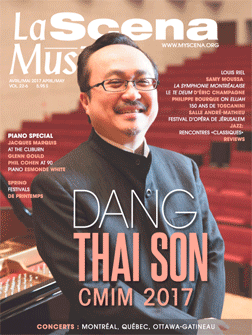 This page is also available in / Cette page est également disponible en:

Francais (French)
This April 19, National Canadian Film Day 150 (NCFD 150) promises to be a nation-wide celebration. With free events and over 800 screenings in venues such as schools, cinemas, online platforms, public squares and even airplanes, organizers promise that this will be the largest film festival in the world. So, what are some of the strengths of Canadian cinema as the 21st century unfolds? Our cinema might be able to teach us a thing or two about how we engage one another culturally, through images and sounds.
One aspect of intercultural cinema, for ­example, is the use of languages. How is language consciously used by film-makers in their cinematic worlds? Do films represent the linguistic heterogeneity of the societies ­portrayed? With two official languages and hundreds more within our diverse society, Canadian cinema has been quick to understand their cinematic power. We have bilingual films, such as Bon Cop, Bad Cop (2006), Le Confessionnal (1995), and Yes Sir! Madame (1994). But also other plurilingual films such as Double Happiness (1994, Cantonese), about a Chinese Canadian woman, played by Sandra Oh, dealing with love and family issues as she falls for a white Canadian. We also have films that share our indigenous languages, such as Atanarjuat: The Fast ­Runner (2001), shot entirely in the Inuktitut language, with a mostly Inuit cast and crew, and winner of multiple prizes worldwide.
Another aspect of intercultural cinema is the background of the creators engaged in the film and the cultural interactions present in the creative process. The cultural backgrounds of Oscar-nominated directors Deepa Mehta and Atom Egoyan are strongly present in their films. Mehta's Water (2005) tells the story of a child widow forced to live cut off from society in India. Sweet Hereafter (1997), set in a small Canadian town, was inspired by an incident in Texas where a bus crash killed 21 students. Egoyan saw the film as a metaphor for the ­Armenian Genocide, where the guilty have yet to take responsibilities for their crimes.
This intercultural relationship can thus take many forms. Denis Villeneuve's critically ­acclaimed Incendies (2010), for example, was based on the homonymous play written by Wajdi Mouawad, a Lebanese-born writer, actor and director. Other films deal directly with intercultural relationships in our ­societies, such as John H. Smith's Sitting in Limbo (1986) about Montreal's Black ­community, or Philippe Falardeau's Monsieur Lazhar (2011), about an Algerian immigrant substituting for a middle school teacher and the cultural learning that ensues as he takes on a class of 12-year-olds while clashing with the school's rigid administration.
But this interaction takes place ­not only ­between social groups defined by their ­national forms, but also between sub-cultures ­created within. Outrageous! (1977) was seen as a groundbreaking portrayal of drag culture. Zero Patience (1993) is a surreal musical about HIV/AIDS. Both have challenged mainstream cultures with creative interpretations on an oft-vilified Other. Dramatic comedies such as La grande séduction (2003), about a small town in northern Quebec that "seduces" a doctor from the city to stay in this rural ­setting, or Mambo Italiano (2003), a boy-meets-boy story set in Montreal's Little Italy, also explore the deep relationship between identity and cultural diversity.
Audience engagement is a third aspect of intercultural cinema. Are films viewed only by the same community? Or are they able to cross cultural frontiers and touch the hearts and minds of individuals of different cultural backgrounds? The international success of a film like Mommy (2015), with its intimate portrayal of youthful rebellion versus rigid institutionally, touched audiences worldwide and won multiple prizes, but Canadians also have a known talent for specific genres, such as ­comedy and horror. Kids in the Hall: Brain Candy (1996), Meatballs (Bill Murray's debut in a lead role in 1979), and Starbuck (2009) have proven to make international audiences laugh, while terror and science fiction flicks such as Ginger Snaps (2000), Cube (1997), or the films of David Cronenburg have the ­capacity to shock and awe.
New generations of Canadian filmmakers persistently engage with new audiences and genres and submerge themselves in creative processes that include the vital complexity of the human landscape in all its forms. Beyond the materiality of film, which is no longer ­defined by celluloid, or the duality between digital and analogue mediums, our identities are in a continuous relationship with the images and sounds around us. As we face this diversity through our screens — whether smart phones or cinemas — we ­engage with the challenge of strengthening and sharing our dynamic identities.
Intercultural interactions are thus shaping the world and how we see it, and the speed at which this is happening is already a defining feature of this century. Canada's rich experience of what it means to share the stories of others and tell one's own stories to others could play a key role in these visually-driven times. Most of the films mentioned here are part of the official lineup of 150 films released by NCFD organizer Reel Canada, but you will need more than a day to engage with our rich cinematic history. Make it a year-round 150th anniversary event. These are great options that showcase amazing talent; let April 19 be the beginning of your journey.
---
More information on the NCFD 150, including event listings for screenings across Canada, at canadianfilmday.ca
This page is also available in / Cette page est également disponible en:

Francais (French)