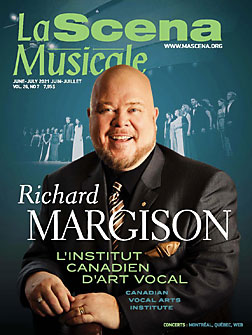 This page is also available in / Cette page est également disponible en:

Francais (French)
It's a time to try to keep looking forward," Janina Fialkowska said from her home outside Augsburg, a German city some 80 kilometres west of Munich, where the Canadian pianist has lived since 2013.  "I'm doing my best not to look back because I believe there are great things to come."
Among the near-future prospects are a return to concertizing in July, COVID willing, and the resumption in September of her  International Piano Academy, an innovative mini-fest, also in Bavaria, featuring young pianists she admires who might not have been lucky enough to win one the many competitions she has served as a juror. (Xiaoyu Liu, a Montrealer who reached the finals but not the podium in the 2017 Arthur Rubinstein International Piano Master Competition, will be one of the participants in 2021.) 
As for the work in progress that is the 2021-2022 season, this will likely include a return to Bourgie Hall in her home town of Montreal and another recording on the ATMA Classique label dedicated to Chopin, the composer with whom she remains most closely identified. "This means I will have done all the Scherzos and all the Ballades," she comments with enthusiasm.
Still, the impulse to glance in the rear-view mirror must be considerable, since Fialkowska turned 70 on May 7. And there is quite a musical life to reflect on, starting 66 years ago with lessons from her mother, and later Yvonne Hubert, the Belgian-born wellspring of so much high-level pianism in Quebec; then in Paris with Yvonne Lefébure (who, like Hubert, was a student of Alfred Cortot).
Having absorbed the tenets of the refined Franco-Belgian-Québécois school, Fialkowska trained at the Juilliard School in New York under the Kiev native Sascha Gorodnitzki. The combination of influences (along with her innate temperament) resulted in a balanced and natural style that impressed the namesake of the first Rubinstein competition in 1974. Even today critics will refer to her as Arthur Rubinstein's protégée.
Whether because of or despite the boosterism of one of the world's most famous musicians, Fialkowska went on to a stellar career, in concert and on disc, in Canada and abroad. There were nonstandard initiatives, however, including establishing Piano Six, a project to revive the fading institution of the small-town recital in Canada that clearly had much to do with her receiving the Order of Canada (2001) and a Governor General's Performing Arts Award for lifetime achievement (2012). 
Also newsworthy, in quite another way, was Fialkowska's return to the concert stage in 2004 after surgery to remove a cancerous tumour in her left arm and transplant a little-used back muscle that restored her ability to lift and lower this arm. During her rehabilitation she pursued southpaw repertoire, including Ravel's famous Concerto for the Left Hand, with (get this) her right hand. 
"The arm business" is how she refers to the episode, nonchalantly. 
This determination not to waste a crisis has marked Fialkowska's approach to the pandemic. Almost stranded in Saskatoon while on tour in March of 2020, she returned to Bavaria in a gloomy mood. Gardening was one of her few sources of solace.
"We were recovering, both of us, Harry and I," she recalled, referring to her husband and manager, Harry Oesterle. "We both thought that things would start up again, that this would be a few months. Then it started dawning on us that it would take much longer.
"Funnily enough, I just couldn't bring myself to practice. This went on for about a month, or maybe even six weeks. There were a bunch of my friends – one of them Emanuel Ax – who had the exact same feeling.
"And then we realized that this was going to be really long-term. I remember it was in May. I thought, I'm going to learn pieces that I've always wanted to play but never had a chance to. Such as the Schubert B Flat Major Sonata. This was really worth it. I was going to the piano with real joy every day."
Also new to her playbook are works by Weber, Sibelius and, most significantly, Brahms. "For all these years I had ignored all these incredible shorter pieces," she says, referring to Brahms. "I've been reveling in them. And they will be on my programs next year."
Fialkowska's repertory has always been an amalgam of the well-known and the offbeat. Majoring in Chopin, she has followed the path suggested by her Polish surname to develop a minor in music by Lutosławski, Moszkowski, Paderewski and Szymanowski.
Her most recent ATMA recording, titled Les sons et les parfums…, suggests an affinity for post-romantic French music. Debussy's Clair de lune is one of the highlights. Fialkowska is quick to point out that she has played plenty of nonromantic Canadian music. "I was really pretty good about all that," she says with a chuckle. "And I actually enjoyed some of it."
Inevitably the conversation circles around to the number 70 and what this might or might not mean. We have established that it is nothing resembling a terminus, even if Fialkowska recalls thinking of her parents as quite ancient when they reached this milestone. German critics have taken to calling her a "Grande Dame."
"There is quite a fuss being made over my 70th birthday," Fialkowska concedes, "but I'll be very glad when it's over. Then I can forget about it all and continue to pretend that I'm 46."
This page is also available in / Cette page est également disponible en:

Francais (French)